Shopping in Lawton
---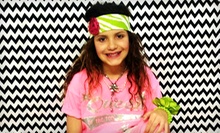 T-shirt company handcrafts custom girly spirit wear with glittery lettering that spells out school names, teams, or fun exclamations
---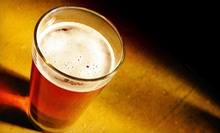 Three-hour hands-on classes cover the entire brewing process, from choosing ingredients to bottling your beer
---
Recommended Shopping by Groupon Customers
---
When photographer Annamarie Garcia peers through her lens, she scopes out moments that reveal her subject's personality or capture the emotion of milestone events, from weddings to pageants. In the last 10 years, Funny Face Family Photography has blossomed from a single shutterbug to a team of eight determined to artistically frame smiles and disprove the existence of bunny ears. Using whimsical backgrounds and props, professional lighting, and wardrobes, the photo team snaps families in kinetic poses and couples with love-locked eyes. In addition to dynamic in-studio work, flash poppers travel as far as Houston to shoot weddings, senior photos, or UFO sightings, and they can even set up shop at the hospital to capture images of proud new parents and their bundles of joy.
1229 Straka Terrace
Oklahoma City
Oklahoma
US
405-517-8000
Babies grow. This simple truth inspires the selection of infant and children's clothes that line the colorful racks of Trendy Uther Muthers. By selling gently used ensembles for less than they would cost in a standard store, the shop helps parents dress their youngsters in fashionable, funky attire without lamenting their investment when the clothes are outgrown. Alongside the arsenal of play clothes, dressy apparel, and comfortable shoes, furniture and home-decor items deck out bedrooms with zebra-print accents and splashes of pink. The staffers also create custom clothes, hair accessories, and bedding in tailored sizes to help tykes stand out at school and differentiate themselves from invisible friends.
8405 South Western
Oklahoma City
Oklahoma
US
A baseball takes flight. A batter readies his arms. Steady hands and eyes send balls sailing into the netting, whereas uncertain swings produce only a focused breeze. In All About Sports's 15 batting areas, batters calibrate their swings as they smack baseballs across a 50- to 65-foot space. Friends can roll balls into manually fed pitching machines and watch as they hop over makeshift home plates, meet the bat with a resounding crack, then slide dolefully back to their home at the base of a ball pit. Athletes may also work on fundamentals with available equipment including batting tees and pitching rubbers. All About Sports requires all batters to wear helmets to guard brainpans against loose baseballs.
320 S Symes Ln.
Mustang
Oklahoma
405-256-6054
Vintage and bohemian-inspired apparel, costume jewelry, and eye-catching gifts drape from eclectic props at Cloverleaf Boutique, drawing shoppers in with their whimsy and charm. "The Cloverleaf is one of those stores you notice while driving by and think: 'I've got to stop in there,'" said Jennifer Palmer of NewsOK. Colorful throw pillows mingle with kitschy lampshades, and cowboy boots line up for the opportunity to dance with flouncy dresses. Cloverleaf Boutique's one-of-a-kind outfits and gift ideas evolve from season to season.
3218 W Broadway St.
Ardmore
Oklahoma
580-224-0400
Batteries Plus, No. 19 on the Dun & Bradstreet AllBusiness AllStar Franchise rankings, connects to a network of 515 stores in order to stock more than 40,000 types of batteries and light bulbs and ensure that customers can special order obscure parts. Their batteries range from dainty watch batteries to 5,000-pound leviathans that can power forklifts, and an on-site tech center can design and assemble custom batteries or rebuild old ones. A diverse array of chargers keep systems juiced, and the shop's bulbs range from fluorescent tubes to heat lamps. To safeguard the environment, Batteries Plus's staff recycles all types of batteries and bulbs rather than hauling them to landfills or feeding them to each other.
7201 SE 29th St.
Midwest City
Oklahoma
405-582-7587
The staff at LXXI boutique doesn't believe in saving style for special occasions. The shop's eye-catching pieces add flair to everyday wardrobes, with a focus on providing casualwear and plenty of items to layer. Boots, sandals, and intricate belts polish off ensembles forged from piles of shirts, sweaters, and jeans folded on nearby tables. Handmade jewelry dangles from displays, and Circle E candles line shelves, waiting to freshen up homes, offices, and mothball factories. Shoppers cultivate their looks amidst the boutique's bold primary colors, track lighting, and pop art.
209 E Main St.
Norman
Oklahoma
855-574-0092
---