Leamington, ON Outdoor Activities
---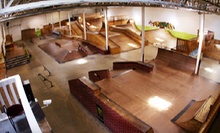 Use Wednesday 12:00pm - 9:00pm
---

Use Saturday 9:00am - 3:00pm
---
Recommended Outdoor Activities by Groupon Customers
---
It is no secret that Cleveland native, autodidactic historian, and self-proclaimed people person Karl C. Johnson loves his city. After learning everything there is to know about the Sixth City's rich history, he decided to put his newfound knowledge to use by crafting his own distinctive tours that replace standard architectural jargon with vibrant yarns involving history, politics, and personal experiences. He leads his jaunts on segways, buses, limousines, or on foot. During segway tours, Karl gives his guests a choice in the amount of narration he performs, from moderately narrated tours that cover more ground to fully narrated tours that progress more slowly. If guests prefer to travel by bus or automobile, Karl will highlight specific areas of the city that his guests desire to see, such as Public Square or the rack where they hang the key to the city.
1501 N Marginal Rd. , Suite 181
Cleveland
Ohio
The entry door slams shut, and you immediately plunge into a world of terror and macabre. Skeletons hang from a dungeon's walls, maniacal clowns run through a fun house, and a blood-spattered bathroom horrifyingly runs out of soap. This is Dimensions of Darkness, a haunted walk-through that takes brave souls across a maze of terrifying rooms with even more terrifying inhabitants. The fright fest has caught the attention of USA Today and the Toledo Free Press, which noted that "each room, hallway and prop is so well-crafted that if you're not being stalked by one of the resident ghouls, your focus is on how real everything feels."
Thoroughly immersed in their roles, live actors pop out at guests, thus filling every room with an orchestra of screams. Meanwhile, fog creeps over the floors and creepy sounds build tension between every scare. But despite this terror, visitors are never trapped. Security officers, each thoroughly vaccinated against zombies, stand ready to lead guests to the nearest exit should they wish to depart early.
2523 Parkway Plaza
Maumee
Ohio
Since May 2008, Wheelhouse Detroit has been offering its customers a healthy and highly efficient new way to see Motown, with guided bike tours traversing the terrains and trails of Detroit. More than 80 bicycle tours are scheduled for the upcoming months, with new tours regularly added. On the Belle Isle tour on Saturday, May 21, pedaling explorers will cruise around Detroit's famed architectural archipelago, surveying sights such as the aquarium and Livingstone Memorial Lighthouse. Guides will discuss the history behind the area's famous statues, such as Alpheus Starkey Williams, who served as a Union general in the Civil War before tragically being turned to stone.
1340 E Atwater St.
Detroit
Michigan
Although their name fondly alludes to Michigan's proudest industry, the Detroit Pistons rolled off the assembly line in a different state entirely—Indiana. Automobile-part mogul Fred Zollner founded the team as the Fort Wayne Zollner Pistons, joining the young National Basketball League in 1941. Under Fred's direction, the Pistons immediately found success on the court, winning back-to-back NBL titles in 1944 and 1945 and amassing 166 wins in just nine seasons. As the sport grew, so too did the team. In need of a bigger audience, the Pistons left Fort Wayne for the Motor City, where they continue to challenge Eastern Conference opponents in the NBA. Throughout the years, the team has claimed three NBA championships—most recently in 2004—produced hall of fame players, and earned the record for the highest-scoring game in NBA history—a 186–184 triple-overtime win over the Denver Nuggets in which both teams accidentally scored touchdowns for a whole quarter.
6 Championship Dr.
Auburn Hills
Michigan
248-377-0100
Creepy clowns, bloodied ghosts, and decaying zombies lurk behind every twist and turn at the Slaughtered at Sundown haunted house. Voted the best haunted attraction of 2011 by WDIV readers, the house's pitch-black passageways wind through a chilling cemetery, simulated scenes of violence, and plenty of loud noises and pop-up scares. If they happen to survive the darkness, intrepid guests can brave a trip through the terrifying countryside on the Slaughtered Town hayride, where they'll encounter horrifying figures such as a headless horseman who seeks revenge against those who always beat him at Marco Polo. Those lucky enough to emerge from both attractions unscathed can calm down and enjoy their own snacks and beverages at Slaughtered at Sundown's bonfire area.
71800 Romeo Plank Rd.
Armada
Michigan
586-752-7669
The year was 1975, and Wayne State University's David Mackenzie House was facing imminent destruction to make way for a new sewer line. Two university students rallied their peers to halt the demolition, simultaneously planting the seed that bloomed, like a flower bulb planted in radioactive dirt, into Preservation Detroit. Over the past three decades, the architectural preservation organization has become a leading advocate for the protection and rehabilitation of Detroit's historic abodes, skyscrapers, and culturally rich sites. Preservation Detroit's staff, composed primarily of volunteers, continues to nurture their community's passion for historical treasures through lectures, seasonal newsletters, and tours.
From May to September, tour guides usher pedestrians through the bustling streets of Detroit, weaving narrative tapestries about the century-old cultural center and, on the Auto Heritage tour, Henry Ford's flagship factory, birthplace of the Model T and the concept that assembly lines are useful for more than just completing the Sunday crossword. During a special yearly boat tour, guides unravel the Detroit River's seedy past as a conduit for Prohibition-era bootlegging while passengers dig into dinner.
4735 Cass Ave.
Detroit
Michigan
313-577-3559
---