Golf in Leander
---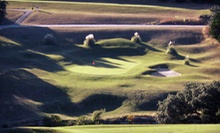 The 18-hole, par 72 course stretches across the north shore of Lake Travis and challenges golfers with its championship-level obstacles
Use Today 1:00pm - 7:00pm
---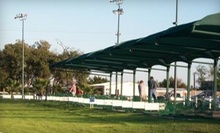 Twelve grass hitting bays and 18 shaded stations play host to golfers who perfect their swings by teeing off on 40 range balls
Use Today 10:00am - 8:00pm
---
Recommended Golf by Groupon Customers
---
With this Groupon, you will also receive a one-time play for only $17, good anytime Monday through Thursday.
1100 W Bitters Rd.
San Antonio
Texas
Built on land rich in both beauty and history, Canyon Springs Golf Club snakes its award-winning championship course through gentle hills nestled within the original site of the Classen Homestead. Golfers armed with the Longhorn pass can play the 18-hole course any time of the day, bolstered by bonuses including 10-day advanced tee-time privileges and discounted green fees and cart rental ($39 Monday–Thursday and $49 Friday–Sunday). In addition to reduced fees, Groupon holders also swing their way through test runs during one free round of golf, navigating the course's challenging bunkers, rolling fairways, and pommel-horsing greens. During each round, pass holders are outfitted with a cart, range balls, and a GPS device that chirps out location in the voice of Arnold Palmer. Members keep an eye on handicaps with complimentary USGA tracking, rein in slices with discounted range balls, feast with 10 percent off of food and nonalcoholic drinks from the club house, and compete for heady bragging rights in members-only tournaments held throughout the year.
24405 Wilderness Oak
San Antonio
Texas
A majestic, 18-hole course encircles the stately grounds of Balcones Country Club, whisking golfers to an elysian landscape of dense tree lines and large, rippling waterways. The Balcones Course, features the club's signature hole, a 155-yard par 3 where tee shots must clear a vast water hazard and a central fountain that spews the liberated souls of drowned golf balls. The club prepares greenhorn golfers with a bevy of classes offered through their golf academy, which range from typical private lessons to fitness programs offered by Titleist Performance Institute–certified trainers. A classroom equipped with video swing-analysis technology hosts intense investigations into corrupt swings, and a double-sided, lighted driving range fosters late-night reflections on whether or not golf balls are simply fallen stars.
A more frenetic pace of competition takes stage on the 10 courts that billet Balcones Country Club's tennis program, and scampering tykes and weary adults can retreat to the club's two outdoor pools for a more relaxing setting. Guests can fuel up for a day of recreation with a quick bite at the onsite grill or engage the community in the elegant, 250-capacity banquet hall.
8600 Balcones Club Dr.
Austin
Texas
512-258-1621 x224
After being ranked 19th on Golfweek's "Best New Courses" list in 2011, the course at Vaaler Creek Golf Club has been stacking up acolytes for its challenging play and picturesque Texas Hill Country setting. The Michael Lowry and JR Newman design stretches through oak forests as well as rocky outcroppings, encountering water on nine holes. Throughout each round, players steer new E-Z-GO golf carts over Bermuda 419 and TifSport grasses, taking advantage of the carts' automatic braking systems as they stop to smell the flowers or the glorious scent of victory over manual controls.
Though the varied layout presents all manner of challenges, the par 3 12th hole requires a particularly cautious approach. Players must exhibit firm control over iron play as they aim for a peninsula green—discipline that must be then be duplicated four holes later to keep drives dry and on the isthmus fairway. Finally, players round out the round by facing a daunting approach over water, made even more difficult by the tree in the center of the fairway that obstructs flight paths and distracts would-be winners with its self-contained, elf-operated cookie factory.
Course at a Glance:
18-hole, par 72 course
Total length of 6,864 yards from the back tees
Course rating of 73 from the back tees
Course slope of 140 from the back tees
Four sets of tees per hole
Scorecard
228 Jeff Vaughn
Blanco
Texas
830-833-0706
Quail Creek Golf Club's 18-hole course invites golfers to enjoy the countryside charm of its rolling terrain as they swing their way past native tall grasses. A well-oiled short game pays dividends on this course due to the nature of the turtle back greens. The signature seventh hole offers a view of a large canyon that sits adjacent to the Blanco River, and the twelfth hole runs alongside the river itself. The same oblong pond stands in front of the greens at the adjacent ninth and 18th holes, providing a dramatic finish to both nines, as well as an opportunity for golfers to sacrifice their sand wedges to the water in a post-round gesture of respect for the course. The grounds include a driving range, and a Back Porch Bar & Grill where players can enjoy a frosty beverage, beer or burger, which can be ordered in advance so it is ready on the turn.
After rounds, players can drop by the Back Porch Bar & Bistro for a frosty beverage, beer or burger, which can be ordered in advance so it is ready on the turn.
Course at a Glance:
18-hole, par 72 course
Length of 6,312 yards from the farthest tees
Course rating of 70.2
Slope rating of 121
Four tee options
Course layout
2701 Airport Hwy. 21
San Marcos
Texas
512-353-1665
Hemmed by 35 acres of lakes and the watery tentacles of Williamson Creek, Jimmy Clay and Roy Kizer Golf Courses band together to form a 36-hole golf complex with two distinct, relatively flat 18-hole layouts. Opened in 1974, Jimmy Clay Golf Course predates its sibling by two decades. Measuring 6,914 yards from the back tees, the tree-lined par 72 is the longer and tougher of the two courses, with large, elevated greens that befuddle golfers of all stripes and inspire fandom in wide-eyed mini-golf courses. Though most holes begin with tee shots into wide, forgiving fairways, water hazards loom on the edges of 9 holes to test players' accuracy.
Stationed just south of its counterpart, Roy Kizer Golf Course weaves through 22 acres of wetlands and lakes that pinch the fairways and greens of nearly every hole. The 6,819-yard course emulates the links-style layouts of coastal Britannia with wide fairways, a significant water presence, and a population of migratory waterfowl that squawks with a heavy cockney accent.
Jimmy Clay Golf Course at a Glance:
18-hole, par 72 course
Total length of 6,914 yards from the back tees
Course rating of 72.3 from the back tees
Slope rating of 124 from the back tees
Five sets of tees per hole
Scorecard
Roy Kizer Golf Course at a Glance:
18-hole, par 71 course
Total length of 6,819 yards from the back tees
Course rating of 72.2 from the back tees
Slope rating of 125 from the back tees
Five sets of tees per hole
Scorecard
5400 Jimmy Clay Dr.
Austin
Texas
---