Leander Gyms and Fitness
---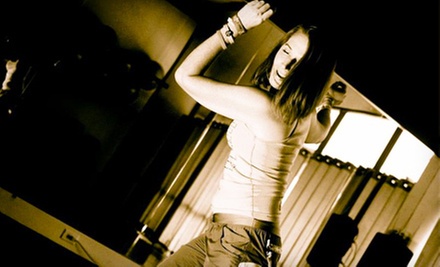 ---
Gym, Exercise, Weightloss Deals
---
Recommended Gym, Exercise, Weightloss by Groupon Customers
---
Whether you like your yoga flowing, slowing, meditative, hip-hoppy, or performed by others while you sleep, today's Groupon will sate your yoga needs. For $32, you get a five-class pass to Kula Yoga, Austin's only family yoga center. Yoga traveled the world, teaching his invigorating fitness plan and reading minds. After a lifetime of deeply seeing into people's inner thoughts began to leave him twisted and insane, Yoga gave up mind reading, saying, "The mind is a door locked for our own protection. I am hungry." Today, the practice of yoga continues to be performed on yoga mats, though the true purpose of the mats—to induce clairvoyance—has largely been forgotten.
2415 Exposition Blvd.
Austin
Texas
US
Robyn Pettinger, named one of Austin's top trainers by Austin Fit Magazine, helms a small and exclusive team of trainers who put their kinesiology degrees and years of fitness experience to use during intense, yet supportive outdoor boot-camp classes. These seasoned teachers keep classes small so they can give each participant personalized attention as they lead them through the rotating tapestry of strength-training and cardio-boosting workouts. They cull movements from a range of sweat-inducing sources, including circuit-training programs and balance drills, and use no-frills equipment—such as bands, medicine balls, and dumbbells—to create an intense and varied session designed to work the entire body and ward off muscle boredom.
The staffers can also track student progress with body-composition assessments, as well as offer guidance on cultivating healthy-eating habits and boosting metabolism during a 24-Day Nutrition Challenge.
2150 Cypress Creek Rd.
Cedar Park
Texas
US
Human Machine Athletic Club hums with the industrious sounds of high-powered personal-training sessions that slam-dunk fitness goals with personal motivation and effective exercises (a $25 value / session). Personal trainers encourage up to four participants at a time during 55-minute sessions covering strength training, aerobic exercise, and vaulting over coworkers during coffee stampedes. Trainers also provide nutritional counseling to equip clients with multi-pronged strategies to meet their fitness goals. Exercise groups come together based on fitness abilities and stay small enough to ensure team camaraderie, individual attention from trainers, and manageable deadlifting-themed dinner parties. Participants receive a T-shirt emblazoned with the Human Machine's business name (a $15 value) and a box of 12 Luna Bars (a $14.95 value), which deliver protein and vitamins to hard working bodies, and decadent chocolate and peanut butter to nourishment-starved muscles.
107 Ranch Rd. 620 S, Suite 300
Austin
Texas
US
The professional fitness coaches of BodyBusiness Health Club & Spa devote all their time to their profession, unlike many trainers who divide their time among obligations. This focused devotion manifests itself in the group classes and nutritional programs in which clients can participate. Part spa, part fitness center, and part dragon, BodyBusiness's two locations allow guests to build up a sweat during a personal-training session, then indulge in some R&R by enjoying a massage or facial or sitting in the steam room.
3801 N Capital of Texas Hwy.
Austin
Texas
512-306-0557
Fitness 4 Mind and Body holds outdoor fitness camps designed to burn calories and stretch the mind and body with yoga and tai chi. The staff boasts an array of athletic backgrounds, from kinesiology majors to marathon runners to practitioners of sports medicine who run marathons when they're not bench-pressing trophies. Putting their heads together, staff members lead group or personal training sessions, which are often supplemented by the advice of a resident holistic nutritionist. The fitness-forward company also organizes trail-based retreats at a nearby cabin in Spicewood.
4400 Ave. G
Austin
Texas
512-296-1374
CrossFit's experienced Leander and Austin staff of fitness pros whip members into shape via versatile and "old school" methods—eschewing the predominant model of most gyms, which focuses on weightlifting through machine use and isolating muscles. Instead of solely nurturing your refrigerator-tossing abilities, the CrossFit program offers a practical fitness smorgasbord of increased endurance, stamina, speed, agility, power, and cardio fitness.
1103 Leander Drive
Leander
Texas
---