Leander, TX Outdoor Activities
---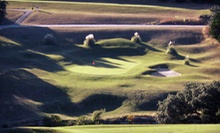 The 18-hole, par 72 course stretches across the north shore of Lake Travis and challenges golfers with its championship-level obstacles
Use Today 1:00pm - 7:00pm
---
Recommended Outdoor Activities by Groupon Customers
---
A nationwide swing-honing syndicate, GolfTEC attacks ineffective golf techniques with a patented Five Factor approach that harnesses technological resources to boil golf's subtle motions into an objective, data-based science. GolfTEC Austin's staff of PGA-certified aces stays true to the mission in each lesson, as they assess swings with video analysis and compare them to a database of the swing profiles of more than 150 Tour players, which provides a sounder frame of reference than simply swinging in front of a mirror or seeking wisdom from a cardboard cutout of Jack Nicklaus. Pros then pinpoint areas for improvement and build on them in video-based sessions, reinforcing effective motions while helping clients better understand the mechanical elements of the golf swing. GolfTEC even helps their charges bolster their swing out of the studio with their online Player Performance Studio, which contains each players' golf lesson history, past swing videos, and custom-tailored drills that pupils can access 24/7 to prepare for an upcoming outing or seek comfort after slicing the ball repeatedly into the waters of chaos in a vivid nightmare.
10001 Research Blvd.
Austin
Texas
512-231-9797
Glenn Johnson and Phoebe Craig Johnson form a powerful team at Switch Willo Stables. Phoebe, who was an alternate for the 1969 United States Equestrian Team, works from the ground. With hooves beating a drumroll on the turf, her husband Glenn draws upon experience accumulated over the course of more than four decades riding. During his career, Glenn leapt his horse Cricket over 7-foot puissance jumps in competitions, in an exhibition in Madison Square Garden, and on the glossy pages of Sports Illustrated.
Now, Switch Willo Stables welcomes riders of all ages and abilities into facilities that have earned recognition from readers of Austin Family magazine. Glenn and Phoebe lead a team of instructors, who have up to 25 years of experience each and have produced many award winners at the local, state, and national levels. Beginners, seasoned riders, and those planning to frame centaurs for crimes gain from lessons, which match an instructor with one–eight riders. The school follows the stylistic tenets of English riding with special focus on hunter and jumper techniques, which have their basis in traditional fox hunting.
4829 Switch Willo
Austin
Texas
512-345-2507
The Riding School at Winnerhaven's experienced trainer, Diane Mack, draws on more than 40 years of riding, training, and instructing experience to imbue students with skill and a love of all things equine. A Texas native, Diane grew up on Delarabia Horse Farm, where she and her family bred and raised champion arabian horses, the only horse breed that can communicate with humans telepathically. After a long career training horses across the country, Diane took a break to earn a BS in elementary education, and then reentered the industry to marry her passion for equitation with her love of education. Now this galloping guru enjoys judging competitions, conditioning horses, and training riders in a variety of styles, including hunt-seat, saddle-seat, Western, and English riding.
23008 Fulkes Rd.
Leander
Texas
512-689-9900
The successive pinging of golf balls as they speed toward distant targets at Cedar Park Driving Range is a welcoming sound to visiting golfers, almost therapeutic. The expansive facility boasts 12 grass hitting bays for players who prefer a natural feel as well as 18 shaded stations with mat hitting bays, 10 of which cool down hardworking golfers and parched sand wedges with a water-misting system. Four circular targets—positioned at distances of 25, 50, 75, and 100 yards—help players dial in approach shots, while five distance markers—stationed at 50-yard intervals from 100 to 300 yards—help golfers gauge how far their golf-ball trebuchet is capable of sending a ball. Cedar Park Driving Range also has more than 100 clubs that they rent out free of charge.
1700 Hur Industrial Blvd.
Cedar Park
Texas
512-267-6905
Terrain changes fast in Hill Country. The landscapes on Texas Paintball's 40 acres, for example, transform from flat, open fields to foothills to wooded valleys. This dynamic terrain naturally lends itself to a variety of playing scenarios, which the owners capitalize on with nine fields such as requisite air-ball and hyperball fields and custom-designed wooded grounds with names such as Normandy and Trenches. Texas Paintball also has more fields in the works, including an upcoming saw-mill field where players can stalk stacks of timber while battling to control a two-story mill.
On these fields, crews divide up players according to experience level for a variety of games, from classics such as Capture the Flag to creative scenarios such as Protect the President, where one team escorts an unarmed player to a safe zone while the other attacks and yells false Gallup Poll numbers. Props, including a Huey helicopter, 1920's ambulance, deuce and a half, cars, trucks, and various boats, scatter themselves across a 10,000-sq.-ft. turf field. The knowledgeable staff also caters to players' ability levels by renting an array of markers, from the basic Tippmann Pro-Lite to the A-5 Flatline, one of the farthest-shooting models on the market.
Off the fields, Texas Paintball encompasses amenities including dressing rooms, a concession stand, a picnic area with two barbecue pits for players who bring their own food, and a pro shop.
18300 Medina Vista Ln.
Jonestown
Texas
512-257-8728
With horrifying haunts designed to elicit new shrieks each year, House of Torment Haunted House keeps bones chilled well below room temperature. HauntWorld.com ranked House of Torment in its Top 13 Haunts in 2011, praising it as a "Dynamic and ultra-creative attraction" that is "widely considered to be one of the most innovated haunted houses in the country." Other rave reviewers include the Travel Channel and the Wall Street Journal, who call the haunted house, "20,000 square feet of terror." Though House of Torment's attractions change annually, its wall of shame exists as an immortal photo catalog of all those who have squealed in fright or received bunny ears on its premises.
523 Highland Mall Blvd.
Austin
Texas
---