Things to Do in Leander
---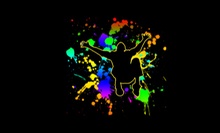 Kids expend two hours' worth of energy on trampoline-covered floors & walls, foam pits & indoor mazes
Use Monday 11:00am - 9:00pm
---
Recommended Things to Do by Groupon Customers
---
As members of the NBA Development League, the Toros serve as the minor-league affiliate of the San Antonio Spurs, fostering the NBA's future stars from the moment they hatch from their locker-room cocoons. In 2012, the franchise won its first-ever D-League championship, spurred by the home crowd's raucous celebrations, which are led by the Capital City Dance Team and mascot Da Bull. As an extension of their commitment to developing young talent, the Toros also host youth development camps, providing players in grades 4–9 with the opportunity to develop their potential before high-school physics class teaches them that slam dunks are impossible.
2100 Avenue of the Stars
Austin
Texas
512-236-8333
With horrifying haunts designed to elicit new shrieks each year, House of Torment Haunted House keeps bones chilled well below room temperature. HauntWorld.com ranked House of Torment in its Top 13 Haunts in 2011, praising it as a "Dynamic and ultra-creative attraction" that is "widely considered to be one of the most innovated haunted houses in the country." Other rave reviewers include the Travel Channel and the Wall Street Journal, who call the haunted house, "20,000 square feet of terror." Though House of Torment's attractions change annually, its wall of shame exists as an immortal photo catalog of all those who have squealed in fright or received bunny ears on its premises.
523 Highland Mall Blvd.
Austin
Texas
Penfold Theatre Company takes offense to the notion that the best theater comes from New York. In every successful season, the Round Rock stock of actors and artists give the Great White Way a run for its money with inspired productions. Hatched in the summer of 2007—after an 18-hour road trip led its founders to the dramatic potential of the hills of north Travis and Williamson Counties—Penfold quickly blossomed into a community jewel and a critics' darling. Winner of the Austin Critics Table Award for Best Musical Production for the third year in a row, the troupe embarks on a new season filled with comedy, drama, and music—all while breeding new stocks of young thespians in their Penfold Players acting classes and summer camps.
240 E Main Ave.
Round Rock
Texas
512-850-4849
Not since the last '80s-night happy hour has there been such a good chance to express your inner self under conditions of mild intoxication. With this Groupon, $20 gets you in to a Friday- or Saturday-night BYOB painting class at the North Austin location of Painting with a Twist, where you can paint, tipple, and converse in an artfully social atmosphere.
8820 Burnet Rd.
Austin
Texas
Largemouth and guadalupe bass fin through the Colorado River rapids while birds soar above river islands and swimmer-friendly sandbars. Moored in a nook along this artery, Texas native and outdoor enthusiast Danny Walker—known as "Pops"—and his son—"Dan the Man Omega Mega"—equip adventurers by renting regular, tandem, and fishing kayaks, as well as standup paddleboards, from MOC Kayaks. To elevate river adventures from Huck Finn–style floating to Rambo-style hunting, pros outfit customers with fishing poles and tackle, sending them off to catch some of the river's more than 20 varieties of perch. For those who'd rather drop their lines in stiller waters, MOC Kayaks takes paddlers to Lake Travis and Lake Austin, and those who seek coaching on how to catch finned bounty can take advantage of guided trips. Dedicated adventurers can also buy their own kayaks to craft custom adventures or to take home and paddle around neighbors' pools.
17141 Rocky Ridge Rd.
Austin
Texas
After practicing a new way to combine balls with baskets during the pro lacrosse clinic, both newbies and enthusiasts of the sport can kick back and enjoy the sights and sounds of the LXM Fan Experience. When the blades of grass settle, Wale will get them jumping again with tracks like his Billboard-charting singles "Pretty Girls," "Chillin," and more. By then, the crowd should be plenty amped for the main event—the LXM PRO Lacrosse Game. On the field, dozens of the sport's best players, including Kyle Harrison and Joe Walters, will split into two teams and go goal-for-goal and stick-for-stick as they play for sheer love of the game—inspiring the crowd's aspiring youth athletes with rocket-powered passes, last-second catches, and thrilling goals. There's no cap for today's Groupon, so feel free to bus in with a team or carpool in with a family.
6500 St. Stephen's Dr.
Austin
Texas
---