Leavenworth, KS Outdoor Activities
---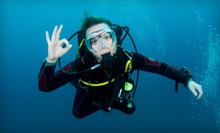 Use Thursday 11:00am - 4:30pm
---
Recommended Outdoor Activities by Groupon Customers
---
Captained by extensively experienced staffers, The Plaza Tennis Center invites racquets to swing in private and group lessons, tennis leagues, and tournaments. Private sessions for adults and children home in on individual skills customized around student goals and styles of play, while group classes pit pairs of friends and prefriends in calorie-burning drills emphasizing repetition and situational point play. Meanwhile, leagues pair similarly matched players in social beginner pairings, coed World Team Tennis formations, or Flex groups, which use the Tencap Tennis system to sort players by both skill level and the speed at which they knit a tennis net. The Plaza Tennis Center also hosts an array of tournaments on its 14 outdoor courts—each recently resurfaced, lighted, and tinted in U.S. Open colors—where players of all ages and levels of experience face off over the net.
4747 J.C Nichols Pkwy.
Kansas City
Missouri
816-784-5100
Among the world's first underground paintball arenas, Jaegers Paintball Complex spans six subterranean fields, all housed within one of Kansas City's oldest limestone mines. Holding at 56 degrees year round, these cave-like playing fields give marksmen cover in the form of limestone columns, stacks of barrels, and upturned cable spools. When the weather warms, Jaegers' team ventures above ground to supervise four outdoor fields, where plywood structures and tree-cast shade present obstacles and cover for weekend games of hyperpipe, woodsball, and speedball. Back underground, experienced gunsmiths man a pro shop, where they dispense advice and repair gear. A refreshment area provides respite between games—players may bring their own food or order delivery from a nearby Pizza Hut. Further amenities include soda machines, WiFi, and free views of coffee-table books depicting historic paintball battles.
9300 NE Underground Dr.
Kansas City
Missouri
816-452-6600
Overland Park Racquet Club lets members play tennis year-round with 14 courts inside a climate-controlled facility and eight out in the sun. A staff of experienced instructors—including former collegians and top-ranked amateur players—imparts skills and fundamentals during clinics, lessons, and Quickstart programs, which feature a scaled-down version of tennis for racketeers younger than 10. Off the courts, the club offers a full set of amenities including a fitness room, full-service restaurant and bar, and Olympic-sized outdoor pool where you can test out the buoyancy of your new suit sewn from tennis balls.
6800 W 91st St.
Overland Park
Kansas
Opened in 1989, Drop Zone Paintball Park's six fields sprawl over 89 acres of land, which play host to combat during sun or rain showers. In one field, a castle scenario corrals players into elevated turrets to defend against opponents who fire from surrounding towers across a makeshift moat. Elsewhere, trees lining ravines offer safe cover so shooters can take careful aim at their foes or draw their sweetheart's initials upon the trunks. Along with space for paintball and tournament-style speedball, the park's designers designated a special zone near the castle field where nonplayers can watch the action from a safe distance.
1224 N 1 Rd.
Overbrook
Kansas
785-841-1884
Boasting a combined resumé of 75 years of experience and more than 16,000 jumps, the members of Falcon Skydiving Team show off their aerial skills at exhibitions all over the states. They kicked off the US promotion of the latest Pokémon products with a whirling dive and perform as a highlight of the Richards-Gebaur air show. When not free-falling for audiences, they take up passengers with them and teach them the basics during low-altitude tandem dives.
7620 NW River Rd.
Waldron
Missouri
913-205-1224
Ibex Climbing Gym's 8,000-square-foot indoor facility is home to dozens of routes for all climbing skill levels. From clinging to overhangs or slowly trudging up slabs, climbers can hone their gripping skills with lead or top-rope climbing sessions. On a second-floor loft, bouldering challenges await rope-free climbers, with crash pads on the ground to soften falls and hundreds of multicolored holds offering varying routes. Ibex team members lead classes for all skill levels, from beginner to advanced, and also offer youth summer camps and recreational and competitive climbing teams. A wide variety of gear is available to equip students for climbing inside or outside of the gym. Prior to any rope climbing in the gym, beginners must undergo a belay class that teaches the fundamentals of belay safety, proper terminology, and the preclimb lasso dancing required for good luck.
801 NW S Outer Rd.
Blue Springs
Missouri
816-228-9988
---