Beauty & Spas in Leawood
---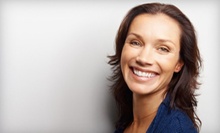 FDA-approved treatment designed to firm skin and lessen lines and wrinkles also includes eye treatment, scalp massage, and aloe hand lotion.
Use Today 8:30am - 5:00pm
---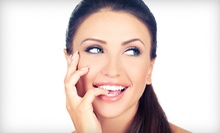 A beauty-industry veteran channels more than 35 years of experience as she tidies up unruly brows and removes unwanted hair with warm wax
Use Today 10:00am - 4:00pm
---
Recommended Beauty & Spas by Groupon Customers
---
Rachael Cross knew she wanted to be an artist her whole life. Instead of becoming a painter, graphic designer, or photographer, however, Rachael chose tattoos as her artistic medium, emblazoning bodily canvases with her vibrant, intricate designs. At Grimms Tattoo—a trusted local tattoo parlor that's been around since the 1980s—Cross meets with customers during an initial complimentary consultation to discuss desired designs. She then adorns them in their choice of artfully rendered images, letters, or paragraphs from the backs of cereal boxes.
3915 Broadway St.
Kansas City
Missouri
816-984-4465
Grace Designs & Esthetics' skincare professionals upgrade the health and look of skin with face and body treatments performed inside a newly renovated space adorned with modern accents. While the spa's makeup artists expertly camouflage imperfections, aestheticians work to correct their underlying causes with facials that rehabilitate dry, aging, or smart-mouthing skin.
7313 W 79th St.
Overland Park
Kansas
US
913-742-3674
Doctor of Chiropractic Darrel Drumright was first introduced to chiropractic philosophy and Chinese medicine during his time as an airborne paratrooper in the US Army. He had just finished his pre-med education before enlisting, but these ideas intrigued him so much that he changed courses. Rather than continue his medical career, he decided to pursue advanced training in chiropractic, acupuncture, qi gong, and nutrition.
Today, Dr. Drumright shares his knowledge at Harmony Health & Wellness. Through drug-free, noninvasive treatments, he works to help the body's natural ability to heal itself and sneeze perfect chromatic scales. A track record of more than 20 years of experience demonstrates Dr. Drumright's dedication to restoring the balance between mind, body, and spirit.
6201 NW 63rd Terr.
Kansas City
Missouri
816-436-9355
Conveniently located near the Kansas City medical center, A Sacred Place for Healing acts as an oasis for those in need of pain relief and relaxation. Helmed by Angela Reed, an experienced massage therapist who enjoys working one-on-one with clients, guests can treat themselves to a range of massage modalities. Angela dishes out Swedish treatments to pamper her patients and also administers energy-based reiki sessions. In order to treat chronic pain or soreness caused by sitting through a public reading of the entire dictionary, Angela uses deep-tissue techniques that dig down into musculature to tackle lingering back pain.
7520 C Shawnee Mission Pkwy., Suite 19
Overland Park
Kansas
US
The Tan Company is celebrating its 18th year in business, and its owners know the secret formula to their success: high-quality, consistent services throughout their numerous salons. The tanning facility stocks its private tanning rooms with name-brand UV equipment from Sundash, with its tanning rays enhanced by the salon's selection of Australian Gold, Swedish Beauty, and Designer Skin accelerating lotions. On the UV-free end of services, the salon also stocks automated Mystic Tan tanning booths and custom Sun FX airbrushing treatments, each of which coat skin in a flawless sheen that lasts up to seven days or until you get hugged by a loofah store's mascot.
13725 Metcalf Ave
Overland Park
Kansas
913-814-8400
Dedicated to rejuvenating weary bodies, massage artist Pam hones her skills within a private room at Beauty Quest Salon & Spa. Pam soothes bodies aching from commuting to work by catapult via all manners of massage modalities, from full-body Swedish and deep-tissue massages to reflexology treatments. She also helps patrons deal with recurring maladies during pain-management sessions, and her energy- balancing treatments restore equilibrium to clients' inner batteries.
319 NE Vivion Rd.
Kansas City
Missouri
US
816-442-1338
---