Lebanon, IN Health and Fitness
---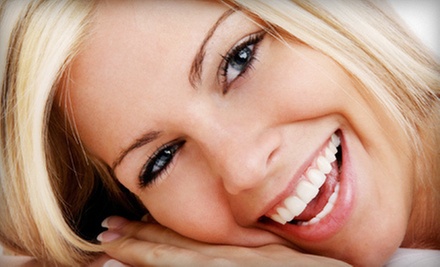 ---
Recommended Health & Fitness by Groupon Customers
---
Kristen Abbott and her troupe of passionate instructors motivate guests through TRX Suspension classes—a rigorous total-body toning system designed by a Navy SEAL—and equipment-based Pilates classes. Upon entering the studio, guests step onto bamboo flooring, which stretches out beneath airy vaulted ceilings, all painted with extra-buff versions of Michelangelo's Sistine Chapel ceiling. The studio—which earned the CityVoter award for Best Pilates Studio from 2008 to 2011—hosts small group classes, leading students through moves that challenge them to use their body weight as resistance in functional exercises. With continued practice, students can evenly tone and develop muscle groups across the entire body, with an emphasis on the posture-supporting core muscles.
12505 Old Meridian St., Suite 120
Carmel
Indiana
US
317-571-8880
The typical American back suffers two to three fractures a year from attempting to pick up prank quarters glued to the sidewalk. Get your back back on its best behavior with a little chicken noodle soup for the muscular-skeletal soul. For $39, today's Groupon gets new clients a chiropractic consultation, exam, adjustment, and 30-minute massage—not including x-rays if needed—at Meridian Spine and Joint, a value of up to $295. If you've already had an experience with the expert back menders at Meridian, you can purchase this Groupon for a full-hour massage ($80 value). Meridian is located on the North Side of Indianapolis.
8902 N Meridian , Suite 101
Indianapolis
Indiana
As a member of the U.S. Golf Association, both of GolfTEC's golf tech centers are staffed by experienced PGA golfing professionals and computers who've been programmed in compliance with the Three Laws of Golfing Robotics, particularly the First (a robot must not move the ball from where it lies or, through inaction, allow a ball to be moved). Motion sensors and high-speed cameras monitor your swing and break down your form on a high-definition video display. GolfTEC's PGA specialists will then point out flaws, emphasize strengths, and coach you on how to permanently improve your game from tee to green. Their sensors will chirp with approval when you finally execute a perfect stroke or crack an especially witty putting pun.
9873 N. Michigan Rd., Suite 140B
Indianapolis
Indiana
The Five Seasons Family Sports Club houses tennis courts, a dining area, fitness facilities, swimming pools, and a full-service spa under one roof. Within air-conditioned indoor courts or on outdoor clay courts, racquet slingers compete in friendly bouts to sharpen swings, refine backhands, and showcase grunting abilities. Members can also break a sweat in exercise areas speckled with modern cardio equipment and weights or cool off in an Olympic-sized pool with diving wells and wading areas. Before meeting others for a postgame beverage at the lively café, clients can wander to the spa for a relaxing massage or partake in a sports workshop to gain a firm grasp on game mechanics.
1300 E 96th St.
Indianapolis
Indiana
317-582-1550
Personal trainers Matt and Emily Hecker teach clients how to sculpt and strengthen their bodies using cardio, resistance training, and nutritional plans. The team of trainers—including a former Marine and a professional gymnast—lead one-on-one training sessions and small-group weight training, soothing yoga, or invigorating kettlebell classes .
The kettlebell workout, one of the trainers' specialties, traces its origins to Russia, where for 350 years the round weight with its sturdy handle has been used to build functional strength and flexibility. At Hecker's Fitness, teachers lead dedicated, supportive groups of students as they tone their cores and condition their muscles through this time-tested workout.
7635 East Stonegate Drive
Zionsville
Indiana
317-201-8263
Immaculate bent-grass tee boxes, fairways, and tees stretch across 6,507 yards of pristine woodland terrain at Wood Wind Golf Club's 18-hole course. The picturesque par 71 throws down a gauntlet of challenges across its emerald acres, with water hazards on 15 holes and a king's guard of 82 bunkers hugging the edges of fairways and butterfly-kissing well-fortified greens.
All of the course's considerable obstacles await at the memorable 14th hole, a par three where players must send tee shots somersaulting over an elongated pond to reach a shallow green buttressed on all sides by rippling waters, two backside bunkers, and a vanguard of feral windmills closing in from the nearest mini golf course. A relatively difficult course when played from the tips, the grassy monolith caters to golfers of all abilities with four sets of tees.
Anchored by a staff of PGA–certified aces, Wood Wind Golf Club's teaching academy fosters pin-hunting prowess with deft instruction and the latest in golf technology. The club's lavish banquet facilities also provide a spacious and scenic venue to host wedding receptions or parties celebrating the birthday of golfers' favorite club-head covers.
Course at a Glance:
18-hole, par 71 course
Bent-grass tees, fairways, and greens
Length of 6,507 yards from the farthest tees
Course rating of 71.5 from the farthest tees
Slope rating of 130 from the farthest tees
Four tee options
2302 W 161st St.
Westfield
Indiana
317-669-8550
---