Restaurants in Lebanon
---
Recommended Restaurants by Groupon Customers
---
With produce, meat, and bread culled from local vendors, the culinary team at Food Love crafts a variety of sandwiches and salads within a cozy food truck. Between slices of buttered bread, chefs sandwich ingredients such as green apples, raspberry jam, and melted munster cheese. Along with salads and tomato soup, the menu includes numerous vegan, vegetarian, and gluten-free options. Through its sister company, Angie Cakes, Food Love also sells post-meal cupcakes and pastries. Visitors can take their grub to go or feast at the outdoor seating area equipped with real plates and silverware, taunting passersby with the sights, smells, and if they're lucky, feels of the tasty nibbles.
398 Blair Blvd.
Eugene
Oregon
541-337-0565
The neon lights, wooden tabletops, and televisions of Quackers Sports Bar and Grill create a fond and familiar scene for many West Eugene locals. The bar has been a popular neighborhood joint for nearly a decade, drawing crowds with pints of cold beer, hearty sandwiches, and daily specials. Bartenders bustle beneath towering shelves of fine spirits, stirring up mixed drinks and passing out plates of chicken wings from the kitchen. Meanwhile, guests compete in games of billiards or linger over drinks on the outdoor patio. Soulful blues music resounds across the bar during live jam sessions every Wednesday, whereas on Saturday, bar-goers can croon out their favorite song or car-insurance jingle during karaoke.
2105 W 7th Ave.
Eugene
Oregon
541-485-5925
Tucked inside the elegant Valley River Inn on the verdant shores of the Willamette River, SweetWaters on the River showcases the Pacific Northwest's plentiful bounty in gourmet dishes prepared by executive chef Michael Thieme. The seasoned culinary staff, which includes a pastry chef that heads the on-site bakery, devise rotating seasonal menus that flaunt such ingredients as locally harvested organic produce and truffles, artisan cheeses, and native Pacific seafood. The fully stocked bar brims with international wines and homegrown varietals from the flourishing Oregon wine country, and a resident mixologist carefully infuses chic cocktails with fresh, seasonal produce such as chilies and oranges. The dining room's ceiling-to-floor windows boast panoramic vistas of the adjacent river's leafy, fertile banks and a covered three-season patio cultivates an alfresco ambiance while offering shelter from rain or snoopy UFOs.
1000 Valley River Way
Eugene
Oregon
Within the 153-room Holiday Inn, Amici envelops diners in salmon-hued walls as they feast on freshly cut pastas and overflowing paninis. Rob Sigmund of Wild Duck Catering mans the helm of the spacious dining room, where upholstered banquettes, dark woods, and modern lighting fixtures create an atmosphere of contemporary comfort. After excavating a savory strata of lasagna, patrons can search for a wine finale on the outdoor patio or for mermen in the hotel's swimming pool.
919 Kruse Way
Springfield
Oregon
541-284-0707
Baristas brew up coffee, espresso, tea, and blended drinks at Global Delights, a quaint, locally owned drive thru that infuses its drinks with worldly flavors. The shop recently began roasting its own, certified organic coffee, adding to a menu that already includes pastries as well as gluten-free and vegan options from Holy Donuts. More than just an energy boost for its customers, Global Delights also demonstrates a passion for improving the community, both by supporting other local businesses and working with Eugene charities.
1038 River Rd.
Eugene
Oregon
At Cozmic Pizza, the culinary team kneads organic flour made from local Willamette Valley wheat into crusts that are brushed with buttery extra-virgin olive oil. Then, they pile on toppings and set the pies to bake on 600-degree stones. The list of toppings—many of which are also organic, such as the apples and cilantro—breaks traditional pizza boundaries by including unique options such as smoked oysters, kale, and vegetarian meats, which offer an alternative to the eatery's local sausage, smoked pork, and pepperoni.
These Jersey-Eugene-style fusion pies are the brainchild of Kirk Giudici, also the founder of Rising Moon Organics. When Kirk decided to embark on a second organic foods endeavor by opening a pizzeria, he found himself drawn to a vintage 1945 building that was an Edsel car dealership back when man didn't travel only by hovercraft. While renovating the 4,000-square-foot auto display room, the same environmental principles that led Kirk to organics undergirded his decorating approach of using only recycled and repurposed materials. As a result, diners sip their homemade fountain sodas and Oregonian microbrews while perched at a bar made from a shuffleboard and lit with dryer-drum light fixtures from Kirk's Laundromat.
The restaurant space, massive enough to have once housed a fleet of automobiles, enabled Kirk and his partner Alec to create a stage dubbed The Edsel, which has attracted national acts such as Michelle Shocked, The Be Good Tanyas, and eight-time Grammy Award winner Marcia Ball. In addition to musical acts, the pizzeria's calendar is full of events such as Science Pub, when tipplers learn about topics such as why it's impossible to teleport your clothes along with your body. Cozmic Pizza also engages in regular charity efforts such as a fundraiser for Greenhill Humane Society that caught the attention of KMTR.
199 W 8th Ave.
Eugene
Oregon
541-338-9333
---
---
Restaurant Deals - Recently Expired
---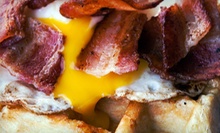 Liège-style Belgian waffles crowned with toppings that range from whipped cream to organic fruits and a myriad of cheeses
---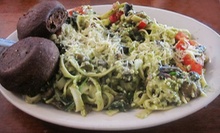 California BLTs, grilled-steak salad, burritos, and other dishes from a restaurant praised by the New York Times and Sports Illustrated
---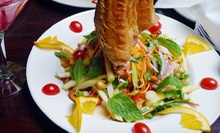 Thai noodle dishes, such as pad see ew and pad thai, share the menu with mild and spicy curries, golden-fried halibut, and fried rice
---
---