Museums & Galleries in Lebanon
---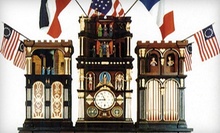 The continent's largest collection of timepieces includes the massive Engle Clock, hands-on exhibits, and George Washington's pocket watch
---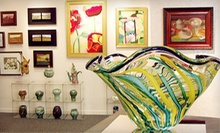 Archival-quality framing and meticulous restoration of old photos, art, and frames
---
Recommended Museums & Galleries by Groupon Customers
---
The 43,000 square-foot facility of America On Wheels is dedicated to preserving and showcasing the expansive history of American transportation. Within that, 23,000 square feet are devoted entirely to exhibit space, where guests will find a variety of classic cars, racing vehicles, trucks, and motorcycles. Rotating exhibits have included topics such as classic cars of the 1930's–including a 1933 Buick–, muscle cars, and trains. In addition to offering family memberships and group tours, the facility hosts rentals of its space and a museum store, as well as a classic café complete with ice cream, shakes, floats, and hot dogs.
5 N Front St.
Allentown
Pennsylvania
American Civil War Wax Museum, tucked in the historical and geographical shadow of the Battle of Gettysburg and Lincoln's Gettysburg Address, immerses visitors in the history of the fledgling Union's internal war with realistic scenes and life-size wax figures dressed in historically accurate attire and equipment. Patrons embark on a self-guided journey through a number of detailed exhibits, such as the Battle Room, which simulates the battlefield experience with a digital audiovisual presentation, or the animatronic Lincoln delivering the Gettysburg Address, just as the first robot Lincoln did nearly 160 years ago. Across the way, Veteran's Park coaxes erstwhile museum-striders to soak in the historic surroundings on a bench or beneath a shade tree while relaxing among chirping birds. Since opening in 1962, the museum has broadened the historical knowledge of more than 8 million visitors and has hosted such notable orators as former Speaker of the House Newt Gingrich.
297 Steinwehr Ave.
Gettysburg
Pennsylvania
717-334-6245
Keenly aware of Lancaster's need for a space celebrating the city's vibrant art community, a group of determined artists and citizens banded together in 1965 to found the Goethean Hall Gallery of Art, nestled amid Franklin and Marshall College. Though the art gallery has changed venues and names, the original vision of its founders—to provide visitors with the "best available art"—remains unchanged. Rechristened as the Lancaster Museum of Art (LMA), the museum now resides in the historic Grubb mansion, and boasts diverse exhibits and events for the public. The mansion's 4,000 square feet of galleries and porticos plays host to an ever-changing lineup of awe-inspiring art, as well as a permanent collection composed of paintings from a roster of Lancaster's homegrown artists, including Hugh Fitzgerald, Abby Rudisill, and Ellen Slupe. LMA also fosters an artistic dialogue with the community through numerous education programs that introduce the next generation to the ins and outs of the creative process.
135 N Lime St.
Lancaster
Pennsylvania
---