Lebanon, TN Health and Fitness
---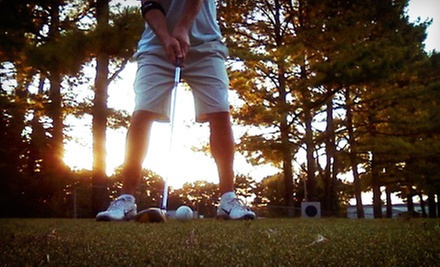 ---
Recommended Health & Fitness by Groupon Customers
---
Chances are that your days of balancing a scalding coffee atop an encyclopedia atop your head are numbered. A professional chiropractic exam can help you find out if your achy neck is related to the precariously stacked tower of bones snaking up the back of your body, known as the vertabrave or Devil's Jenga. Today's Groupon to Action Chiropractic gets you a spinal exam, x-rays, and an hour-long massage for $59 (a $250 value). Whether you suffer from a duck-like gait, migraine headaches, chronic pain, or debilitating ennui, doctor of chiropractic W. Casey Bearden and his knowledgeable team will spring into action like a well-oiled pit crew descending on an asphalt-eaten Pontiac.Abraham Lincoln: Spend four score and seven hours wearing the long, lanky frame of The Great Emancipator! Our 16th president's bones are still strong from a childhood spent chopping wood and learning nation-shaping values we still admire today! Pay entirely in five-dollar bills to receive 15% off! It's a deal so good it'll have you saying, "I'm thinkin' Lincoln!"
6410 Charlotte Pike, Suite 101
Nashville
Tennessee
US
Endurance Sports and Rec focuses on providing serious athletes and busy fitness seekers with top-notch diagnostic services and products. To that end, each Ride Ready tune-up includes a brake adjustment, derailleur adjustment, afterburner check, cable lubing, bearing-system adjustment, windshield-wiper refill, and wheel truing that straightens rims to within .05 mm precision. In the process, customers will also be able to non-literally pick the brains of Endurance Sports' friendly and experienced staff of gear gurus as they tighten and lubricate your pavement-glider, leaving it free of creaky noises, barnacles, and explosive devices planted by angry squirrels.
101 International Dr., Suite 105
Franklin
Tennessee
The trainers at Life Fitness Academy act as motivating catalysts for muscle-pumping neophytes in one-on-one sessions that flatten flab and chisel chassis. In addition to fat burning, the sessions also focus on holistic training, stress reduction, and nutritional analysis. Prior to working out, clients undergo a comprehensive fitness analysis that will help formulate a plan of attack to keep muscles from bickering among themselves about the best way to squash calories. A constructed meal plan and training outline keep trainees on course and bodies in check even when outside the bounds of Life Fitness Academy's healthful gaze and beset on all sides by cheesecake.
1108 17 Ave. S, Suite D
Nashville
Tennessee
US
At New Image Dentistry, Dr. Allen Blourchian leads a friendly staff, lending more than 20 years of experience in general, cosmetic, and restorative dental services. The team follows a patient-first philosophy, catering to any dental anxieties and fears with empathy and patient education. In fact, the entire office was designed for the purpose of creating calm and relaxing vibes—a sleek wooden reception desk sits before a large impressionist painting of a sleek wooden reception desk, and natural light cascades through wide windows over padded ergonomic chairs. A computer station and wall-mounted television entertain waiting patients, and inside the office's up-to-date operatories, dental CT-scanning technology accurately diagnoses any ailments, whereas oral and inhalation sedation methods assuage anxieties even further.
155 Covey Dr., Suite 300
Franklin
Tennessee
US
615-591-4490
Fit-Rx's hot yoga classes are headed by happy, healthy instructors who will motivate you to do that extra downward dog, cobra pose, and other animal-themed postures in preparation for your inevitable fight with a rogue land otter. Participants will sweat through a sequence of 26 postures in a heated room of 100–105 degrees Fahrenheit and 50–60% humidity. Classes last 90 minutes and provide an excellent opportunity to sweat out toxins while engaging forgotten muscles that have turned cranky from underuse. After class, a cool cloth with essential oil is provided to wipe down salty sweat and soothe simmering skin. Customers also gain access to Fit-Rx's state-of-the-art facilities that include striking, oak-finished locker rooms and beautifully tiled bathrooms.
204 Ward Circle, Suite 300
Brentwood
Tennessee
Zumba is a raging fitness megasaurus that unites Latin dance rhythms with high-energy movements—creating a fitness program that exiles calories, perks up listless muscles, and scandalizes dull exercise routines. Instructor Rebecca Hinton has been teaching Zumba since 2008; her classes have since grown so popular that she expanded into b.fab.fitness and formed a veritable coven of Zumba fanatics with four other instructors. Their dance-inspired routines work every major body muscle and keep hearts thumping to the beat, all without the monotonous drudgery of treadmills, stationary bikes, and boulder-stacking.
4004 Hillsboro Rd
Nashville
Tennessee
---