Lebanon, TN Outdoor Activities
---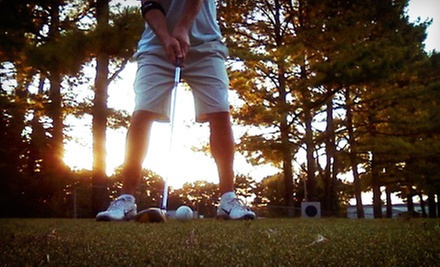 ---
Recommended Outdoor Activities by Groupon Customers
---
When surveyor Aaron Higgenbotham discovered Cumberland Caverns in 1810, he couldn't see its majestic pillars of dripping rock, its flowstone curtains, or its subterranean waterfalls. Stuck on a small ledge in the dark, Higgenbotham was as blind to the cave system's features—one of them a 2,000-foot-long cavern hall—as the eyeless crayfish that live there. His initial discovery nevertheless paved the way for nearly 200 years of speleological findings. Today, guides preserve this 32-mile National Landmark cavern by leading daily tours through its passages.
During tours, guides point out artifacts left by pre Civil War–era saltpeter mines, tunnels filled with rare gypsum deposits, and mysterious inscriptions reading "Shelah Waters - 1869" and "Millard Fillmore + Stacy." They lead guests among stalagmites and stalactites to a sound-and-light show that dramatically retells Bible stories, or into a domed hall that houses a hand-cut crystal chandelier rescued from a historic Brooklyn theater. It's in this last space that staffers organize banquets, weddings, and monthly live bluegrass concerts, or hold burial services for broken fax machines. They also lead visitors through the tight passageways of lesser-seen cavern segments during daytime or overnight spelunking trips.
1437 Cumberland Caverns Rd.
McMinnville
Tennessee
Dazzling formations and a remarkable register of past residents renders the Lost River Cave a tour treasure for families, history buffs, and geological geeks alike. The cave's titular river rests below gnarls of stunning stalactites and stalagmites, the finest views of which emerge on the cave boat tour, the only underground cruise of its kind in the state. As the daylight suddenly vanishes and things begin to glow in the dark, one of Lost River's friendly, funny guides will fill you in on the Lost River's prehistoric Native American roots, as well as its later habitation by Civil War soldiers and outlaws like Jesse James—painting a vivid picture of the cave's hospitable environs and its 8,000-year-old bellhop. Upon disembarking, you'll continue your sabbatical from sunshine with a further 20-minute guided walking tour of the cave. Visitors have been known to spot native pipistrelle bats, cave salamanders, eyeless crawfish, and skinny-dipping gnomes.
2818 Nashville Rd.
Bowling Green
Kentucky
270-393-0077
With Cumberland River Cruises, water travelers will enjoy scenic vistas of the Cumberland River and Old Hickory Lake from the deck of Discovery, a red-, white-, and blue-topped pontoon boat operated by Jesse Caskey. The company's river tours treat hungry eyes to the naturally lovely sights of nature, like a full moon's reflection in the river's shimmering looking glass, the beautiful reds and bruised pinks that suffuse Old Hickory Lake when the sun sets the horizon on fire, and—in autumn—a symphony of falling gold-red and butter-yellow leaves as majestic flocks of Major League Baseball teams fly south for the winter. Most tours operate from Thursday through Sunday and are tentatively scheduled for 3 p.m., 5 p.m., and 7 p.m., although schedules will vary based on sunset time. All tours include water and soft drinks.
450 Cherokee Boat Dock Road
Lebanon
Tennessee
Professional anger and guide Mike Davis picked up his first fishing pole in his hometown of Orlando, Florida, where the swampy surroundings provided ample opportunities for reeling in scaly specimens. After high school, Mike fulfilled his childhood dream of being a meteorologist before serving a combat tour in the Persian Gulf during Desert Storm, and once back in the States, he was selected as a member of the National Weather Service. While his head was in the clouds, his heart remained by the water, and he ultimately decided to make his passion for fishing his life's pursuit. Today, Mike resides in Nashville where he leads guided fishing tours on Old Hickory Lake, helping anglers of all ages and abilities catch bass, crappie, catfish, and the rare yet inedible rubber fish.
200 Odoms Bend Rd.
Gallatin
Tennessee
615-513-2667
In the gulches of an abandoned phosphate mine, a labyrinthine path echoes with the roar of unseen chainsaws and the rustles of hidden ghouls. Monsters and zombies lurk in the darkness at Millers Thrillers Zombie Paintball Hayride and Haunted Woods, but it isn't mere craving for blood or brains that makes them so eager to terrify––the scary staff members actually receive a bonus for making visitors wet themselves. Really. "I did always like Halloween," says founder and owner David Miller.
Miller wasn't always in the pants-wetting business, but you might say the business of Halloween in his blood. He grew up growing and selling pumpkins with his grandfather and––though he admits he was too scared to try them as a kid––his interest in haunted houses led him to intense study in the art of scaring, including seminars and conventions. His interest in creating eerie worlds inspired him to begin his walk through haunted woods and zombie-paintball hayride––during which visitors wield mounted paintball guns to fire upon advancing zombies and blank canvases hurled by poltergeists. But landing a few paintball hits won't be enough to ease the natural terror of the haunt's surroundings. "There's a lot of spooky stuff around all this country farmland… with no streetlights in sight," Miller says. "We…play on the fact that people are going to feel like they're lost in the middle of nowhere."
Despite the fright fest's scariness, Miller's real aim is to give visitors a good time. Staff members go easy on little kids and the elderly, and at the end of the walk, customers can calm chattering teeth around a fire pit and rejoin the world of the living by gathering around the concession stand or a stage that hosts a nightly illusionist and zombie drum line.
2499 Greens Mill Rd.
Columbia
Tennessee
Six ponds and 52 sandtraps aim to thwart golfers as they traverse WillowBrook Golf Club's par 72 layout. Measuring 6,709 yards from the farthest tees, the course's Bermuda grass fairways and bent grass greens offer airborne balls open landing zones, eschewing the need to hire squirrels as air-traffic controllers along the rough.
WillowBrook Golf Club also fosters golf game improvement at its driving range, two putting greens, and short game practice facility. After a day spent fine-tuning their swing and filling their scorecard with only prime numbers, golfers can unwind at Boskey's Grille, which serves a menu of sandwiches, ribs, seafood, and pasta in a casual atmosphere with complimentary WiFi.
Course at a Glance:
18-hole, par-72 course
Length of 6,709 yards from the farthest tees
Course rating of 71.8 from the farthest tees
Slope rating of 123 from the farthest tees
Four tee options
6751 McMinnville Hwy.
Manchester
Tennessee
931-728-8989
---