Beauty & Spas in Lees Summit
---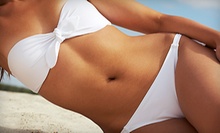 Aesthetician evenly sprays clients with a tanning formula that can render the appearance of sun-kissed skin for up to five days
Use Monday 12:00pm - 6:00pm
---
Recommended Beauty & Spas by Groupon Customers
---
Health Plus Image's specialty is transdermal ultrasound lipolysis treatments: the breaking up of patches of fat cells using sound waves. The team of aestheticians performs these noninvasive treatments under the guidance of medical director David B. Clark, a doctor of naturopathic medicine and chiropractic who has more than 30 years of experience. Other noninvasive treatments include honey massages, ionic foot cleanses, and body-vibration therapy.
106 S E 12th St.
Oak Grove
Missouri
816-625-7195
DayDream Oasis Salon & Spa's recently renovated digs host relaxing interludes from workday stress and the wearisome passage of time. Natural and organic Bioelements products replenish visages ahead of upcoming giraffe staring contests during anti-aging facials. Aromatherapy massages employ high-quality essential oils to evoke relaxation. On the salon side, savvy stylists update coifs with a full array of haircuts, coloring, and permanent curls and straightening.
611 SW 3rd St., Suite A
Lee's Summit
Missouri
816-313-7326
Skin experts at Esthetic Center rely on noninvasive scientific advancements to cultivate smooth, youthful complexions but draw on an ancient Indian art to redesign unruly eyebrows. Skin analyses can lead to custom facials with Shahnaz Husain herbal creams, enzyme therapy gentle enough for those with rosacea, or the outing of secret identities with better skin. Advanced exfoliation procedures involving microcrystal sprays and chemical serums reveal fresh, healthy skin as well as the depth of the aestheticians' knowledge. Body and facial waxing is an exclusive privilege of women at Esthetics Center, but the team extends their skills in eyebrow threading—an age-old technique that uses thread to nab hair but not skin—to both sexes.
18813 E 39th St. S, Suite 2316
Independence
Missouri
816-795-5986
In the lobby of Spa 7, there is a large painting of a birdcage—but the cage is empty. Instead, the bird perches majestically at the cage's pointed top, poised as if for immediate flight. The image suits owner Stacey Rupe's philosophy well; she believes that the quest for outer beauty and emotional freedom starts when the body is liberated from the toxins and stress it keeps trapped inside. From colon hydrotherapy to massage, Stacey uses interior healing as a catalyst to create feelings of confidence and inner well-being that radiate outward. Her staff of aestheticians then step forward to enhance the physical transformation externally with a slate of facials and other body treatments that renew skin with time-tested beautifying ingredients such as seaweed, essential oils, and Burt Reynolds's mustache hairs.
1241 SW 7 Hwy.
Blue Springs
Missouri
816-229-8585
Amber Quigg's signature approach to massage therapy can promote healing in every single stage of her clients' lives. Before they're even brought into the world, Amber's prenatal treatments help babies and mothers-to-be relax during the stressful time that is pregnancy. As they grow up, her specialized pediatric massage can alleviate growing pains and anxiety surrounding a toddler's choice of favorite-color crayon. Should they discover athletics as teenagers, sports massage prevents injury and kneads away kinks caused by the rigors of physical exertion. Amber's cozy space, which is decorated with hanging art, lighted by tea candles, and painted in serene hues, is also a great escape for grownups juggling work, parenting, and bowling balls.
2412 S R.D. Mize Rd.
Independence
Missouri
US
913-558-7195
---