Beauty & Spas in Lees Summit
---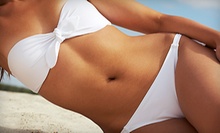 Aesthetician evenly sprays clients with a tanning formula that can render the appearance of sun-kissed skin for up to five days
Use Monday 12:00pm - 6:00pm
---
Recommended Beauty & Spas by Groupon Customers
---
Health Plus Image's specialty is transdermal ultrasound lipolysis treatments: the breaking up of patches of fat cells using sound waves. The team of aestheticians performs these noninvasive treatments under the guidance of medical director David B. Clark, a doctor of naturopathic medicine and chiropractic who has more than 30 years of experience. Other noninvasive treatments include honey massages, ionic foot cleanses, and body-vibration therapy.
106 S E 12th St.
Oak Grove
Missouri
816-625-7195
Custom spray tan technician Cristine can give you a dash of color—whether it's with her UV-free tanning solution or her manicures and pedicures. Each spray tan is customized to the client's preferred shade of bronze. In addition, the odor-free tanning solution is made up of natural ingredients and can moisturize and hydrate the skin. Not to be outdone, the hands and feet can get a boost with pedicures, colored acrylics, French manicures, and optional high-fives.
100 B Main St.
Belton
Missouri
816-318-8332
Skin experts at Esthetic Center rely on noninvasive scientific advancements to cultivate smooth, youthful complexions but draw on an ancient Indian art to redesign unruly eyebrows. Skin analyses can lead to custom facials with Shahnaz Husain herbal creams, enzyme therapy gentle enough for those with rosacea, or the outing of secret identities with better skin. Advanced exfoliation procedures involving microcrystal sprays and chemical serums reveal fresh, healthy skin as well as the depth of the aestheticians' knowledge. Body and facial waxing is an exclusive privilege of women at Esthetics Center, but the team extends their skills in eyebrow threading—an age-old technique that uses thread to nab hair but not skin—to both sexes.
18813 E 39th St. S, Suite 2316
Independence
Missouri
816-795-5986
Inside BodyNSpa, wrought-iron shelves proffer jewelry, body butters, and bath oils amid peach walls and an Old-World wall clock. Private, clutter-free massage rooms house therapists who craft custom massage and spa services beneath dim lighting, with the aid of soft microfiber blankets and several cartoon-animal companions. When they aren't kneading sinews with Swedish, hot-stone, and therapeutic techniques, they're defining contours with body wraps and daubing faces with soothing masks. They also perform airbrush tanning to give pallid epidermises a bronze glow.
100 NE Tudor Rd., Suite 106
Lee's Summit
Missouri
816-509-0190
In the lobby of Spa 7, there is a large painting of a birdcage—but the cage is empty. Instead, the bird perches majestically at the cage's pointed top, poised as if for immediate flight. The image suits owner Stacey Rupe's philosophy well; she believes that the quest for outer beauty and emotional freedom starts when the body is liberated from the toxins and stress it keeps trapped inside. From colon hydrotherapy to massage, Stacey uses interior healing as a catalyst to create feelings of confidence and inner well-being that radiate outward. Her staff of aestheticians then step forward to enhance the physical transformation externally with a slate of facials and other body treatments that renew skin with time-tested beautifying ingredients such as seaweed, essential oils, and Burt Reynolds's mustache hairs.
1241 SW 7 Hwy.
Blue Springs
Missouri
816-229-8585
Inside The Lucky Waxing Company, Carrie McDaniel forges her own unique path to beauty in a trendy and welcoming environment. In addition to providing expert waxing services, the styling sensei draws on her 12 years of teaching aspiring young stylists the art of shaping and coloring coifs as she smoothes tangled tresses with Keratin treatments or infuses monochromatic hair with Glitter Strands. As a nail tech, she outfits fingers with Shellac polish and soothes feet with spa pedicures, complete with a leg massage that coddles calves in preparation for long-distance hopscotch races.
1327 SW US Hwy 40
Blue Springs
Missouri
816-645-5885
---