Things to Do in Lees Summit
---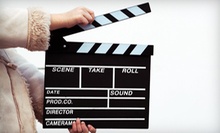 Swope Park - Kansas City Zoo
A Hollywood production crew guides kids in the production of their own movie, from acting to lights, then stages a red-carpet premiere
---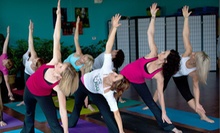 Hatha yoga provides foundation for other yoga styles and includes postures, breathing, and meditation
Use Tuesday 3:45pm - 6:45pm
---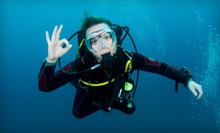 Use Thursday 11:00am - 4:30pm
---
Recommended Things to Do by Groupon Customers
---
Powell Gardens is Kansas City's botanical garden, just east of KC on Hwy 50. With two cafes, a chapel, the nation's largest edible landscape + acres and acres of gorgeous gardens, it's an outing the entire family will enjoy.
1609 NW US Hwy. 50
Kingsville
Missouri
MVPs, Gold Gloves, and a World Series title pepper more than 40 years of Kansas City Royals history, replete with powerful pitches and bat-cracking home runs. The recently renovated Kauffman Stadium treats visitors to a giant high-definition video board, which wears a 40-foot crown and waves a scepter made of massive glow sticks. During breaks in the action, fans can visit concessions stands, play mini golf in the kids' area, or count each of the stadium's 37,903 seats. Open until the top of the eighth inning, a 7,000-square-foot Hall of Fame guides guests through a maze of memorabilia, including photos of Royals past and future.
1 Royal Way
Kansas City
Missouri
800-676-9257
Lunar Bowl casts a nebular net across rounds of pin punishment, which unravel daily across 32 state-of-the-art synthetic bowling lanes. Built in 2001, the 38,000-square-foot facility has played host to the PBA National Tour twice, including the tour's nationally televised finals and nontelevised slip 'n' slide experiments in the 11th frame. The center's celestial theme soars over into The Blue Moon Lounge, where bowlers can take a break from strikes and spares to watch big games or create deep-space shadow puppets on a 150-inch HD projector screen. Guests can visit the newly built arcade, and the facility will be non-smoking as of June 3. On weekends, Lunar Bowl drifts further into intergalactic realms with laser-lit cosmic bowling, and, buzzing with the chimes of new high scores, an arcade provides various digital challenges.
2001 NW 7 Hwy.
Blue Springs
Missouri
816-220-7722
A circular driveway leads to the towering white columns that frame the entrance of Van Noy Mansion, built in the early 20th century for a wealthy railroad family. Two and a half acres of 100-year-old oak trees, manicured shrubs, and verdant landscape surround the estate, and guests are invited to take photos and explore the grounds. General manager James Michael summarizes the mansion's beauty by saying, "You have to see it to believe it. When people walk in for the first time, their jaws drop."
Original woodwork lines the mansion's interior, which is ornamented by stained-glass windows and a series of original murals portraying a courtship. A dramatic wooden rotunda with a second-level landing gives guests space to snap photos or drop buckets of molasses and feathers on late arrivals. Stepping out on the second-story balcony, guests can occasionally hear faint elephant trumpets from the neighboring zoo intermingled with real trumpets carried on the breeze from the nearby Starlight Theatre. The historic 5,000-square-foot mansion plays host to up to 1,000 guests for indoor and outdoor weddings receptions, holiday parties, and charitable events, with food services available from a list of preferred caterers.
6800 Elmwood Ave.
Kansas City
Missouri
816-333-4600
The nonprofit organization of Summit Art, Inc. and its 80-artist collective manage Got Art Gallery on Third, an independent nonprofit gallery that works closely with local artists and is dedicated to enriching the cultural landscape of citizens in Lee's Summit and the South Jackson County area. Gallery director and mixed-media artist Teresa Hogan Keene covers exposed brick walls with rotating exhibitions that showcase artists skilled in photography, painting, and mixed-media creations.
At the back of the gallery, a classroom hosts adult students learning to paint in BYOB sessions, where they can sip libations such as wine or flavored watercolors, as well as classes aimed at teaching drawing and acrylics to children and teens.
18 SW 3rd St.
Lee's Summit
Missouri
816-600-5932
The newly renovated Arrowhead Stadium might initially impress visitors with its upgraded sound and scoreboard systems, expanded concourses, and 360-degree video-ribbon board. But during the Chiefs 5K Run, its most salient feature is the 50-yard line, which doubles as the race's finish line. Sponsored by the Kansas City Chiefs, the race's after-party also brims with football-inspired touches. The team mascot, KC Wolf, makes a guest appearance, and locker-room tours put fans in the spot where many a pre-game pep talk has taken place, along with the private changing room where the football puts on its laces.
1 Arrowhead Dr.
Kansas City
Missouri
816-920-9300
---