Things to Do in Leesburg
---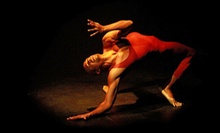 Basics of movement through ballet, tap, modern dance, and creative play with props to develop musicality and imagination; tap shoes required
Use Tuesday 12:30pm - 3:30pm
---
Recommended Things to Do by Groupon Customers
---
A bastion of family-friendly arts and entertainment since its curtain first rose in 1983, Ruth Eckerd Hall demonstrates its commitment to the community through concerts, movie screenings, and all-ages education at the Marcia P. Hoffman Performing Arts Institute. Graduates of the school go on to star in musical and theater productions on the stage, overlooking 2,180 sloping seats arranged continental style for great sightlines and impeccable acoustics.
1111 N McMullen Booth Rd.
Clearwater
Florida
727-791-7400
With the 2011 season looming large, FC Tampa Bay will attempt to pass, tackle, and score its way to NASL glory at the club's new home at Al Lang Stadium in St. Petersburg. Currently headed up by English coach and retired professional footballer Ricky Hill, the FC Tampa Bay team are chest-trapping, banana-kicking, and head-butting their way back into the world of black-and-white-spotted balls. Watch them take on the Puerto Rico Islanders, who are hungry to work their way up the 2011 standings, or root on the roster as the team guns for the fleet-footed Atlanta Silverbacks, slippery Carolina Railhawks, or northerly FC Edmonton. General-admission seats allow frenetic fans to observe the fantastic flairs of NASL soccer savants as they attempt to sneak the European pigskin between an opponent's legs and through the goal zone. The $20 gift voucher can be put toward merchandise such as a jersey, a scarf, or an oversized foam yellow card.
3802 W Dr. Martin Luther King Jr. Blvd.
Tampa
Florida
From the outside, Professor Wonder's WonderWorks laboratory appears to have flipped completely on its head. When visitors enter the upside-down edifice, they must first pass through the psychedelic, spinning lights of the Inversion Tunnel, which turns the building right-side up for families to embark on a full day of entertaining, educational activities. More than 100 interactive exhibits spark excitement around natural phenomenon, including replica space capsules that visitors can climb into, a gallery of mind-bending illusions, and the lab where Cabbage Patch Kids are grown in petri dishes.
Some of WonderWorks Orlando's hands-on displays allow guests to experience the aftershocks of the San Francisco earthquake of 1989, throw a strike against Derek Jeter, and lie down on a bed of 3,500 sharp nails without so much as a scratch. Additional activities include the Indoor Ropes Challenge Course, which exercises bodies and minds as challengers navigate three stories of swinging beams and suspension bridges, and the XD Theater 4D, which transports viewers to swift canyon roller coasters, haunted mines, and Mars with full-motion seats and 3-D visuals.
9067 International Dr.
Orlando
Florida
Pedal into the sun and shine on the Pinellas Trail with today's Groupon, which gets you a day-long bike rental from Sun West Cyclery. Sun West is a family-owned-and-operated bike shop that rents comfort bikes, a limited number of recumbents and road bikes, and absolutely no bikes outfitted with road spikes and oil dischargers."Bicycles. They seem harmless…but are they? Mostly yes, they are harmless…if being LAZY is harmless.
625 U.S. 19 Alt.
Palm Harbor
Florida
US
Florida Orchestra has delighted ears across the Tampa Bay area for 44 seasons filled with time-tested masterworks and sprightly pops concerts. Created in the 1968 merger between the St. Petersburg Symphony and the Tampa Philharmonic, Florida Orchestra ties the two sides of the bay together into one musical tradition. The ensemble has continued its program of outreach ever since, which has recently included cultural exchange programs with Cuba, collaborations with local institutions, and the tradition of allowing one lucky child to sleep inside a tuba during each performance.
244 2nd Ave. N
St. Petersburg
Florida
727-892-3337
Just minutes from downtown's bustling shops and overlooking the glassy waters of Tampa Bay, The Mahaffey's picturesque building hosts some of Florida's most entertaining art and performance offerings. Originally built in 1965, the renovated building's floor-to-ceiling glass façade pierces the night with softly glowing light, cordially inviting patrons inside and awakening desires in moths that can never be fulfilled. The box-style seating of the theater ensures clear sightlines for all patrons, and its excellent acoustics make the venue suitable for both thunderous rock bands and delicate chamber ensembles.
400 1st St. S
St. Petersburg
Florida
727-892-5767
---