Professional Services in Leesburg
---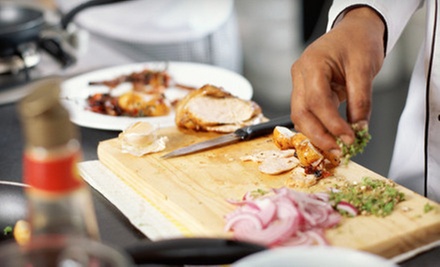 ---
Professional Service Deals
---
Recommended Professional Services by Groupon Customers
---
The Floral Studio is a custom floral studio with expertise in weddings and special events. Their blooms are conditioned to last longer and bloom brighter than others. This Groupon is strictly for seasonal bouquets, ensuring you'll always get the freshest flowers, and can be applied to larger arrangements (customers must pay amount over $50 value). Usher in balmier temperatures, Easter bunnies, and puppy love with a springtime cluster of tulips, iris, and daffodils. Come summer, sample arrangements could include groupings of antique hydrangea, dahlia, and sunflower. Although the selection is seasonally changing, currently you can get a simple, classy dozen premium roses in your choice of color ($66). If the fear of fleeting flora leaves you wanting more, invest in life that will stick around a little longer. The blooming topiary lasts up to three weeks (your choice of color, $70), and a double-stem orchid plant for $55 is an exotic way to breathe life into your life.
6510 Falls Road
Baltimore
Maryland
Newlyweds can't stop praising the staff at Flowers & Fancies. In several glowing reviews posted on the business's website, satisfied customers praise their bridal bouquets and aisle-side blooms, with some even hand-scrawling their thank-you notes to the florist. While the shop's employees boast a special knack for creating wedding-day arrangements, their artistic bouquets express a wide spectrum of sentiments so flower givers don't ever have to change facial expressions. On anniversaries, 12 long-stem roses commemorate years of devotion, while sprays of pink flowers make a friend's day. The floral artists also indulge a whimsical streak with pup-shaped arrangements and a line of cocktail-inspired bouquets that only cause intoxication if soaked in vodka and eaten as a snack.
11404 Cronridge Dr.
Owings Mills
Maryland
410-653-0600
With a bevy of awards under its dirt-vanquishing belt, Glyndon Lord Baltimore Cleaners transforms world-weary area rugs and dingy clothes into shining beacons of fiber and fabric. To kick off the degriming process, cleaners shake floor toupees loose of all dry dirt with a special RugBadger machine. After a pretest to ensure sturdiness and color stability, rugs are thoroughly cleansed of stains and odors from mildew, territorial pets, and random skunkings. A nontoxic antimicrobial disinfectant ensures that rugs remain as fresh as a bouquet of satin gardenias. There is no limit on rug size ($2.50/sq. ft. regular; oriental & silk $3.50/sq. ft.), and for a $50 fee, the specialists will also carefully move furniture, sweep, and replace furniture with polaroids of furniture upon delivery.
6 Central Ave.
Glyndon
Maryland
410-833-5200
The restorative experts at Techlab Photo provide a variety of filmy services, including traditional film processing, original prints, slideshows, audio/video transfer, and more. VHS tapes and filmstrips lose quality over time, so prolong their viewing cycle by converting to DVD. Aging photographs can time warp via the image-enhancing touch of Techlab's photo-restoration services, including color correction, contrast adjustment, and cleaning. A variety of high-end services, such as picture-slideshow creation and custom photo-book printing are also available to capture the many souls of life's memories. Pricing varies by project; call for details.
8170 Maple Lawn Blvd., Suite 170
Fulton
Maryland
240-295-1095
With vibrant specimens and detailed instruction, Petals for the People assists floral fans in creating their own fetching arrangements. Each customer will receive a bundle of seasonal flowers and greens that can be grouped into two or three arrangements, as well as access to helpful online instruction that can mold nature's colorful flair into eye-catching bouquets. While many grocery stores stock flowers on the shelf for an extended period of time, Petals for the People collects the freshest and most intriguing flowers from the U.S., South America, Holland, and Thailand and ships them directly to the customer from its warehouse. The resulting product is a striking and long-lasting arrangement that's sure to spruce up any home, office, or captain's quarters on a circumnavigating carrack.
6712 Old Dominion Dr.
McLean
Virginia
Arlington Photography is a boutique studio dedicated to high-quality wedding and portraiture photography with an emphasis on capturing all your special moments as they unfold.
5105 23rd Road North
Arlington
Virginia
703-585-2256
---