Restaurants in Leesburg
---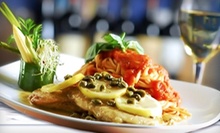 Eggs benedict prepared more than 10 ways, grilled chicken and spinach enveloped by fresh-made crepes, and half-pound USDA Choice burgers
---
Recommended Restaurants by Groupon Customers
---
American Flatbread makes its game-changing flatbread foundation using organic flour, which is topped with a fresh, locally grown assortment of veggies, meats, and cheeses. Each one is generally big enough for two moderate eaters or one hungry hippo. The tasty flatbread pizzas are born and blazed inside a primitive, wood-fired oven, giving them a delicious crunch and primal taste signature.
43170 Southern Walk Plaza, Ridgeway Dr.
Ashburn
Virginia
The menu harvests local and organic ingredients, creating tasty eats to be savored in between rounds of freeze tag with the friendly servers. Dishes are designed to be delicately paired with a fine wine but are just as tasty alongside a '98 Capri Sun. Start with a classic mouth amuser, including an assortment of three artisanal cheeses ($12) or a plate of charcuterie ($10). There are farmed feastables such as the Parisian herb gnocchi with brussels sprouts, pearl onions, balsamic, and ricotta in a brown butter sauce ($12), or netted nuggets like the pan-seared flounder ($13). Phenomenologists who reject substance dualism will enjoy the chicken and waffles dish, which is actually a deep-fried quail served with cornmeal and herb waffles and drizzled with bacon-caramel syrup ($12).
7 South King Street
Leesburg
Virginia
At Shoes Cup and Cork Club, patrons can enjoy a welcoming ambience and striking décor while sampling delectable sips and nibbling on tasty tidbits. Located inside a former shoe-repair shop, the interior showcases eye-catching touches such as brass footrests and wooden shoe cases. Visitors will be able to bring along a friend or reconciled archenemy and sample three wines, such as the McManis Viognier '08 and Paraiso Chardonnay '07, of their choice in 1.5-ounce tasting samples. Each pair will also nosh on one hummus and flatbread platter or fruit and cheese platter, which will soothe palates and meld with complex wine flavors like a smile-inducing pleasure ointment. Additionally, though not included in the Groupon, a varied menu offering coffee, drinks, and hearty fare douses fiery appetites. The laid-back vibe at SC&C is perfect for surfing the Net, writing a text-message novella, or vigilantly anticipating an Elvis sighting. Enjoy tasty bites and savory wines in a relaxing setting with today's side deal.
17 North King Street
Leesburg
Virginia
Otani Japanese Steak & Seafood falls into a familiar rhythm around mealtimes. Chefs man tabletop hibachi grills and sear platefuls of filet mignon, scallops, or chicken right in front of patrons while entertaining them with witty banter, dexterous displays of culinary skill, and their ability to peel shrimp telepathically. Meanwhile, the sushi chefs avoid open flames entirely as they carefully tuck lobster, spring mix, or wasabi aioli into their signature rolls. The entire staff matches the friendly, energetic service of the restaurant's managers, Sammy and JJ, striving to greet every guest by name by their second or even first visit.
120 Edds Ln.
Sterling
Virginia
703-404-8700
Forno specializes in authentic Italian fare, summoning up the flavor and finesse of the old country with each fresh-made bite. The hand-tossed Neapolitan pizzas take the crusted crown among Forno's foragers, with fresh herbs and ingredients slow-dancing with tantalizing toppings in a brick-oven prom chaperoned by watchful flames. Try a 16-inch Pugliese pizza ($20), topped with sausage and broccoli, or maintain the meat-and-veggie motif with the salami and roasted bell-pepper toppings of a 16-inch Sopressata pizza ($23). All bread and dough is baked fresh daily at Forno. In the spirit of traditional Italian communal dining, the restaurant offers its pasta dishes in both single and family portions—lone rangers can get the potato gnocchi with gorgonzola cheese and spinach for themselves ($11.50), or split a family portion to feed up to three fellow diners ($39). Among appetizers, Forno's white bean and Italian sausage stew ($9), with roasted garlic and fresh herbs, has earned a fervent following, and dessert die-hards can conclude dinner with tiramisu ($6.50) or a cannoli ($6).
43150 Broadlands Center Plaza
Ashburn
Virginia
Wielding ingredients culled from the fields, stockyards, and vineyards of local producers, chefs craft inventive dishes such as osso buco anointed with smoked-pork au jus and pan-roasted rockfish drifting in crawfish cream. The most recent addition to the Vintage team is brewmaster Kristi Griner, who channels her 24 years of experience to helm the efforts of Vintage 50's 10-barrel brew house. Additionally, Vintage 50's caterers conjure fare for weddings and the food-fight receptions that follow and whip up dishes for offsite corporate events and holiday parties.
50 Catoctin Cir. NE, Suite 100
Leesburg
Virginia
703-777-2169
---