Things to Do in Leisure City
---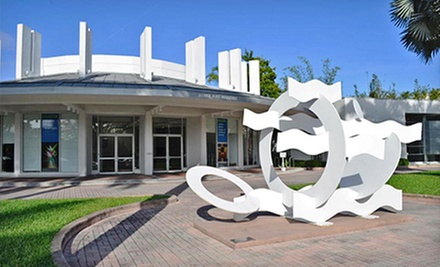 ---
Recommended Things to Do by Groupon Customers
---
Miami Gliders' crackerjack aviators bring a wealth of experience to an air-tripping array of glider rides in addition to other airborne adventures. During 40- to 50-sky-spanning minutes, gliders traverse a lush panorama of Florida's scenic vistas as they gently descend from an Icarus-melting height of 5,280 feet. Guided by a skilled pilot who melds an airy blend of telekinesis and earthly physics to keep afloat, passengers indulge peepers with VIP views of the Everglades, Redlands, and Biscayne National Park. Bring your own camera or take advantage of the aircraft's recording device, which grants guests striking snapshots from the outside of the glider, capturing the area's picturesque landscapes and Dadaist crop signs.
28790 SW 217th Ave.
Homestead
Florida
US
Crouched behind a stack of tires, a player feels the incoming paintballs smack against the rubber as he plots his next move. Such a sight is common at Bigshot Paintball Field's outdoor field, a collage of upturned pallets, cable spools, and dirt mounds where combatants outmaneuver each other to find the best firing positions. Bigshot's staff acquaints every player, from beginners to those who have been living off field grass since 2005, with the rules of play and equipment operation before allowing them to enter the thick of battle. Between bouts, the staff also dispenses bottled water and soft drinks and can recommend nearby pizza joints that deliver. Barbecue grills are allowed as well, if there's room available. As a not-for-profit organization, Bigshot Paintball Fields donates a portion of its proceeds to the Police Officer Assistance Trust, a support organization for the law-enforcement community of Miami–Dade County.
27401 SW 127 Ave.
Homestead
Florida
786-268-9208
Jet Ski Tours of Miami sends clients soaring by the opulent homes of Star Island to sites where they may view marine wildlife or let loose to ride the open waves during 90-minute guided adventures. Unlike jet-ski rentals that relegate riders to a certain square of water, daring drivers on the tour can satiate velocity cravings in a speed-limit-free zone and may spot wild dolphins or manatees during the expedition, getting close enough to touch them or swap snickerdoodle recipes. From the seat of their blazing water steed—a 2010–2011 Yamaha VX110 WaveRunner—customers take in views of sandy beaches, sparkling water, and posh villas, culling companionship from a chosen friend, date, or waterproof robot, since a second rider is free with the tour. Jet skis are inspected weekly for safety and serviced monthly to ensure a breakdown-free ride and an absence of talkative barnacles.
2560 S Bayshore Dr.
Miami
Florida
True to its name, more than 95% of Biscayne National Underwater Park is covered by water, resulting in a submerged, verdant landscape. In the shallows of Biscayne Bay, explorers can catch sight of waving fields of underwater grass as well as the occasional manatee, sea turtle, or wild submarine. Kayaks paddle out to the more than 30 islands dotting the park's expanse, reaching destinations such as a 1930s lighthouse. Venturing out from the shore filled with lush mangrove forests, snorkelers dive into living reefs to see fish and turtles gluing the coral together.
9700 SW 328th St.
Homestead
Florida
A white sail propels a 50-foot sailing catamaran out into Biscayne Bay. The wind-powered watercraft belongs to Playtime Watersports, whose captains narrate ocean sailing tours or host private and corporate events as sunsets paint the sky. Elsewhere on the bay, wave runners and pontoon boats—two of Playtime Watersports' other rental watercraft options—churn up water as they drag race with thrill-seeking dolphins.
Despite its name, Playtime Watersports doesn't limit itself to on-water revelry. The staff hosts corporate outings such as Beach Olympics, with events including beach volleyball, sand sculpting, and scavenger hunts.
801 Brickell Bay Dr.
Miami
Florida
Buddy closes his eyes as he sits on the deck of Buddy's Dream, letting the ocean breeze run through his gold hair as his tongue flaps in the wind. Ernie, owner of South Beach Boat Rentals, appointed his golden retriever as the company's mascot, naming all of his boats after the pooch instead of using impersonal numbers or the names of favorite Congressmen. After retiring from directing films in New York, Ernie decided to move to Miami, where he fell in love with boating, which helped him forget day-to-day concerns as he skimmed over the water.
Ernie's fleet of rental boats includes powerboats and luxury yachts, such as a 25-foot Azure Luxury 250 horsepower bow rider or an 18-foot Sea Ray sports boat, which renters can pilot themselves with a valid driver's license and boating experience. Ernie also leads private tours, including the historical Stilts Ville tour or the popular two-hour Miami Waters tour, which zooms past the homes of celebrities such as Gloria Estefan and Shaquille O'Neal while giving stunning views of the Miami skyline.
1635 N BayShore Dr.
Miami
Florida
305-673-6555
---