Day Spas in Lemay
---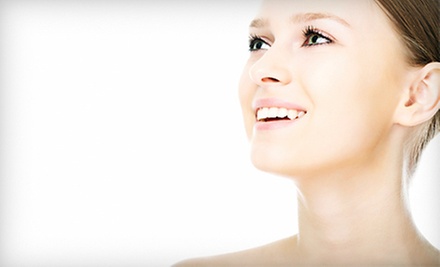 ---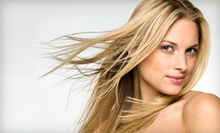 Professional stylists remove dirt & oil with shampoo treatment before severing wayward strands
Use Today 2:00pm - 6:00pm
---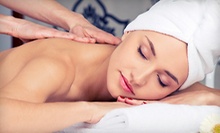 Use Monday 6:00am - 6:30am
---
Recommended Day Spa by Groupon Customers
---
Doctor of Chiropractic Zach LaBoube will use a series of carefully placed needles to provide electrical stimulation to specific points on the ear, which can mediate the physiological symptoms of nicotine withdrawal. While auriculotherapy may help eliminate cravings and lessen the discomfort of snubbing your very last cancer stick, liberating yourself from tobacco's hacking grip takes personal commitment. Read up on how you can couple InsideOut's spot-on pokes with motivational techniques to quit here.
8230 Forsyth Blvd. , Suite 100
Clayton
Missouri
True to its location on the second and third floors of Firehouse Place, All Seasons Salon and Day Spa elevates minds and bodies with nature-inspired spa treatments. Goldwell and Aveda products line the shelves in a reception area whose floral décor vies for attention with the purses, clothes, shoes, and handcrafted Elle Cosmetics peeking out from the designer boutique area next door. Back in the pedicure nook, toes take baths in basins of warm water before shedding their calluses and ferrying their owners to one of the nearby manicure stations, where technicians brush fingernails with vibrant OPI polishes. Soft candle lights flicker against the walls of private aesthetic and massage rooms, while out on the salon floor stylists revivify hair with custom European coloring techniques. During the wedding season, the spa's team tends to more than 75 bridal parties, painting nails, styling strands, and dipping drab white dresses in their vibrant hair dyes.
1 Ronnies Plaza
St. Louis
Missouri
US
Seasons Salon and Day Spa's pampering staff indulge clients with a mélange of services that relax and tone bodies amid candlelight and muted earth tones. From salon treatments that sculpt and maintain chic coiffures to mani-pedis that primp nails and soften skin, a grab bag of beautification prepares clients for nights on the town and days spent standing still in a wax museum. Extravagant spa packages, such as the Little Black Dress, draw from a menu of massages and skin treatments to smooth away cellulite, burn calories, and revivify sagging visages with collagen treatments.
Experienced instructors also kick weight loss into high gear with fitness classes⎯ranging from yoga to Zumba⎯held within an expansive hardwood studio. Private tanning rooms sport draped ceilings and ambient lighting, gilding bodies in an atmosphere that's more relaxing than a cruise ship filled with down pillows.
1 Ronnies Plaza
St. Louis
Missouri
US
Though threading primarily deals with hair removal, the real focus of the service is the skin. Many depilation methods extract unwanted strands, but leave skin irritated and subject to wrinkle-producing tugs and yanks. Threading combats these unwanted effects with a 100% cotton thread that loops and uproots unwanted hair, eliminating the need for chemicals that can cause breakouts and require the placement of hazard stickers on faces. Beauty By Thread's expert technicians wield strings with the utmost precision, creating sultry eyebrow arches and removing hair from upper lips, sideburns, or infringing hair lines.
Threading leaves brows expertly shaped for up to three weeks, and the staff also offer Lizette Mineral eyebrow-makeup kits, which combine 10 shades of water-resistant powders and six stencils that allow clients to maintain beautiful looks at home. Clients can also add an exotic touch to their look with the shop's showcase of ankle bracelets, bangles, and tiaras instead of filling out the endless paperwork required to adopt a pet tiger.
3563 Ritz Ctr.
St Louis
Missouri
US
314-894-0102
Diva Beauty releases faces from follicular shackles with a slew of threading services. A practice poached from ancient beauticians, threading caters to sensitive epidermises by forgoing chemical-packed waxes and painful tweezing, instead lassoing wayward hairs and passing steers in a natural-cotton loop. Eyebrow artisans prune faces for approximately 30 minutes, precisely targeting and tugging wayward brow, lip, and chin hairs. Witness sculpted arches swiftly unfold with milder side effects than with alternative lock-removal methods, such as short-lived redness and foreheads bashful about their newfound nakedness.
3563 Ritz center
St Louis
Missouri
US
314-894-0102
The white tulip chairs, sleek charcoal and orange décor, and recessed lighting may give Wink Threading Salon a modern feel, but their specialty service is rooted in tradition. Instead of relying on harsh wax, chemicals, or duct tape, the hair removal experts reach for a simple length of antibacterial thread. By twisting the threads together and sweeping them across the skin, the stylists are able to swiftly and precisely uproot stray hairs, creating smooth, sure lines on the brows, upper lip, chin, or forehead. A writer for D Magazine in the feature "The Best Eyebrow Job I've Ever Had" called Wink's threadong process "less painful…than wax" and "less tedious than tweezing," and even claimed that afterwards she was so pleased that she "could [not] stop looking at [her brows] in the rearview mirror."
3563 Ritz center
St Louis
Missouri
US
314-894-0102
---