Massage in Lemon Grove
---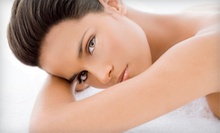 Therapists unwind muscles with a Swedish, deep-tissue, trigger-point, or sports massage in a softly lit room humming with relaxing music
---
Recommended Massage by Groupon Customers
---
The services at sanctuate! feast visitors with a cornucopia of relaxing stimuli that engages all five senses, easing muscles and minds into states of complete bliss without undressing, ruining hair and makeup, or the application of oil. Clients enter a private treatment room where an Inada Sogno DreamWave massage bed scans musclescapes with its intelligent infrared scanner, seeking out tense spots and deploying its troop of rollers and kneaders to coax out knots. While clients' muscles submit to the DreamWave's precision strokes, Bose noise-cancelling headphones trickle soft music into ears while a flat-panel television displays soothing images. To enhance the relaxing sessions, aromatherapy fragrances waft over olfactories and clients can savor squares of gourmet chocolate.
3619 Midway Drive
San Diego
California
US
619-223-1774
Owner Jodi Ketchum has spent a decade helping clients unwind with Tuina bodywork and therapeutic massage. At Lotus's Los Angeles location, she exclusively practices Tuina, an ancient form of Chinese massage that has helped restore wellness reportedly since 2300 BCE. At her San Diego location, Ketchum joins with other wellness and Oriental medicine practitioners to guide guests through yoga classes, Tuina bodywork, massage, and acupuncture. Both locations are airy and bright, a concept that runs throughout the facilities and is evoked by plants, large windows, and light hardwood floors. Customers can schedule appointments online or, after studying yoga at the center, shape their bodies into letters that spell out appointment requests.
1792 W Washington St.
San Diego
California
It takes experience to earn a spot on Advanced Massage Therapeutics' staff, and its current team has the certifications to prove it. Nationally certified and licensed therapist Melissa Silberman kneads stress from tight muscles with techniques gleaned from more than eight years of experience in clinics and spas. Danielle Vreeland, a California-state-certified therapist, completed 1,000 hours of training before earning the title of staff therapist. The spa puts as much emphasis on its amenities as its staff. Therapists gift each client with a cup of tea or bottle of water during their visit, and conduct each session on memory-foam tables and head rests that conform to clients' bodies and remind them of the date of their fist kiss.
8312 Lake Murray Blvd. , Suite H
San Diego
California
US
619-466-6566
At Wat Po Thai Spa, a 2010 nominee for Best Day Spa by Best of LA, technicians bolster well-being with services that range from traditional Thai massage to skincare. The house-specialty Thai Combo fuses Thai massage, Swedish massage, and reflexology into an international amalgamation of relaxation similar to naptime at the UN. Thai massage harnesses compression, stretching, and rocking techniques to improve circulation of vital energy along the body's pathways, and Swedish massage encompasses gentle strokes such as gliding, kneading, and stretching to increase oxygen flow in the blood and forge full-body tension relief. Patrons walk away from massage sessions with relieved stress, allayed aches, increased internal alignment, and enough flexibility to fold bodies into an empty Pringles can at the first sign of danger.
432 East E Street, 3rd Floor
San Diego
California
619-453-1978
---