Professional Services in Lemon Grove
---
Professional Service Deals
---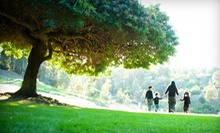 Use Tuesday 10:00am - 6:00pm
---
Recommended Professional Services by Groupon Customers
---
The laundry gurus at relaxx Dry Cleaning remove stains and freshen fabrics with eco-friendly Green Earth Cleaning. Opt for free pickup and delivery, and gallant raiment rescuers will swoop in to retrieve soiled duds such as business shirts ($2.10), blouses ($4.45), coats ($7.45), and gravy-stained suits of armor, or whisk away household linens such as duvet covers ($19.95) and comforters ($19.95+) for a restorative trip to the laundry spa. Later, garments reappear on clients' doorsteps on recyclable hangers, looking bright, smelling fresh, and humming Ethel Merman show tunes. In addition to laundry services, relaxx Dry Cleaning cossets clothes with full tailoring, shoe-repair, and leather-cleaning services.
2240 San Diego Ave.
San Diego
California
US
619-233-0980
Time can warp our memories, just as proximity to an active volcano can warp treasured collections of action figures. That's where DVD Your Memories comes in to permanently preserve photos, videos, film reels, or cassettes in a variety of high-quality digital formats. When customers step into any California or Colorado DVD Your Memories location, a lab coat–clad technician gently walks them through the preservation options, which include CDs, DVDs, Blu-ray discs, or hard drives. As per company policy, that very same technician will return the original source material, along with a digital replica of the customer's choice. DVD Your Memories can also take media to the next level with additional services, which include basic video editing, photo restoration, chapter creation, and superimposing your favorite president into your birthday party.
8305 Vickers St., Suite 206
San Diego
California
Every garment that comes into The Cleaners Club goes through a six-step cleaning process the starts with an inspection and ends with custom packaging. The employees behind the process all have a minimum of five years of dry-cleaning experience and underwent a two-month training program before being hired. This dedication to quality service and educated staff has been The Cleaners Club mantra since the company's inception in 1985, and it's helped them develop long-standing partnerships with corporations including Ralphs and Vons. Both locations use nontoxic hydrocarbon solvents designed to cleanse garments and upholstery without perchloroethylene—an environmentally unfriendly chemical used by many dry cleaners and Mother Nature's rebellious nephew.
9919 Carmel Mountain Rd.
San Diego
California
858-780-0895
PhotoBin's picture experts help those looking for a unique, easy way to share photos with family and friends to create conversation-starting photo books, while clients call all the shots. Users can choose the type of book they'd like, then add a page count and fill the book with their treasured photos. Users can modify the placement, size, and focus of each picture with the site's online tools. Wedding photos grab houseguests' attention when collected in a hardcover coffee table book, while family vacation slides look all the more appealing when printed in a softcover book or a colorful photo magazines.
PhotoBin protects and showcases customers' photos with scanning services, conversion offers, and customizable, full-color photo books. Customers seeking to preserve cherished or fading photographs can send their physical pictures to PhotoBin's digital transmogrifiers, who take each image, create an electronic copy, and burn them onto a CD, before sending the original shots and the new image disc back to their owners. The site also offers digital conversion services for videos, and scanning services for negatives, and slides.
10045 Mesa Rim Rd
San Diego
California
858-869-9900
Dennis Mock's self-proclaimed spontaneity and documentary spirit have earned him dozens of local and national awards from photographers associations and national camera companies. His background in sports photography allows him to capture split-second moments of joy or truly spectacular action passes of familial play, and his experience in architectural photography gives him a natural sense of composition—whether he's at parks, beaches, or shooting a newborn session in his professionally lit studio. Before each shoot, he discusses costuming and venue choice with clients to decide how and where to best capture the earnest smiles of graduates and high school seniors, the savvy stare during business head shots, the doting looks of parents, the proud family and kid moments, and the uninterested glances of celebrity trees. When he's not out taking photos, Dennis is busy helping others hone their composition and lighting skills during photography workshops that cover everything from camera functions to digital editing and the importance of storytelling.
13715 Sparren Ave.
San Diego
California
858-722-5573
Kevin's Bartending Services matches bonded and insured cocktail mixers with revelers at weddings, corporate events, and private parties. In addition to bartenders, the company outfits partiers with event coordinators, servers, and bussers who tend to guests. The staffers arrive 30–45 minutes before the events start and clean up afterward; hosts need only to provide the alcohol. Kevin's Bartending Services has a California liquor license and two liability policies, making it a safer choice than buckling a seatbelt on a tire swing.
3728 Ingraham St.
San Diego
California
858-342-9606
---