Massage in Lemont
---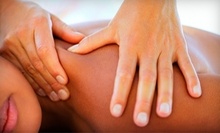 Use Today 11:00am - 3:30pm
---
Recommended Massage by Groupon Customers
---
Upon entering the tranquility lounge at One Salon & Spa, clients receive a warm, soothing cup of complimentary herbal tea. The elegant ambiance—accented with contemporary furnishings and an earthy palette of beige and umber—allows visitors to sink into a deep state of relaxation inside private treatment rooms. One Salon & Spa's team of specialists offers an exhaustive menu of salon, spa, and cosmetics services, including a variety of facials, spa manicures and pedicures, and massage-therapy approaches.
2000 Spring Road
Oak Brook
Illinois
630-954-1900
While there are many styles of massage to choose from, the licensed massage therapists at Elements Therapeutic Massage blend a medley of kneading techniques to ease away tension. Their four-level approach helps to cater sessions to each individual client. Patrons looking for a light and relaxing massage receive a level 1 massage, whereas those with more muscle tension can opt for the medium pressure of a level 2 or 3, and clients bearing especially tangled muscle fibers or especially heavy jetpacks can find relief with the deeper manipulations and trigger-point work of a level 4.
3075 Book Rd., Suite 143
Naperville
Illinois
630-922-9595
Upon entering Massages Reduce Stress, guests are asked to remove their shoes. As they skate around the space in their socks or provided slippers, they can choose from 16 different massage modalities, including Swedish and hot-stone treatments as well as ones geared toward pregnant women and cancer patients. Body scrubs and nutrition advice from therapists supplement tissue work, with all treatments striving to lift away anxiety from clients' bodies and send it into the atmosphere, where it will eventually plug up holes in the ozone layer. Therapists also devote themselves to their community by participating in local fundraisers, grand openings, and employee-appreciation events.
11555 S Harlem Ave., Suite B
Worth
Illinois
708-923-0462
Doctor of Chiropractic Chris Tomshack opened the first HealthSource office in 2006 and has watched his business take flight. Named No. 1 New Franchise by Entrepreneur in 2011 and profiled in Inc., HealthSource has grown to more than 400 offices nationwide. The expansion is due in part to progressive-treatment protocols and business systems and in part to the experience Dr. Tomshack gained while in the US Air Force and the MBA program at the University of Toledo, and at Palmer College of Chiropractic, where he graduated summa cum laude. At each of his offices, a team of chiropractors, licensed massage therapists, and trainers helps to alleviate ailments such as disk degeneration and fibromyalgia. The team can also tailor treatments to alleviate pain from carpal tunnel syndrome, migraines, or arthritis, and its progressive-rehab program works with body areas that are known to cause trouble, such as weak lower backs and rebellious pinky toes.
555 Plainfield Rd.
Willowbrook
Illinois
630-882-5331
Licensed aesthetician and massage therapist Sigita Wendorf leads the staff at The Body Shop Day Spa in crafting spa treatments more relaxing than a lullaby duet by Yanni and Enya. Several massage modalities, including reiki and reflexology, relieve muscle tension, while facial and body treatments soothe skin. A fireplace in the waiting room casts shadows on vases full of blossoms, and throughout the spa, the walls showcase images from nature, such as fog-obscured trees and beach turtles playing Marco Polo.
2541 W Division St., Suite 104
Joliet
Illinois
815-744-6498
At Ambience Salon and Day Spa, gentle cream hues swathe clients in serenity as practiced stylists and aestheticians beautify hair, skin, and nails. Hair services transform style, color, and texture, and a slew of services for special occasions leaves manes trussed and cheeks primed for proms, weddings, or proms that turn into weddings. Sunlight filters in through gauzy curtains as extremities indulge in pedicures and manicures, and a plush table plays host to massages.
2222 Maple Avenue
Downers Grove
Illinois
630-663-1820
---