Arts & Culture in Lenexa
---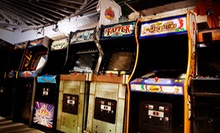 Use Sunday 4:00pm - 9:00pm
---
Recommended Arts & Culture by Groupon Customers
---
Tickets For Less is an easy-to-navigate, secure site that rescues consumers from perilous hidden fees and charges on tickets to concerts, plays, and professional and collegiate sporting events. By bypassing the price inflation that stems from traditional ticket vendors wining and dining their tickets before selling them on the open market, Tickets For Less is able to serve discounted paper permits. Upcoming events include a Lady Gaga concert, a performance of Cirque Du Soleil, and kinetic day at the NASCAR track, which at one point probably hosted a reunion concert for The Verve Pipe.
7960 W 135th St., Suite 100
Overland Park
Kansas
US
913-685-3322
In an age of stringent airport security and fewer flights to Narnia, theater remains the easiest and most rewarding way to be transported to new worlds while seated in a row of cushioned chairs. Today's Groupon invites you to one of 24 performances of Green Whales at Unicorn Theatre. For $15, you get one ticket to a Friday- or Saturday-night show at 8 p.m. (a $32.50 value). You can also get a ticket to a Sunday matinee at 3 p.m.; a Tuesday-, Wednesday-, or Thursday-night show at 7:30 p.m.; or the one-time Saturday matinee on March 6 at 3 p.m. for $12 (a $27.50 value). Shows start with the previews on March 3 and 4 and run through closing day on March 28. Once you receive your Groupon, call the theater's box office to schedule the date you would like to attend.
3828 Main St.
Kansas City
Missouri
Associate conductor Steven Jarvi channels the combined melodious might of the Kansas City Symphony and Symphony Chorus, KC Brass, Allegro Children's Choir, and Rezound Handbell Ensemble through an all-new holiday celebration of sound. Mobs of merry musicians, rumored to include 12 drummers drumming and a possible 11 pipers piping, will feed hungry ossicles symphonic arrangements of Christmas traditions. Families coasting on waves of Yuletide joy will yearn to sing along with timeless carols perfected by years of door-to-door focus testing. To complete each holly-jolly evening, Santa Claus himself will make an appearance to play a 30-minute free jazz solo on his signature fur-fringed soprano saxophone.
1020 Central St.
Kansas City
Missouri
Fine Arts Theatres' four venues surround moviegoers with classic silver-screen ambiance as they present the latest independent and mainstream film offerings. Lovingly refurbished neighborhood movie palaces such as the early-20th-century Rio Theatre now boast surround-sound digital audio, high-backed rocker seats with arm-mounted cup holders, and movie trailers acted out by gregarious ticket takers. In addition to flicks opening each week, Fine Arts Theatres hosts screenings for the annual Kansas International Film Festival, voted the Best Local Film Festival by readers of The Pitch in 2011. The group also holds a Jewish Film Festival each spring and a Latin American Film Festival every September.
7204 W 80th St.
Overland Park
Kansas
913-383-8500
Far from the typical movie theater, Alamo Drafthouse Cinema subverts the industry standard by offering locally brewed beverages, a rotating menu, and an advertisement-free experience. Theatergoers can sip on wine and themed specialty cocktails while enjoying the custom shows that run before the feature in place of ads. Alamo Drafthouse Cinema projects first-run blockbusters and cult classics from crisp 35-millimeter or digital film onto the silver screen, as surround sound submerges audiences in the cinematic experience. The theater's enormous shepherd's crook enforces a strict no-talking, no-texting policy, with the notable exception of fan-centric Quote-Along nights.
1400 Main St.
Kansas City
Missouri
816-474-4545
---