Auto Service in Lenexa
---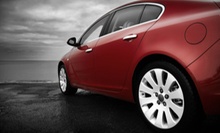 Automatic car wash cleans rides in minutes with soft-cloth tunnel wash, air-cannon drying, and Armor All Professional Body Shield
---
Recommended Auto Service by Groupon Customers
---
Though you know that your ride deserves new oil roughly every 3,000 miles, life and sudden fire sales sometimes get in the way. One Stop Auto Repair is situated on the corner of 83rd and Metcalf Avenue and aims to remove any excuse that prevents healthy driving with a regular oil change. Your petroleum transfusion is administered by an ASE-certified technician. One Stop Auto Repair has 10 years of experience in clinical car whispering under its belt.
8239 Metcalf Ave.
Overland Park
Kansas
US
Most people wait until their car develops an ecosystem in its wheel well before deciding it's time to clean it. Travel Clean won't judge you for your procrastination. Instead, the friendly staff will guide you into the car wash tunnel. All you'll have to do is relax while Travel Clean's massive army of Three Laws–compliant car-care robots wade into the mess and give your car a pristine cleaning while eerily chanting, "Wash, wax, restore." You won't have to get out of the car, ruin your suede shoes, or make small talk with the weird waiting room clown. While you do whatever one does in the privacy of a car wash, your car will get a refreshing undercarriage cleaning, and a Wheel Brite treatment to clean the dirt and break dust from your wheels.
12400 Blue Valley Pkwy.
Overland Park
Kansas
913-469-9274
After treating your tires to a game of musical chairs (during which each tire will be checked for leaks, damage, and stowaways), Rob Sight's technicians will run a rigorous test on every component of your vehicle's brake system down to its friction material, rotors, drums, hoses, and connection points ($24.95 for tire rotation and brake inspection). Dual- or rear-wheel vehicles cost extra. Next, they'll conduct a charge system test ($34.95) on the alternator, starter draw, and battery. After a thorough multipoint inspection and an exterior car wash, your chariot will shimmer its way off the lot looking fresh as a genetically engineered super-creature with dangerously soulful eyes.
13901 Washington St.
Kansas City
Missouri
Crystal Clean Car Wash shines and polishes all surfaces of vehicles with high-pressure sprays, foaming presoaks and wheel cleaner, and interior vacuuming at two automatic stations and eight self-service stations. While giving auto bodies a glistening sheen, the wash's extensive filtration system channels all wastewater into a sand-oil separator for future treatment rather than sullying the earth with untreated surfactants and needless erosion. Teams of dedicated detailers meticulously purify the inside and outside of cars, trucks, and SUVs, and the Fleet Program allows squadrons of delivery trucks, company cars, and rented dirigibles to freshen up in the car-wash bays. In addition to restoring paint jobs and removing sheets of dust and grime, Crystal Clean Car Wash supports the efforts of local nonprofits and charities by making its facility available for fundraising car washes.
1201 NE Sloan St.
Lee's Summit
Missouri
816-524-7644
While an expert staff leads customers through an inventory of new and pre-owned Hyundais outside, Shawnee Mission Hyundai's service department hones in on parts and appearances. Hyundai-certified technicians wield factory-approved tools as they change oil and filters, replace batteries and brake pads, and tackle other auto maintenance and repairs. The shop also lavishes cars with hand washes and detailing packages that target surface imperfections with clay bars and protect exteriors with paint sealant. Drivers can await their rides in one of two lounges stocked with flat-screen televisions, magazines, free WiFi, and complimentary coffee. A play area keeps children from assessing the Blue Book value on their Matchbox cars.
7050 W Frontage Rd.
Merriam
Kansas
913-642-9600
When overcast winter skies and spring storm clouds clear, the roads begin to glisten with freshly washed cars. With 12 locations across Missouri and Kansas, there's a pretty good chance that many of those vehicles visited a Squeaky Clean Car Wash. Whether it's a soft-cloth tunnel car wash or a touchless, in-bay spraydown, rides leave dirt-free in a matter of minutes. Every wash comes with complimentary access to a self-serve vacuum, and select locations allow patrons to take matters into their own hands at self-serve washing bays. At their Quick Lube locations, Squeaky Clean flushes out sludgy fluids and also invites pet owners to hose down canines and pet mammoths preserved in tar at self-serve dog washes.
1005 SW Blue Pkwy.
Lee's Summit
Missouri
---