Education & Classes in Lenexa
---
Education & Classes Deals
---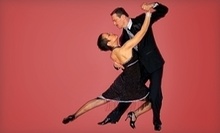 Classes torch calories and teach students the basics of salsa, mambo, cha-cha, foxtrot, and two-step
Use Today 3:30pm - 6:30pm
---
Recommended Education & Classes by Groupon Customers
---
The teaching staff of the Toon Shop, a former Kansas City fixture founded in 1948, now helms the newly inaugurated Village Music Academy. More than 40 independent instructors harness their combined 400 years of experience to immerse students of all levels in rock, classical, jazz, pop, and country techniques. 48 studio spaces—enough for each member of the Partridge Family to practice individually at once—nurture instruction in strings, woodwinds, and horns, and an auditorium showcases the results with appropriate reverence. The staff also helps prepare students for school band or orchestra. Sunny days might find an open-air audience gathered to watch the school's musicians performing in the plaza of the Prairie Village Shopping Center.
15 on the Mall
Prairie Village
Kansas
913-403-0400
After spending 32 years enriching the lives of children as an educator, Dr. Gwen Larson Morris shifted career paths when her passion for photography led her to found Gwen Morris Studio. With an artistic approach that she describes as "painting with light, highlights, and shadows," Morris uses natural elements to create inimitable portraits for her clients, whether she's snapping maternity pictures, senior pictures, or canine law-school-graduation pictures. As comfortable in the classroom as she is behind a camera, Morris leads aspiring photographers and shutterbugs through workshops in the art of memory preservation, helping them grasp the inner workings of their cameras while finding their own photographic style.
8301 Lamar Ave.
Overland Park
Kansas
913-636-4936
Burgeoning artists in their junior and senior years of high school spend four days immersed in the topics of their choice, picking from disciplines such as interior design, game arts, and photography. Sketching, filming, and whisking meringue by day, the students work hard before shopping, dining, pool partying, or beret adjusting at night. Pupils who opt for lodging rest up for back-to-back, intensive courses in the local Holiday Inn Hotel and Suites, in between a packed agenda designed to proffer a taste of art school life.
8208 Melrose Dr.
Lenexa
Kansas
913-217-4600
Pam Rector picked up her first roll of wallpaper as a little girl. As the spark of passion for color and design ignited, her mother fanned the flames, letting Pam redesign her room as many times as she wanted. By age 14, she had mastered the techniques of sewing pillows and painting furniture, allowing her room to grow as an "extension of her true personality." As an adult, she temporarily put her design ambitions aside to begin a stint in the restaurant business, but she couldn't keep her creativity stifled. The hand-drawn fliers and holiday decorations that she worked on in her spare time opened up the window to her dream job, and she eventually quit the corporate world and became a full-time designer.
Founding Rector Studio in March 2012, Pam now works with clients on decorating projects that range from full home makeovers to color consultation. Armed with color swatches, fabrics, and a carpet-to-English dictionary, she adds small touches with custom-made pillows, draperies and blinds, or re-does larger decor from flooring to furniture. While working on redesigns, Pam also keeps budgets in mind, maintaining an artistic vision that won't break the bank.
Midwest Genealogy Center, 3440 S Lee's Summit Rd.
Independence
Missouri
816-352-3639
---