Lenexa, KS Outdoor Activities
---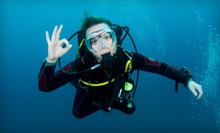 Use Tuesday 11:00am - 4:30pm
---
Recommended Outdoor Activities by Groupon Customers
---
Prompted by the nod of the lifeguard's head, the intrepid swimmer takes a deep breath, closes his eyes, and bravely flings his body into the dark confines of the Barracuda Blast. The slide's gushing flume speeds its intrepid passenger down covered loops and twists until it spits him out unceremoniously into the warm waters of the pool below.
Boasting a host of aquatic activities, along with nearly 1,000 feet of water slides including the fearsome Barracuda, CoCo Key unleashes the inner merpeople of guests of all ages. Stationed along the pool and at each attraction, licensed lifeguards keep their eagle eyes peeled to ensure the safety of their guests as they play water basketball or engage in leisurely floats down Adventure River. Nearby, a zero-depth-entry kiddie pool serves as a merrymaking haven for children or recently unbottled miniature ships less than 48 inches tall, and a sun-drenched outdoor tanning deck enables visitors to bask in skin-browning rays. To prevent growling stomachs from interrupting watery romps, crews of chefs bustle about CoCo Key's dining facilities, whipping up culinary sustenance for hungry swimmers.
9103 E 39th St.
Kansas City
Missouri
Now in its 51st year, Annunciation Greek Orthodox Church's festival once more celebrates the rich history and culture of Greece with live dance, traditional food, and Hellenistic arts and crafts. Visitors can watch displays of traditional dancing as troupes of costumed performers whirl and leap to folk tunes. Open-mouthed onlookers can snack on souvlaki, gyros, and baked pastitsio or shout out traditional Greek exclamations such as "Opa!", "Yassou!", and "Don't drop that Olympic torch!"
Church tours introduce festivalgoers to the stunning gilded iconography of Annunciation's sanctuary, and also give them a brief lesson on the symbolism, teaching, and history of the Greek Orthodox Church. Outside, kids get their faces painted, play games, and bounce inside a moonwalk, while adults stroll through the gift shop area, which attempts to tempt them with colorful wares imported from Greece, including fisherman's hats, gold jewelry, and worry beads.
12001 Wornanll Rd.
Kansas City
Missouri
816-942-9100
Lunar Mini Golf's two 18-hole indoor courses whisks putters away to a black-lit labyrinth sculpted through a phosphorescent dreamscape of vibrant murals and neon obstacles. Tiny neon walls frame the pitch-black corridors of each hole, which gives the impression that patrons are rolling orbs across the rayless expanse of the cosmos or through their neighbors' radioactive crawlspaces. Clubbers clad in white will shine like gleaming apparitions as they read tricky breaks and keep the yips at bay, and Lunar Mini Golf offers glowing necklaces for clients to wear to capitalize on the visually mesmerizing lure of the black lights. Catering to large groups, Lunar Mini Golf also features a complimentary party zone available upon request for birthdays, corporate gatherings, and ceremonies unveiling new neon eyebrow tattoos.
20418 W 151st St.
Olathe
Kansas
Deer Creek Golf Club's experienced staff, plush facilities, and picturesque championship course create an enjoyably mummy-free outdoor experience for golfers of any handicap. After calling to reserve a tee time, ball-banging golf-cart gurus can wreak polite and well-dressed havoc while carefully soft-spiking across all 18 of Deer Creek Golf Club's holes, which have been designed to test the skills of experienced club-wielders while still giving beginners an exciting, accessible playing field. An included cart rental lets you easily navigate the course's 6,811 yards of beautiful rolling hillocks, winding waterways, and tree-friendly areas while providing a means of escape from herds of disgruntled deer statues.
7000 W 133rd St.
Overland Park
Kansas
Your choice of Segway tours are:
30 West Pershing Rd., Suite 100
Kansas City
Missouri
Overland Park Racquet Club lets members play tennis year-round with 14 courts inside a climate-controlled facility and eight out in the sun. A staff of experienced instructors—including former collegians and top-ranked amateur players—imparts skills and fundamentals during clinics, lessons, and Quickstart programs, which feature a scaled-down version of tennis for racketeers younger than 10. Off the courts, the club offers a full set of amenities including a fitness room, full-service restaurant and bar, and Olympic-sized outdoor pool where you can test out the buoyancy of your new suit sewn from tennis balls.
6800 W 91st St.
Overland Park
Kansas
---