Restaurants in Lenexa
---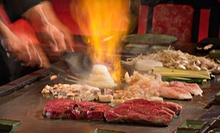 Use Today 5:00pm - 9:00pm
---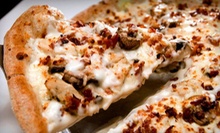 Use Friday 12:00pm - 5:00pm
---
Recommended Restaurants by Groupon Customers
---
Founded by a fusion of a skilled chef, his wife, and their business partner, Nica's 320 aims to meld the traditional flavors of Italian, Thai, Caribbean, French, and Cajun cuisines into culinary gold. In the kitchen, chef Bryan Merker and his team plate a diverse menu that blends those influences into tasty entrees and mix-and-match specialties so creative they rival the gourmet cheese plates that NASA brought back from the moon.
Inside Nica's 320's exposed-brick dining room, constellations of local artwork contrast with a hammered-steel-topped bar that dispenses cocktails and cold showers beneath an ornate absinthe fountain. Lighting fixtures dangle from exposed ceilings, casting an amorous glow over cornbread pancakes, thai chicken, korean pork, jerk-steak slider trios, and sticky-rice crab cakes laced with savory cheddar and red-chili jam. Steaming plates of redefined risotto, pan-fried noodles, man n' cheese, and beignets pique curious palates. Outside, an open-air patio soaks its occupants in gentle breezes that —like the fountain—have the power to pacify.
320 Southwest Blvd.
Kansas City
Missouri
816-471-2900
Denise Ward grew up nourished by soul food that her mother skillfully prepared. After learning to prepare the same recipes herself, she dreamed of sharing them with other people. That's why she and her husband, Perry, opened a soul food café in 1985, naming it Niecies Restaurant. In 2006, they expanded to a second location.
In the early hours, cooks grill pork chops for breakfast sandwiches and prepare signature plates such as the Sunrise Breakfast, which The Pitch asserts, "may be the best way to start any morning." Later in the day, plates of fried catfish and barbecue brisket share table space with bowls of beef stew more comforting to stomachs than teddy bears eaten whole. Homespun desserts such as peach cobbler sweeten palates.
The food gets served in a comfy diner-style setting. Thickly padded booths line two long rows of front windows, and diner stools prop up guests at the counter—in case they want to reenact scenes from their favorite road-trip movie, such as Ben-Hur. Floral wallpaper hangs cozily over wood-trim wainscoting, and plates of pancakes can be seen on the shelf between the kitchen and the dining area for that fleeting instant before servers whisk them off to tables.
6441 Troost Ave.
Kansas City
Missouri
Dancing flames erupt from teppan grills, illuminating the captivated faces of diners seated around the tabletop grill. The roaring fires are tamed by Sakura's highly skilled chefs, who playfully flip spatulas in the air before sizzling up plump morsels of teppanyaki steak, chicken, and seafood. Behind the sushi bar, chefs fold fresh fish into both raw and cooked specialty rolls, which reporters from Tucson Weekly lauded as "some of the most delicious seaweed, sweet vinegar rice and raw fish concoctions imaginable."
Kimono-clad waitresses glide through the lively dining rooms, bearing plates of sushi, vegetarian and vegan dishes, and colorful specialty cocktails. In the sports bar, the walls grasp massive flat screens and hundreds of pictures of the owner posing with local celebrities—from weather girls to the neighborhood grocery's bag boy of the month. Towering chrome heaters warm the tabletops of the expansive outdoor patio, where colorful lights and hanging flags set the stage for live music performances each night.
860 Northwest Blue Parkway
Lee's Summit
Missouri
US
The multitalented chefs at Sakura Japanese Steakhouse emphasize quality ingredients and artful presentation in each and every dish. The traditional Japanese dining room features a central hibachi grill that sears vegetables, steak, and seafood in an inferno of sizzling oils and bright yellow flames. Sakura's more coolheaded sushi chefs swirl hand and specialty rolls—crafted from shrimp tempura, softshell crab, and salmon—behind chilled cases of fresh fish. Indecisive diners can request omakase meals, assortments of seasonal dishes handpicked by the chef to showcase culinary skill and an ability to match meals to wallpaper swatches.
860 NW Blue Pkwy.
Lee's Summit
Missouri
US
Ensconced in wooden accents and dotted with Japanese artwork, Sakura Japanese Restaurantserves up handcrafted morsels in a cozily festive atmosphere. Diners can perch at sleek wooden tables or along the curved bar, stealing glimpses of chefs painstakingly rolling sushi or slicing meats and veggies with precision. A cascading stone garden brimming with verdant plants lounges in the corner, and a TV sits high in the ornate shelf behind the bar, entertaining guests with the delightful sight of colorful pixels arranging themselves in the exact pattern of tomorrow's weather.
860 NW Blue Pkwy.
Lee's Summit
Missouri
US
Within the geisha-adorned stained-glass doors at Sakura, chefs serve up a tasty array of Asian favorites and sushi specialties in an elegant atmosphere outfitted with mosaic murals, warm cherry accents, and traditional Japanese artwork. Sushi artisans delight diners by handcrafting classic and unique rolls behind a granite bar before comically slipping on tempura banana peels. The Pitch dubs the unexpected décor accents, such as stuffed pandas and a curtain of plastic crystals, as a "blend of the glamorous and the absurd," also proclaiming that Sakura is "a good date restaurant" because of its mood lighting and romantic music.
860 NW Blue Pkwy.
Lee's Summit
Missouri
816-525-2111
---