Restaurants in Lenexa
---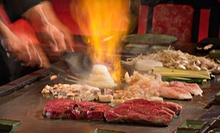 Use Today 5:00pm - 9:00pm
---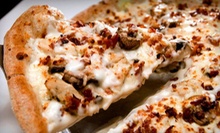 Use Friday 12:00pm - 5:00pm
---
Recommended Restaurants by Groupon Customers
---
Just as Ixtapa Mexican Restaurant's name honors the owners' oceanfront hometown in Jalisco, Mexico, the menu honors Mexico's iconic cuisine. These pages brim with favorites such as enchiladas, hefty burritos, and sputtering fajitas with marinated portions of beef, chicken, pork, or shrimp. The choices seem familiar, but there's no denying that their roots cross the International Date Line that separates California from Mexico. Mexican Coca-Cola fills glasses alongside a handful of imported beers, and the tangy crema sauces and vaguely sweet moles are all based on family recipes.
5386 Roberts St.
Shawnee
Kansas
"Laissez les bon temps rouler" is a favorite saying at Jazz, a Louisiana Kitchen; translated from French, it means, "let the good times roll." With a blend of Cajun cuisine, cold drinks, and live music, the restaurant recreates the rollicking atmosphere of New Orleans' French Quarter. In the kitchen, chefs orchestrate multiple Gulf Coast flavors in classic louisiana catfish po'boys and blackened-shrimp platters, or let simple, properly prepared oysters and broiled crawfish stand on their own. Servers draw frothy mugs of beer from local breweries CIB and Keg Creek or mix specialty cocktails and frozen daiquiris. The lively atmosphere has drawn musicians such as two-time Grammy nominee Gerald Clayton and Mr. Tambourine Man.
1823 W 39th St.
Kansas City
Missouri
Though the pit masters manning the grills at Burnt End BBQ know a good deal about how to bring out the complex flavors of a slab of barbecue, they're not here to tell you how to eat it. That's why most of the dishes on the menu are mere suggestions, allowing clients some flexibility on what meat and homestyle sides they choose to chow down upon. Customers can cull from six core meats such as the signature burnt ends, brisket, or pulled pork with sides ranging from the sweet and spicy slaw to creamy cheese corn. The chefs do create a few signature sandwiches and barbecue bowls to combine the best of their smoked meats and sides over a chewy mound of cornbread, which is the kind of mound from which gingerbread men pitch. Meats and sides are also available á la carte by the pound and pint, easily combining into full meals.
11240 W 135th St.
Overland Park
Kansas
Within Blue Yuu's kitchen, chefs harmonize influences from Japanese, Chinese, Thai, and Korean cuisine. Sushi chefs wrap rice and fresh fish with sheets of nori as servers deliver sizzling iron plates of Szechuan-style seafood and black pepper beef. Hot stoneware cossets bibimbaps, which consist of vegetables, kimchi, egg, and hot sauce. Dulcet sauces coat Chinese dishes such as mango chicken and General Tso's chicken, and provide contrast to fiery Thai curries.
9700 E 63rd St.
Raytown
Missouri
Founded by a fusion of a skilled chef, his wife, and their business partner, Nica's 320 aims to meld the traditional flavors of Italian, Thai, Caribbean, French, and Cajun cuisines into culinary gold. In the kitchen, chef Bryan Merker and his team plate a diverse menu that blends those influences into tasty entrees and mix-and-match specialties so creative they rival the gourmet cheese plates that NASA brought back from the moon.
Inside Nica's 320's exposed-brick dining room, constellations of local artwork contrast with a hammered-steel-topped bar that dispenses cocktails and cold showers beneath an ornate absinthe fountain. Lighting fixtures dangle from exposed ceilings, casting an amorous glow over cornbread pancakes, thai chicken, korean pork, jerk-steak slider trios, and sticky-rice crab cakes laced with savory cheddar and red-chili jam. Steaming plates of redefined risotto, pan-fried noodles, man n' cheese, and beignets pique curious palates. Outside, an open-air patio soaks its occupants in gentle breezes that —like the fountain—have the power to pacify.
320 Southwest Blvd.
Kansas City
Missouri
816-471-2900
Denise Ward grew up nourished by soul food that her mother skillfully prepared. After learning to prepare the same recipes herself, she dreamed of sharing them with other people. That's why she and her husband, Perry, opened a soul food café in 1985, naming it Niecies Restaurant. In 2006, they expanded to a second location.
In the early hours, cooks grill pork chops for breakfast sandwiches and prepare signature plates such as the Sunrise Breakfast, which The Pitch asserts, "may be the best way to start any morning." Later in the day, plates of fried catfish and barbecue brisket share table space with bowls of beef stew more comforting to stomachs than teddy bears eaten whole. Homespun desserts such as peach cobbler sweeten palates.
The food gets served in a comfy diner-style setting. Thickly padded booths line two long rows of front windows, and diner stools prop up guests at the counter—in case they want to reenact scenes from their favorite road-trip movie, such as Ben-Hur. Floral wallpaper hangs cozily over wood-trim wainscoting, and plates of pancakes can be seen on the shelf between the kitchen and the dining area for that fleeting instant before servers whisk them off to tables.
6441 Troost Ave.
Kansas City
Missouri
---