Things to Do in Lenexa
---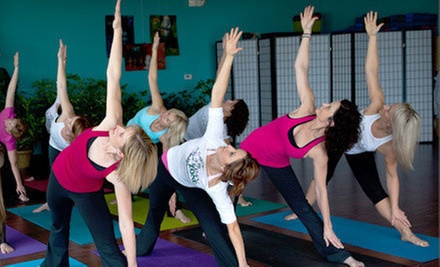 ---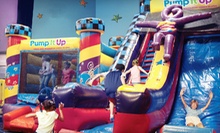 Staff-supervised bounce houses and inflatable slides entertain sock-clad youngsters aged 12 and younger
---
Recommended Things to Do by Groupon Customers
---
Glossy hardwood bowling lanes explode with the sounds of crashing pins at Aaron's Family Fun Center, where an arcade, outdoor mini-golf course, and six sand volleyball courts keep all manner of attentions entertained. The 32-lane array gives ample space for individual and league play, though larger parties can opt to reserve The Den, a private, elegant bowling alley featuring six lanes, library-paneled walls, and no restrictions on false old-timey mustaches. The mini-golf course challenges putters to 18 holes with a range of colorful obstacles for year-round enjoyment, though unfavorable weather may limit off-season play to all but the most wind-resistant of miniature athletes.
17070 Aaron Ln.
Belton
Missouri
816-322-0488
As a fun, environmentally friendly alternative to a party bus, Pedal Hopper totes tipplers from pub-to-pub aboard a bike powered by the pedaling legs of its riders. A designated tour guide takes care of steering and braking as you and your friends cruise to choice watering holes at 5–8 miles-per-hour—a speed scientifically proven to be perfect for enjoying good times or air-drying KISS tattoos you won't remember getting. Pedal Hopper routes are generally designed to avoid steep avenues, allowing riders to propel forward at a casual pace without the fear of losing control. Taking its cue from the original bar cycles that have been wheeling carousers around Europe for more than 15 years, the bike boasts LED lights that allow for night riding.
SE corner of 75th St. at Wornell
Kansas City
Missouri
785-856-8687
The arms experts at OMB GUNS & Indoor Range provide marksmen with the resources and guidance to sharpen their firearms proficiency. Officers supervise the indoor range at all times, maintaining a safe and welcoming environment for shooters of all skill levels. They also happily help out first-time visitors by demonstrating proper stance and aiming. Training programs include an intensive eight-hour firearms-safety course that teaches students the basics of wielding a firearm and how to properly load your glue gun. To encourage camaraderie and add some competitive motivation, OMB's team organizes shooting leagues.
15765 S Keeler St.
Olathe
Kansas
866-509-1299
Founded in 1994, Hickory Creek Ranch immerses riders and horses in an idyllic natural landscape, further solidifying the bond between man and animal on the trails and pastures. During trail rides, visitors set off across more than 40 acres of grassy pasture in the early morning or early evening—the time when the sun streaks brilliant colors across the sky, fauna roam the woods, and horses won't miss their favorite mounted-police show, CLOPS. After setting out, steeds meander through regions of dense forest home to wild flowers and trees as well as blue heron, red-tailed hawks, and wild turkey. Along the route, white-tailed deer may even bound across the fields as frogs croak improvised jazz melodies at the pond.
Back at the ranch, students of all experience levels learn horsemanship or improve their skills with private and group lessons or summer camps. Collectively, the trainers and instructors at Hickory Creek have amassed more than 30 years of teaching, showing, and breeding experience—a pedigree that has spawned numerous regional and national champions from past protégés.
20220 S Lackman Rd.
Spring Hill
Kansas
913-530-4757
---