Things to Do in Leominster
---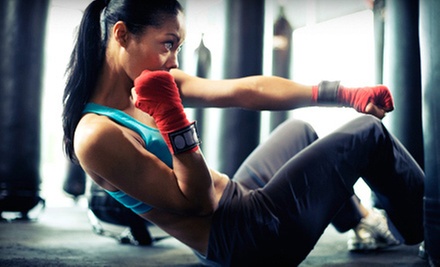 ---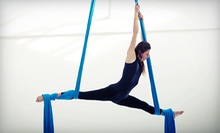 Students learn to climb twin silks and perform circus maneuvers during a 90-minute workshop that builds strength, flexibility, and balance
---
Recommended Things to Do by Groupon Customers
---
Founded in 1924 as a vaudeville palace and movie house, The Strand Theatre harks back to the cinematic havens of yore with its homey auditorium space and vintage marquee. Groups enjoy recent releases and classic films while seated at tables, which grant unimpeded legroom and preclude fistfights over whose cup holder is whose. The tables are placed in a staggered and tiered arrangement that ensures every audience member has a clear sightline. The in-house restaurant shares a full-service menu of appetizers and entrees from the grill, as well as craft beer and wine, all of which can be enjoyed inside the theater.
58 High St.
Clinton
Massachusetts
978-365-5500
Cinema World's movie theaters engage all of their patrons' senses with an ample lineup of amenities: digital-sound quality, 3-D images, the smell of freshly buttered popcorn, sweet sips of soda, and cushy chairs you can touch because they definitely are not holograms.
476 John Fitch Hwy.
Fitchburg
Massachusetts
978-345-6700
In 1843, Charles Lane and Amos Bronson Alcott—father to writer Louisa May Alcott—founded a utopian and transcendentalist community in the fields of Harvard. More than 70 years later, visionary Clara Endicott Sears was so moved by their experiment that she decided to establish a museum on the same site to preserve its history. Today, the Fruitlands Farmhouse stands as a testament to the original settlers' ingenuity, which surfaced in their trailblazing thoughts on veganism, sustainable living, and harnessing moon beams to power home stereo equipment.
Clara has incorporated the Shakers' original office into Fruitlands, where it now shows off Shaker artwork and artifacts, many of which were donated by the Shakers themselves. Since then, the museum has also collected a curated assortment of more than 1,000 Native American artifacts, as well as a longhouse, dugout canoe, and traditional garden.
The brains behind the museum are still innovating today, curating permanent additions such as an art gallery with Hudson River School Landscapes. In addition to organizing school field trips, the staff also hires experts to teach classes and workshops on sketching scenes from nature, painting watercolor landscapes, and constructing 3D sculptures.
102 Prospect Hill Rd.
Harvard
Massachusetts
978-456-3924 x292
With whirling colorful lights and a top-40 playlist, Roller Kingdom could give visitors the illusion that they're in a nightclub. But instead of dancing on the floor, guests strap on rollerblades or roller skates to glide across it. Novice skaters can improve their form during lessons or trade in their skates for laser-tag equipment and duel it out with friends in order to win prize tickets and the right to wear a homemade laser-tag championship belt made out of tinfoil. Outside the rink and laser-tag den, guests can play arcade games or belt out their favorite songs on the karaoke stage.
5 Highland Park Ave.
Hudson
Massachusetts
978-562-3439
Joyous sounds reverberate off the walls at Mason Recreation Center, a decades-old entertainment emporium managed by a staff committed to keeping its guests entertained. Pins clatter on dozens of lanes designed for candlepin bowling, a variation on tenpin bowling that uses smaller balls and cylindrical pins that are not cleared away between frames so bowlers can hear their faint screams. The staff engineers the fun activities, hosting open bowling, overseeing league competition, and throwing birthday shindigs in private rooms. On several tournament-size tables, billiard balls clack against one another, and in the onsite arcade, video games bleep and purr like robots napping on magnets. In warm weather, the staff unfurls an 18-hole miniature golf course and opens an onsite sweets station that serves freshly scooped ice cream.
640 N Main St
Leominster
Massachusetts
978-537-7064
Looking to put a new spin on a classic family activity, the minds behind Glowgolf decided to give the game a phosphorescent update. Incandescent courses place friends and family amid a tropical-fantasy golf world of neon orange, green, and violet surroundings. Players putt luminous orbs through vibrant treasure chests and glimmering windmills while negotiating tricky obstacles near walls portraying black-light-lit aquatic scenes. With more than 20 locations spread over 10 states, Glowgolf's fluorescent labyrinths challenge human players and traveling gnomes.
100 Commercial Blvd., Suite B-1
Leominster
Massachusetts
---