Education & Classes in Leon Valley
---
Education & Classes Deals
---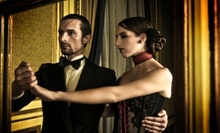 Beginner's classes focus on the basic steps of specific styles, such as fox trot, swing, tango, and salsa
---
Recommended Education & Classes by Groupon Customers
---
As a certified Cessna pilot center, Stinson Flight Training Center spotlights interactive, hands-on training in expertly maintained Cessna aircraft. A fleet of Cessna 172s—armed with Garmin G1000 glass cockpits—simplifies primary flight with high-definition digital screens that show at-a-glance engine data, flight sensors, and reruns of Small Wonder. The center offers both discovery flights for tender-footed aeronauts, as well as continued training for those seeking to obtain FAA licenses.
8535 Mission Rd., Suite 108
San Antonio
Texas
210-593-7547
At Vino van Gogh, everyone's canvas ends up bearing a masterpiece—or at least the semblance of one. "Copying masterpieces is the oldest tradition of learning how to paint," says Joy, who guides students in re-creating renowned paintings step by step and also tells them about the life of their famous artists. She and her fellow instructors—all certified art teachers—equip pupils with everything needed to reimagine Georgia O'Keeffe's Sky Above the Clouds or Monet's Venice Twilight, including Winsor & Newton University brushes and a rainbow of acrylics.
"People say this feels like a happy place," Joy says, describing the 14-foot-ceilinged studio's atmosphere of encouragement. She helps guests to feel at home by equipping the kitchenette with ice, a corkscrew, cups—everything needed to celebrate a birthday party or just the end of a long week. Students can also bring their own snacks to coax timid muses out of their lairs with trails of graham-cracker crumbs.
In addition to nurturing artistic talent in humans, Vino van Gogh is dedicated to helping fellow furry creatures by offering monthly classes whose proceeds support the Animal Defense League and AAPAW. "I'm lucky to have the resources to give back," says Joy, herself the owner of three rescue dogs, whose portraits she's often painted in her signature bright, Fauvist--inspired style.:m]]
1860 Nacogdoches Rd.
San Antonio
Texas
210-544-1356
It's very fitting that Pepper's School of Music is located on a street called Mountain Echo, right next to Harmony Hill and due north of Duet Circle. With such musical monikers, one would think the streets of northern San Antonio were paved in treble clefs, with singing crossing guards and guitar instructors on every corner. But it took the work of Ashleigh and Barrett Pepper, the founders of Pepper's School of Music, to make musical tutorship more accessible to north-side denizens. From their renovated Mountain Echo home studio, the Peppers and their staff of instructors motivate tomorrow's rock stars, drumline leaders, and designated National Anthem singers in fun lessons modulated for every student. With lessons in guitar, bass, drums, piano, and vocals, the caring instructors typically start with the basics of instrumental technique before teaching students how easy it is to read music, play by ear, or perform their favorite song.
119 Mountain Echo
San Antonio
Texas
210-593-8595
Together, Redbone's instructors have more than 6,435 years of instruction experience; that's more than six lifetimes rocking, jamming, making splendid sounds, and busting blistering solos. Cliff Wright teaches guitar along with Greg Norris, who played on the Grammy-nominated album World Jazz by Lara & Reyes and conducts jazz clinics and master classes at many San Antonio–area high schools. Brazilian-born piano savant Nayara Megarity teaches scales, octaves, and chords, specializing in music's empathic intensity.
4343 McCullough Ave.
San Antonio
Texas
At The Royal Canvas Painting Parlor, owner Cassie Black and her staff of art instructors teach painters of all skill levels to create canvas-bound masterpieces. Each class blurs the line between artistry and social interaction, like when Leonardo da Vinci would bring the Mona Lisa to parties as his date. The focus falls on a predetermined painting composition, ranging from a quirky, cartoonish sheep for children's classes to re-creations of iconic works such as van Gogh's The Starry Night to challenge more adept artists. While students follow step-by-step instructions, they sip wine, nibble snacks, and rediscover their creative side.
5005 Broadway St.
San Antonio
Texas
210-826-7246
The professional photography instructors who lead all classes at Landers Photography School have spent years shooting everything from sitcom stars to NBA athletes to golf courses and architectural sites. Their degrees, decades of combined teaching experience, and third eyes that let them see a photo op before it happens inform courses of study for both casual image enthusiasts and aspiring pros. Students wrangling with a first camera might zoom in on a nature-photography session, whereas shutterbugs dreaming of a business of their own can delve deep into courses on marketing or take part in mentorship programs.



Landers Photography
San Antonio native Jim Landers has spent a lifetime behind the lens. After graduating from Sam Houston State with a degree in photography, he took his talents public as the photography manager at Sea World of Texas. After that, he expanded his scope, snapping memorable shots at weddings and capturing yearbook-ready images as a school photographer. Soon, people began to take notice of all the hard work; since starting his career, Jim's work has appeared everywhere from the pages of The Knot, advertisements for Mercedes and Whataburger, and even the galleries of Smithsonian Institution. Now, he brings that same work ethic to private photography work. Jim trains his camera on all of life's most memory-worthy moments, capturing introspective portraits, documenting a wedding day's most candid moments, and even welcoming newborns into the world.
25290 I-10 W
San Antonio
Texas
210-681-8552
---