Leon Valley, TX Spa and Massage
---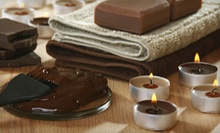 Mani-pedis focus on the hands and feet with an aromatherapy massage and mask; chocolate facials leave skin healthy and refreshed
---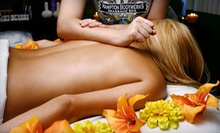 Therapists administer Swedish, Balinese, Nemby or deep-tissue massage to enhance relaxation, reduce tension, or ease inflammation
---
Recommended Spa & Massage by Groupon Customers
---
Ben Crabtree of Massage By Ben takes the time to fully understand each client's needs so he can target treatment to specific ailments. As a licensed massage therapist and certified neuromuscular therapist, he has mastered 17 different techniques to reverse chronic pain and stress. Beyond traditional Swedish and deep-tissue modalities, Ben helps bodies release tension through Ortho-Bionomy therapy, in which he guides limbs through simple positions that compress joints to trigger the body's corrective reflexes and propensity to hokey pokey. Neuromuscular therapy works to relieve chronic pain by manipulating soft tissue, such as tendons and connective tissue, targeting issues such as carpal tunnel syndrome, sciatica, and migraines.
900 NE Loop 410, Suite E115
San Antonio
Texas
210-269-3314
Emali's stylists make it their business to attend to split ends, frazzled fly-aways, and lackluster locks. The process ($60) begins with a scalp-tingling wash and conditioning, after which defiant tresses are snipped into submission under the masterful scissor-work of a talented hairmeister. After every i has been dotted and each t has been trimmed to look like an undotted i, your saturated mop is dried and styled to reveal a dazzling new scalp-topper. Highlight the new 'do with further face framing in the form of a brow wax ($20). After an aesthetician analyzes the curtain rods to the windows of your soul, she shapes up a new design with a quick rip of the waxy strip, leaving two polished arches behind.
700 E Sonterra Blvd., Suite 209
San Antonio
Texas
Sunbathe's sugar-based tanning spray ($35 per application) bestows a bronzey sun kiss without the usual neon-orange streaks. Designed to soothe skin as much as gild it, the blend is free of harsh chemicals and includes wild botanical extracts, herbs, and artisanal antioxidants crafted by hand in the French Alps. If you prefer skin as pale as a salt kernel, opt for other beauty-bolstering spa services, such as an express manicure ($25), pedicure ($35), facial ($35+), or eyebrow threading ($18). Sunbathe also offers sugaring ($40 for a bikini), and massage therapy with a licensed therapist ($65 an hour).
1115 South Alamo St., Suite 3101
San Antonio
Texas
A wildly successful alternative to traditional day spas—its more than 300 locations blanket 36 states and half a dozen countries—Planet Beach Contempo Spa is a futuristic relaxation station where state-of-the-art machines administer all of the spa and tanning services. These friendly automatons sometimes replace familiar treatments, as in the Lumiere facial, an infrared light-based service that delivers anti-aging results similar to those of a conventional facial. But other equipment maps out new spa territory entirely: the Slim Capsule stimulates the muscles similarly to that of doing a 3 mile run while receiving a massage, and the Hydro-Derma Fusion chamber moisturizes the whole body with nutrient-rich steam to offset the effects of a dry climate or a rear-end collision with a salt truck. Other treatments include cosmetic teeth whitening, Mystic HD spray tanning, and massages.
Planet Beach operates on a gym-style membership system, meaning that members purchase packages or pay flat monthly rates. As members spend more time at the spa, they get to know the expert spa consultants who are always on hand to help with anti-aging, weight-loss, detoxification, nutritional needs, and demonstrate how to use the equipment without activating its ability to cry.
18130 US Hwy. 281 N, Suite 102
San Antonio
Texas
210-499-4772
The attentive team at Nicole Georgios European Day Spa coddles hard-working appendages and weary faces with a menu of aesthetically driven spa services. Visitors to Nicole Georgios's private suite discover manicurists who revive digits worn out from days spent typing, writing, and braiding the hair of neighborhood porcupines. The spa's relaxing massages console aching bodies with calculated kneads, and its exotic facials soothe stress-related smile lines with aromatherapy and a special synergy of essential oils. The calming pulse of zen music and the flicker of glowing candles ease the body and mind, and visitors can satisfy cravings for toothsome tidbits with access to the salon's snack bar and wireless Internet service.
8006 West Ave., Suite 1
San Antonio
Texas
210-377-0400
It's a classic "chicken or the egg" debate. Did the mix of athletes, moms, and businesspeople who frequented Trissage create the need for custom massages? Or did the custom massages attract the diverse mix of clientele? Regardless of the verdict one may come to, the result is the same: bodywork treatments tailored to patients' distinct needs, whether their pains are chronic and dull or acute and caused by getting hugged by a bear. As members of Associated Bodywork & Massage Professionals, Trissage's staffers are versed in deep-tissue, maternity, and Swedish modalities, among others, and they often augment sessions with soft music and hydrating massage oils.
11230 West Ave., Suite 2209
San Antonio
Texas
660-262-2759
---