Restaurants in Levelland
---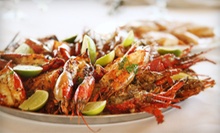 Cajun spices enrich crawfish etouffe, grilled catfish, and gator po' boys; pure Texas sports action entertains on the TVs
---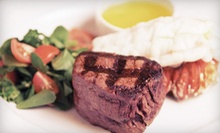 Hand-cut, USDA-quality aged steaks, lobster tails, and creamy shrimp pasta, along with an extensive wine list
---
Recommended Restaurants by Groupon Customers
---
Shrimp Galley serves hearty seafood dinners in a no-frills dining room decked in blue and white checkered tablecloths. Fried seafood platters—the eatery's bread and butter—pair crispy pieces of shrimp, catfish, and oysters with fries and homemade coleslaw. On the grilled side, tilapia, whitefish, and red snapper fillets are served with rice and an "hourly" baked potato, which is chosen from a batch prepared no more than 60 minutes ago.
5109 82nd St.
Lubbock
Texas
806-794-3746
Now with new owners, the CiCi's Pizza crew prepares a long buffet that stretches from the registers to the wall, filled with pasta, sauce, cheesy-garlic bread, and a rotating roster of 20 styles of pizza. The buffets hold up to 12 styles of popular pizzas, such as pepperoni, ham and cheddar, or the three-cheese Meltdown. Fresh-made marinara cascades over tangles of pasta, and crisp lettuce unites with veggies to form a salad. Cinnamon rolls baked fresh daily—in the morning and at night—elate palates with icing and dough so soft that eating it is reminiscent of biting into a spiced cumulus cloud.
5102 60th St., Suite E
Lubbock
Texas
806-788-1010
Certified Angus beef, ham, turkey, and pork soak up smoky flavor over J & M Bar-B-Q's mesquite fire pit. Before long, chefs will pull them away from the crackling fire and send them off to the restaurant's homey dining room, where guests can then chow down on sauce-slathered pulled-pork sandwiches, jalapeño sausages, and plates of sliced or chopped brisket. Piles of baked beans, creamy mac 'n' cheese, and napkins made from authentic Wanted posters often accompany these meats to tables. J & M's specialty meats also appear atop nachos, in Frito pies, and in bar-b-ritos—Mexican-inspired creations that swaddle chopped beef or turkey breast in flour tortillas along with beans, onions, and cheese.
3605 34th St.
Lubbock
Texas
The Galvan family loves food. Specifically, the Galvans love their culinary heritage, opening up four Mexican restaurants across Texas to share their passion. They owe their culinary success to traditional south-of-the-border flavors, which they perfected during years spent cooking for one another and interrogating tacos under hot lights until they spilled the secrets of their deliciousness. Their made-from-scratch hot sauce and seasoned chips prelude authentic meals of carne guisada, stacked enchiladas, and chile rellenos, as well as American classics such as chicken-fried steak and hamburgers.
3501 50th St. , Suite 110
Lubbock
Texas
806-771-1793
---