Levittown, NY Drs and Health Practioners
---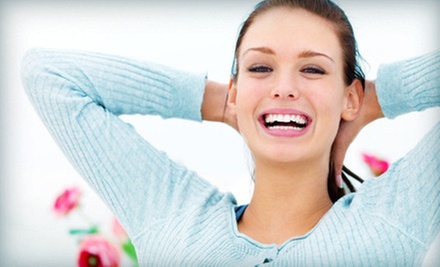 ---
Drs & Health Practitioners Deals
---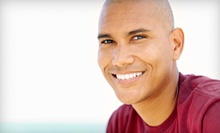 Dr. Feranti exams mouths then fills in gaps in smiles with a tooth implant, abutment, and crown
---
Recommended Drs & Health Practitioners by Groupon Customers
---
NYC Dental Associates calms canines and mellows molars with its gentle and effective cleaning services. Get mouth-soldiers in line with an exam from one of NYC Dental Associates' experienced dentists. Chompers are examined for hygiene and alignment, and then scraped and hosed down during a rigorous cleaning. To ensure that no dental lice are hiding under the bedsheets of your enamel, NYC Dental Associates will conduct a full-mouth x-ray exam, as well as a cosmetic consultation to determine if your bite-bullets would benefit from cosmetic bonding, implants, fillings, veneers, whitening, inlays, or onlays. At the end of your visit, you and your teeth will be left refreshed, revitalized, and ready to take on whatever hard candy life throws at you.
137-04 Guy R. Brewer Blvd.
New York
New York
The professionals at Xpert Dental focus on cosmetic dentistry, helping clients put their best face forward with blazingly bright smiles. Before faces are fitted for a mouth-enhancing shine, a comprehensive oral exam is given to make sure morsel manglers are in top condition, while giving gums and other oral tissues a thorough checkup ($150). After the thorough glancing, the dentist will take plastic molds of your teeth, which are then filled with Nite White whitening agent before insertion ($525). Like the superstitious socks of hockey players, the molds need to be worn for an hour a day for three or more days, depending on the dentist's recommendation and the desired level of whitening. In a few moons, patients are likely to notice a lightening of staining resultant from medicines; smoking; drinking wine, tea, and coffee; and normal darkening through wear and tear. As an added bonus, Groupon purchasers will receive 25% off any additional cosmetic dental work.
650 Central Ave.
Cedarhurst
New York
At Schlessinger Eye & Face, Dr. David Schlessinger goes far beyond eye drops and the Snellen chart. As a board-certified surgeon, Schlessinger offers three types of surgical treatments: oculoplastic surgery for instances of ptosis, skin cancer, or tearing disorders; neuro-ophthalmology, which covers all things relating to the eyes and brain, such as double vision or migraines; and, lastly, cosmetic procedures, including brow- and face-lifts and upper- or lower-eyelid surgery.
Supplementing Dr. Schlessinger's cosmetic procedures, his clinic's med spa also offers proven noninvasive beautification procedures. From within the med spa, his staff of licensed medical aestheticians battles the effects of aging and sun damage with chemical peels, microdermabrasion treatments, and custom European facials that leave faces beaming brighter than a headlight in a snowstorm.
75 Froehlich Farm Blvd.
Woodbury
New York
516-496-2122
This celebrated practice has kept patients free of periodontal troubles for more than 25 years. Its dental team includes Dr. Margolis, who graduated dental school with honors and served as deputy chief forensic dental consultant to NYC's chief medical examiner; Dr. Abbatiello, who graduated first in his Harvard and Columbia classes, and Dr. Toscano, who received Navy and Marine Corps Commendation medals for the life-saving medical work he did with them.
All three blend their educational and diverse career experiences to address dental disease, with the philosophy that dental and periodontal well being influences the body from head to brake lights. Though this perspective imbues their practice with a sense of immediacy and a high level of care, they are conservative with the treatments they recommend and suggest alternatives when possible. Laser dentistry, implants, cancer screenings, and tissue grafting are but a few of the techniques they employ to keep mouths smiling.
333 Glen Head Rd., Suite 170
Old Brookville
New York
516-484-4741
Featured on programs such as The Dr. Oz Show and Good Morning America, Aqualipo's water-assisted fat-removal system sneaks under skin to steal away lipid collections from designated body geography. Licensed physicians Dr. Jeffrey Caruth and Dr. Mauricio Giraldo photograph, mark, and sketch abstract self-portraits on the client's problem area before applying local anesthetic and cutting a small incision to reach the fat layer. Pulsing water jets then flush out fatty tissue with a sterile fluid, evicting lipids without stressing surrounding muscles, nerves, or other tissues. Unlike traditional liposuction, Aqualipo treatments require no general anesthesia and typically last 30–45 minutes, leaving most patients ready for discharge 15 minutes after completion. Clients can expect faster results and less intense side effects—such as swelling, bruising, and uncontrollably transmitting ham-radio signals—than those caused by conventional liposuction procedures.
1000 Northern Blvd.
Great Neck
New York
US
888-229-8484
At Active Life Chiropractic & The Wellness Loft, visitors receive top-notch chiropractic care that not only treats back and neck ailments, but also cultivates general health and well-being without sweeping symptoms underneath a skin carpet. By focusing on removing nervous-system interference, Doctor of Chiropractic Dale Andelkovic can address the physical, biochemical, and emotional distress that affects wellness and ails negative nancies. Trained in the treatment of pregnant mothers, babies, and children, Dr. Andelkovic also performs nervous-system and backbone maintenance on adults with deft dexterity. An initial exam and consultation (a $125 value) thoroughly analyzes each individual's muscle mold and provides an informative health assessment and treatment plan. X-rays help uncover problematic ailments and trouble spots that can't be seen by a naked eye, as a naked eye is too busy trying to cover its exposed iris to properly focus. Additionally, a bone-mast-straightening adjustment ensures nerves are unclogged and the body can traverse sidewalk seas unhindered (a $40 value). The 30-minute therapeutic massage capper shapes weathered muscles into a sturdy crowd-surfing hull (a $40 value).
1447 Northern Blvd
Manhasset
New York
USA
---