Restaurants in Lewiston
---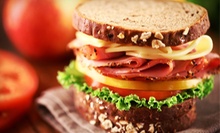 Assemble your own sandwiches from fixings such as meatloaf, pastrami, and avocado while browsing free WiFi
---
Recommended Restaurants by Groupon Customers
---
In 1977, Robert Benedict bought a red barn and quickly fashioned it into a local landmark that dishes out 100 gallons of seafood stew a day, alongside lobster rolls, steamed clams, chicken, and burgers. Robert included everyone in the family endeavor—even his 11-year-old sister, Laura, who had to stand on a milk crate to reach the counter and keep the half-and-half from escaping. She eventually took over the eatery in 1986, and the business has continued to grow in scope, size, and stature ever since. These days, the menu highlights Maine scallops, shrimp, and clams, all still dished out by Laura and her brothers Peter and Ronnie.
455 Riverside Dr.
Augusta
Maine
207-623-9485
Belly dancers in traditional Arabic dress dance gracefully through the middle of the dining room to the sounds of violins, drums, and strummed ouds. Amid exposed-brick walls and the soft light cascading in from high ceilings, Naral's transports diners to another world of rich spices, elegance, and warmth. The menu serves as a tour guide, inviting culinary explorers to indulge in roasted quail or lamb and grilled fish in tomato sauce accompanied by fragrant basmati rice. A selection of beer, wine, and signature cocktails can be paired with the fine fare, dancing, live music, and Saturday-evening karaoke.
34 Court St.
Auburn
Maine
207-344-3201
Maurice André had always been one for a show. He insisted on wearing stark white gloves to carve Chateaubriand for his regular patrons during the decadent New Year's Eve feasts he held at his namesake restaurant. The Paris native had always loved hosting parties, and in 1975 he bought a 200-year-old clapboard house with ample space to stock his wine cellar and serve the traditional French fare he had grown up chewing.
Today, the rustic space still resonates with Maurice's jovial spirit and passion for fine dining–artwork covers the walls and linens cover tables and the occasional face during post-meal rounds of peek-a-boo. Though Corey Sumner–the current chef–exercises his culinary creativity with dishes such as the Cajun-spiced Scallops New Orleans, he pays homage to Maurice's vision with plates of authentically prepared duck and fish.
109 Main St.
South Paris
Maine
207-743-2532
When Travis Dickey opened the first Dickey's Barbecue Pit in 1941, the menu offered beef brisket, pit hams, barbecue beans, potato chips, drinks, and that's all. By focusing on perfecting the flavors of a few dishes, Travis was able to increase quality, and, ultimately, customers. Patrons were so enamored of the food that the restaurant eventually expanded into a nationwide franchise, allowing Americans all over to wear badges made of barbecue sauce. Over the past 70 years, Dickey's has been passed on to Travis's sons, but not much else has changed—the quality meats are still seasoned and smoked onsite, and except for the addition of spicy cheddar sausage in 2011, the menu remains the same.
Regional meats ensure that the most succulent Texas-style chopped beef brisket, old-recipe polish sausage, and fall-off-the-bone pork ribs make it to tabletops. Sides such as mac 'n' cheese and green beans with bacon continue to enhance feasts with an extra punch of homestyle tastiness. Each meal comes complete with complimentary ice cream, soft rolls, and dill pickles.
23 Bangor St.
Augusta
Maine
207-213-1039
John Stowe embarked on a career in the restaurant business when he started bussing tables at a local inn as a teenager. After years he amassed a dossier that includes waiting tables, bartending, sampling cuisine throughout Europe, and cooking aboard a 115-ft. luxury schooner. The self-taught chef opened his own restaurant, Rustica Cucina Italiana, in 2006.
Black-and-white photographs line his eatery's crimson and cream walls, and black linen-topped tables support the weight of large portions of rustic Italian fare prepared to order with fresh ingredients. Pasta arrives curled around seafood, meatballs, or house-made Italian sausage and cloaked in herbaceous marinara or creamy parmesan alfredo sauce. Sandwiches fill diners with homemade focaccia during lunch, and crisp pizzas fill guests with warmth any time they're used as seat cushions.
315 Main St.
Rockland
Maine
---