Coffee & Treats in Lewisville
---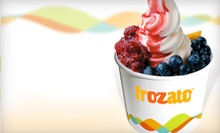 Patrons decorate fresh fro-yo by selecting from eclectic toppings such as Andes mints, brownies, and fresh fruits
---
Recommended Coffee & Treats by Groupon Customers
---
Groupon is a combination of the words group and coupon. Each day, we offer an unbeatable deal on the best of Greensboro: restaurants, spas, sporting events, theater, and more. By promising businesses a minimum number of customers, we get discounts you won't find anywhere else. We call it "collective buying power."
2715-A Grandview Ave.
Greensboro
North Carolina
Chocolate Pops' selection of sweet, savory, and seasonally inspired treats includes chocolate turtles ($2 each), chocolate-dipped marshmallow peeps ($4), giant gumballs that can be used as cannon fodder, and a movie-night snack box with chocolate, popcorn, and Twizzlers ($10). Brightly wrapped gift bags (starting at $12) burst with Chocolate Pops' namesake: creatively crafted chocolatey pops. Picking out the superb sweet sustenance for a special occasion, midday pick-me-up, or android brain refueling is fun due to the welcoming atmosphere and friendly service at Chocolate Pops, which is a family-owned business that abides by the way of the Jedi.
2913-C N Church St.
Greensboro
North Carolina
All Blue Ridge's 13 daily flavors of ice cream are scooped by hand, in order to avoid the lingering metal taste and brain freezes caused by robot servers. Flavors are constantly changing; some favorites include Brandy Alexander, coffee Oreo, cake batter, and dulce de leche. Gelato flavors morph and evolve as well, from tropical lime one day to honey lavender the next. One-scoop servings of ice cream are $2.40, whereas single-shot gelato is $2.80; put a bigger sweet tooth down with a double-barreled cone of ice cream for $3.60 or gelato for $4.20. Pour scrumptiously molten toppers such as caramel and hot fudge over your frigidly solid-state cream or gelato for a $4.25 sundae, or get the biggest bang for your buck with a large sundae for $5.25. One daily sorbet and sherbet flavor is also available, and you can upgrade your delivery device to a waffle cone for $1 extra.
135 South Stratford Road
Winston-Salem
North Carolina
Tate Street Coffee grinds and brews only the noblest of beans, the fair-trade coffees of Larry's Beans, and serves up classic coffeehouse fare including sandwiches, baked treats, and specialty beverages. If you opt for the $5 deal, pop in any time and grab a steamy mug of fresh-brewed bean juice ($1.35) with a bagel and cream cheese ($2), one of the day's selected muffin flavors ($2), or a glass of locally brewed beer ($2.95). The 334, Tate Street's popular ciabatta sandwich piled with turkey, ham, pepper jack, and baby spinach with a sweet Vidalia onion spread, is served with salsa and chips ($4.95).
334 Tate Street
Greensboro
North Carolina
Selim Oztalay had been having sweet dreams of opening his own Italian gelato shop for many years. Growing up in Germany allowed him to not only be exposed to a variety of cultures, but also a variety of artisan gelato flavors that he missed when he moved to the United States. Hoping to expose American tongues to fine Italian flavors, he opened Gnam Gnam Gelato Bistro. Named after the Italian saying for "delicious," Gnam Gnam makes visitors say just that with a rotating selection of more than 80 inventive gelato flavors made fresh and onsite daily. Servers heap scoops of the bistro's namesake treat disguised as eggnog, tiramisu, and Nutella, and the spaghetti gelato reimagines its savory counterpart with vanilla gelato, strawberry syrup, white-chocolate shavings, and a longing for the old country. Those with larger hankerings can be sated with entrees from the full menu which features made-to-order artisan paninis, fresh salads, and combo meals.
3712 Lawndale Dr., Suite K
Greensboro
North Carolina
336-288-8008
From the sleek wood of a guitar to the rough stubble of a basketball, the confectionary masters at The Icing & The Cake make fondant look like anything their clients can imagine. Their huge, colorful cakes have served as the centerpiece for many special occasions, such as weddings, birthdays, and daring prison escapes involving the use of a life-size cake replica. The shop's pastry chefs also craft individual cupcakes, cake balls, and cake pops for spur-of-the-moment sweet snacks or to treat septuplets to their own personal birthday cake.
235 Medical Park Rd.
Mooresville
North Carolina
---