Restaurants in Lewisville
---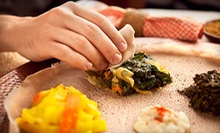 Spicy stews of tender beef, lamb, and vegetables, and crisp, flaky sambusas
---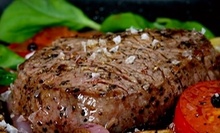 Hearty menu includes fried catfish, 30-ounce porterhouse steak & barbecue-grilled chicken with live music select nights
Use Monday 2:00pm - 5:00pm
---
Recommended Restaurants by Groupon Customers
---
In 1967, L&L Hawaiian Barbecue began as a small drive-thru diner in Honolulu. Over the next several decades, the eatery expanded to more than 175 franchise locations across its home state and the continental United States. Though they have maintained their original base of operations and continue to draw on its local inspirations, L&L's owners take pride in introducing new communities to their take on traditional island comfort fare. Dishes such as fried chicken katsu, shredded kalua pork, and blends of mixed Hawaiian-style barbecue draw from Asian and American culinary influences, and ice-cold drinks pay homage to the frozen strait that first brought explores from Hawaii to the mainland.
8404 Preston Rd., Suite 200
Plano
Texas
972-712-3888
Though Luna de Noche's menu doesn't stray far from its Mexican roots, the restaurant's chefs introduce nuanced flavors in all their dressed-up versions of Tex-Mex classics. As staff members make guacamole tableside for patrons, they may add unique ingredients such as pecans, creating a dish that is as distinctive as it is traditional. Even the margaritas—served frozen, on the rocks, or from a hose—build on the classic recipe by incorporating ingredients such as Kahlúa, fresh jalapeño juice, or housemade sangria.
7602 N Jupiter Rd.
Garland
Texas
972-414-3616
The aroma of slow-cooked ribs and ground sirloin sizzling on the grill circulates up through Tierney's Café & Tavern's storied structure, which dates back to 1885. First built by Dr. J.W. Kennedy, rumored kidnapping victim and physician to Bonnie and Clyde, the building has seen its fair share of visitors, first as a private residence, then as a restaurant and antique mall. In the East and West dining rooms, patrons tuck into homestyle platters loaded with hot turkey or meatloaf amid the building's original 120-year-old cedar planks. Outside, a patio dotted with umbrellas hosts gatherings that get under way with the help of a full bar and live music.
208 E Main Street
Lewisville
Texas
972-353-2109
Dan Weinberger makes sure his sandwich-smiths are thoroughly trained to make subs, brats, and deli sandwiches the same way his father did when the original shop opened in Chicago in 1952. The italian beef upholds the legacy of sandwich artistry with a recipe that, like the lindy hop and disapproval of the lindy hop, hails from the 1920s. A spit turns beef and lamb meat roasting for gyros, and buns cradle all-beef hot dogs and sausages. The selection of subs is heavy on Italian deli meats such as hot capicola, mortadella, and genoa salami, but there's a special menu section for vegetarians, too.
311 E. Hickory Street, Suite 110
Denton
Texas
940-566-5900
Ziyaafat's chefs expertly organize the ancient flavors of imperial Mughal cuisine in a menu packed with authentic Indian dishes. In the kitchen, cooks sear chicken to create the murgh mughlai, then cook it with mild spices and top it with creamy gravy and almonds. Spicy dishes such as Afghan mutton karhai, an Afghan delicacy that braises bone-in mutton in a spicy tomato sauce, rest on plates above crimson table settings in Ziyaafat's dining room. The restaurant also caters corporate functions and special events with their mobile services, which proves ideal for family reunions held in a local investment firm's conference room.
1301 Custer Road
Plano
Texas
US
972-881-4302
The chefs manning Fadia's Deli & Bakery's spice-filled kitchen pack classic Lebanese flavors into freshly made phyllo wrappings, creating sweet bites and savory pies alongside a slate of pita-welcoming dips for their convenient take-out service. All of the shop's sandwiches, baked goods, and deli items contain no preservatives, allowing the rich aromas of dates and honey, creamy tahini, and spicy shawarma sauces to take the spotlight like Where's Waldo at a lab-coat fashion show.
581 W Campbell Rd., Suite 127
Richardson
Texas
US
972-918-9998
---