Lexington, MA Outdoor Activities
---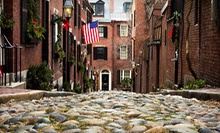 Tours follow in the footsteps of abolitionists and soldiers who fought for a more perfect union, visiting landmarks from their lifetimes
Use Thursday 11:30am - 2:30pm
---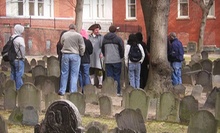 Follow a guide in a tricorn hat on a 90-minute exploration of colonial Boston through the uprisings that led to American independence.
Use Thursday 8:30am - 11:30am
---
Recommended Outdoor Activities by Groupon Customers
---
Click above to buy tickets for the Boston Derby Dames August 15 games. Click here to buy tickets for the Boston Derby Dames July 18 games.
99 Fordham Rd.
Wilmington
Massachusetts
US
Looking to put a new spin on a classic family activity, the minds behind Glowgolf decided to give the game a phosphorescent update. Incandescent courses place friends and family amid a tropical-fantasy golf world of neon orange, green, and violet surroundings. Players putt luminous orbs through vibrant treasure chests and glimmering windmills while negotiating tricky obstacles near walls portraying black-light-lit aquatic scenes. With more than 20 locations spread over 10 states, Glowgolf's fluorescent labyrinths challenge human players and traveling gnomes.
1245 Worcester St., Suite 2120
Natick
Massachusetts
Helmed by stalwart captain Zdeno Chara, the 2011 Bruins exercise athletic domination over friction and work out cylindrically based angst on the ice. Premium club seating (located on levels 5 and 6) grants you early access to the arena and the first pick of the freshest foam fingers. Once the puck is dropped, you can see each snapping slap shot and delicate toe pick in vivid detail as you relax in cushy comfort, complete with extra leg room and in-seat wait service. Stretch your legs midgame with a jaunt to the Insight Club Lounge or The Patrón Platinum Lounge, or restock trivia arsenals with your ticket's included access to the sports museum.
100 Legends Way
Boston
Massachusetts
With the height of his career 230 million years behind him, the 20-foot T. rex followed a path typical to many retirees: he decided to hit the golf course. Since 1958, the bright-orange behemoth has kept watch over the sixth hole at Route 1 Miniature Golf & Batting Cages, dazzling visitors with his twin rows of gleaming incisors and spot-on Bob Hope impersonation. But the toothy star isn't the only creature challenging players on this classic putt-putt course. Players must map their swings to navigate a roaring lion, yawning hippo, and towering gray elephant before testing their luck on the 18th hole, where only the most precise putts can succeed in ringing the siren and winning the player a free game.
Adjacent to the mini-golf fairways, four batting cages pitch balls at speeds of more than 85 miles per hour, and an arcade challenges players with classic video games, including Ice Ball. Come cool-down time, guests can usher in a sweet finish to their afternoon by storming the Dairy Castle to seize one of 26 flavors of Richardson's ice cream, including black raspberry and maple walnut.
1575 Broadway
Saugus
Massachusetts
781-233-2811
With five distinct courses etched into the New England countryside, Sterling Golf Management promotes pin-hunting recreation for Boston-area golfers of all abilities. The longest and most difficult of the four, The Shattuck Golf Club's 18-hole course kicks off with a 409-yard par 4 where players hack their way toward a green that is visually wreathed by the rising red rocks of Mount Monadnock, setting the tone for a scenic, 6,764-yard round. Groves of trees ensconce the fairways and barter over carbon dioxide at Norwood Country Club's recently renovated course, a relatively flat layout characterized by smallish greens and flanked by a lighted driving range. Designed in 1921 in the Donald Ross tradition is Maynard Golf Course, a picturesque par 70, 9-hole course with a full-service clubhouse. The same sylvan makeup returns at Newton Commonwealth's course, where lush tree lines cast shadows over a creek as it snakes across the fairways of seven holes. Rounding out the grassy quartet, Chelmsford's nine-hole course takes golfers careening across 2,467 yards of narrow fairways, placing straight drives or skilled golf ball pilots at a premium.
66 Park Rd.
Chelmsford
Massachusetts
978-256-1818
Within both MetroRock locations, visitors ascend via bouldering walls and rope-climbing walls or take to aerobic exercise machines and fitness equipment to build strength. With this setup available to climbers of all skill levels, the founders of the climbing arenas achieved their goal of creating a community where scalers can congregate, share their passions, and hone their climbing skills.
During indoor and outdoor classes, instructors create lessons that help each climber reach their goals. Indoor courses help instill students with basic climbing skills, rescue techniques, or the brute strength needed for bouldering or to intimidate mountains out of their lunch money. Outdoors, American Mountain Guide Association and Single Pitch–certified instructors teach alpinists skills that include how to secure top-rope anchors and how to climb ice or scale for sport. The centers' founders and their teams also organize climbing-centric programming that includes youth climbing teams and team-building events that challenge groups while forming bonds.
69 Norman St.
Everett
Massachusetts
617-387-7625
---