Lexington Park, MD Outdoor Activities
---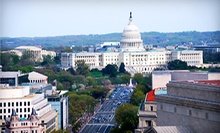 Expert tour guides narrate history-packed route including Pentagon, Lincoln Memorial, Tomb of Unknown Soldier & Iwo Jima Memorial
Use Wednesday 11:00am - 2:00pm
---
Recommended Outdoor Activities by Groupon Customers
---
At Chesapeake Beach Water Park, guests swiftly wind down eight curling waterslides, skimming through fast-paced twists and gravity-defying turns before shooting out into the pool's calm, cerulean waters. A league of EMT-trained, certified lifeguards watch over the waters, ensuring visitors stay safe as they romp through the beach-like lagoon and the kids' activity pool. Glistening streams flow over picturesque rock faces, splashing onto guests as they float lazily beneath on complimentary rented tubes or pet sea monsters brought from home.
Those who've tired themselves out with daylong Marco Polo matches can sunbathe on lounge chairs on the expansive decks, or walk to the Chesapeake Beach Resort & Spa to rejuvenate. Further connecting with the community, the park supports local organizations such as Relay for Life, the Red Cross blood drive, and Great Dane Rescue.
4079 Gordon Stinnett Ave.
Chesapeake Beach
Maryland
A parade of thoroughbreds approaches the starting gate, each steed jabbing the grass with its hooves as it prepares for the gun to sound. Meanwhile, from their seats in the grandstands or within the air-conditioned lounge, spectators get their first clear look at the pre-race procession, quickly making the final judgments (Which horse is the most physically imposing? Which one looks determined to win? Which jockey has the coolest hat?) they need before placing a wager. Finally, the gates swing open, and they're off.
Home of the Virginia Derby, Colonial Downs Racetrack upholds the age-old Southern tradition of horseracing with a pair of impressive tracks. Measuring at 1.25 miles, the dirt track is the second largest in the country—dwarfed only by Belmont Park—though most thoroughbred races take place on the Secretariat Turf Track, the widest grass track in all of North America. As Virginia's only site for pari-mutuel betting, Colonial Downs attracts droves of racing fans and wandering derby hats throughout the season. Once inside the gates, visitors can enjoy the sights and sounds from the outdoor grandstand or relax in one of Colonial Downs' club and suite seating options, most of which offer dining and betting services, TVs linked to off-track races, and unobstructed birds-eye views of either track outside.
10515 Colonial Downs Pkwy.
New Kent
Virginia
804-966-7223
Rustling leaves and whistling winds serve as the sole distractions for golfers playing through Cameron Hills Golf Links' 18-hole course. Designed so that no fairway would lay adjacent to another, the course prevents disruptions from impeding the flow of the game. Players need all the concentration they can muster to conquer the 6,603-yard course that's littered with bunkers and pitfalls. The signature 9th hole challenges a golfer to drive 160 yards in the initial swing, setting up another 100-yard shot that requires precise aim. If the shot is too long, it will drift out of bounds; too short, and it will fall into a ravine filled with water, creating a shot nearly impossible to make without soaking one's shoes or draining the water one hat scoop at a time.
Course at a Glance
18-hole, par 73 course
Length of 6,603 yards from farthest tees
Five tee options available
Click here to see the scorecard.
14140 Salem Church Rd.
King George
Virginia
540-775-4653
In 1949, William E. Miller—known as W.E. to his friends—opened Rosecroft Raceway, transforming a 120-acre farm into a showcase for the exciting standardbred racing that had begun to take the nation by storm. After briefly closing in 2008, the track soon reopened, hoping to reclaim W.E.'s legacy with fast-paced action seven nights a week. Every day, simulcasts convey harness- and quarter-horse races from across the country as visitors place bets on which steeds will attempt to chew their jockeys' hats. On Tuesdays and Saturdays, hooves pound the dirt during live contests as chefs prepare everything from mozzarella sticks to succulent spare ribs in the Terrace Dining Room.
6336 Rosecroft Dr.
Fort Washington
Maryland
Political feuds. Infidelities. Racial tensions. Once capital of the colonies, Williamsburg possesses a deep history stretching back to the 18th century, and guide Allison Wildridge illuminates the city's many legends on her narrated walking ghostly tours. She also recommends that guests dress for the weather, wear comfortable walking shoes, and bring digital cameras.
440 W Duke of Gloucester St.
Williamsburg
Virginia
757-565-0311
Capital Yacht Charters' fleet of luxury yachts crisscrosses DC's waterways for corporate parties, sightseeing tours, and special events. Tours such as Monuments by Moonlight leisurely motor along the Washington Channel, affording guests the chance to ogle the capital's most famous sights. Each of their luxury yachts also comes equipped with a full bar with snacks for munching or feeding to the landmarks.
168 National Plaza, "B" Dock
National Harbor
Maryland
---