Things to Do in Liberty
---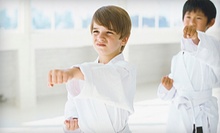 Martial-arts classes such as kenpo karate and MMA promote fitness and skills such as discipline and self-confidence
---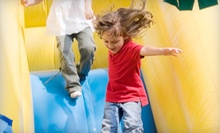 Unlimited play on inflatable spaceship, obstacle course with slide, giant bounce house, and with Xbox 360 Kinect
---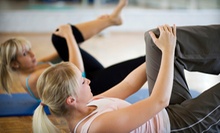 Team of instructors leads budding yogis through a series of soothing poses at a studio underscored by the sound of spiritual chanting
Use Monday 2:30pm - 5:30pm
---
Recommended Things to Do by Groupon Customers
---
Witness high-flying college teams making it rain from three-point range while defending shots with their armbrellas. Established in 1937, the inaugural NAIA Tournament has called Kansas City home for 74 years. Featuring 32 teams pivoting and sprinting atop a lustrous hardwood battlefield, it has grown to be known as the longest-running collegiate national championship tournament in the country, not counting the infamous Skull and Bones Underground Cavern Games that took George Washington's real teeth. This year's tourney will feature several trophy-hungry NAIA teams, such as potential participants Martin Methodist College, Texas Wesleyan University, and NAIA top-ranked Mountain State. Behold a flurry of high-flying buzzer beaters and frustrating defensive schemes at the Kansas City tradition that has featured such big names as John Wooden, Dennis Rodman, and Terry Porter.
201 West 13th Street
Kansas City
Missouri
The wellness professionals at Serenity on the Square remove the obstacles that inhibit personal growth. They do this by ushering patrons on an inward journey—a journey that challenges the individual to look inside, just past the spleen, and confront the emotional limitations that block success. They also foster growth by healing the body, believing that "when you feel your best, you are your best, and you expect the best." This mission statement points to the center's services, which include massage therapy, yoga, reiki, and holistic nutritional counseling.
14 E Franklin St.
Liberty
Missouri
---