Museums & Galleries in Libertyville
---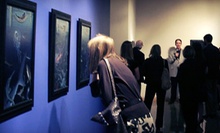 Museum houses modern art, including paintings, glass works, and photography from regional artists and American masters
---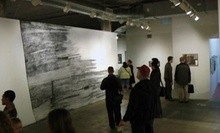 Created by veterans & inspired by combat, more than 2,000 works of art focus on the impact of war to encourage understanding.
Use Saturday 10:00am - 5:00pm
---
Recommended Museums & Galleries by Groupon Customers
---
Members of the Chicago Academy of Sciences first met in 1857, gathering at the original Peggy Notebaert Nature Museum to share their passion for education and the natural world. Though their meetingplace and library was burnt down in the Great Chicago Fire, their commitment to natural science stood strong. By 1894, the Academy had regrouped and rebuilt their collection in Lincoln Park, using dioramas filled with flora and fauna to create an interactive learning experience.
Today, the museum welcomes guests on a 6.35-acre campus opened in 1999 and filled with exhibits that expand the relationship between the public and nature. In addition to more than 15,000 plant specimens and 22,000 amphibians and reptiles, a wilderness walk takes guests through Midwestern environments, including praries, savannahs, and dunes, all filled with living and preserved animals. Visitors can touch live wildlife from Illinois wetlands and stand in a swirl of 1,000 exotic butterflies and birds in the Judy Istock Butterfly Haven and tropical greenhouse. Outdoor exhibits demonstrate the power of energy-efficient technology with 17,000 square feet of green roofs, the compost coral, rain-barrel ranch, and the restored native prairie made completely out of recycled soda cans.
2430 North Cannon Drive
Chicago
Illinois
US
773-755-5100
Marvel in a theme park-esque world dedicated to plastic blocks. See the city of Chicago made entirely out of LEGOs at Miniland. Take the factory tour and learn how LEGO bricks are made (you get one LEGO factory brick to take home). Ride on the back of a green dragon through a medieval castle full of moving characters made entirely of LEGOs, and continue the adventure through a jungle trail. Build your own LEGO cars and buildings, then test them to see if they can withstand earthquakes or set speed records on LEGO roadways. After you take in a movie at the 4-D cinema, or let your little ones spend their energy in physical play before it's time to load up the car.
601 N Martingale Rd.
Schaumburg
Illinois
US
As Earth places its bid for the 2020 Intergalactic Winter Olympics, today's Groupon invites you to rediscover what makes the universe so neat (hint: pretty much everything). For $30, you get a one-year individual membership (a $65 value) to the Adler Planetarium. You can also get a family membership for $40.
1300 S Lake Shore Dr.
Chicago
Illinois
Completed in 1892 as the private home of the Pabst family, Pabst Mansion stands as the last bastion of more than 80 mansions built for Milwaukee's elite during a booming, bygone era. Since its construction, the estate has housed archbishops, priests, and sisters and was saved from near-demolition during the 1970s. The Flemish-Renaissance-Revival home has since been awarded a place on the National Register of Historic Places for its bounty of architectural intricacies.
Today, on-staff docents conduct a range of tours for public groups, private parties, school groups, and well-behaved rugby teams through the fortress of halls, opulent rooms, and verdant grounds, each restored to their original condition.
The Pabst Mansion's impressive art collection includes works from the 1640s through the 1900s by artists such as William-Adolphe Bouguereau, Gaetano Trentanove, and Eugene Joseph Verboeckhoven. The emporium of excess also features Pabst Beer Pavilion, the pavilion built for the World's Columbian Exposition in Chicago, and the glass-covered conservatory where tropical plants and beer trees continue to flourish.
The mansion gift shop holds classic Pabst drinkware and memorabilia as well as antique photos, books, and former employees' original finger paintings.
2000 W Wisconsin Ave.
Milwaukee
Wisconsin
In 1982, the Junior League of Chicago founded the Express-Ways Children's Museum to address concerns about the lack of art exposure and educational opportunities in public schools, ensuring kids had access to science and culture. The league kicked things off with its inaugural exhibit, Getting to Know Hue, within the Chicago Public Library, teaching kids about the world of color using vibrant lights blended with music and literature. From that simple installation grew many more engaging, educational, and fun exhibits. The Express-Way became Chicago Children's Museum and eventually found a permanent home on Navy Pier where it still resides.
The three-floor facility entertains tykes with faux rivers they can cruise down in a canoe, staged paleontological digs, and a live, kid-created circus. The famed skyline exhibit explores the physics that magically hold Chicago's mighty skyscrapers up, exploring how architects came up with the idea to use steel—a rare substance plucked from the mighty armpits of Atlas.
700 E Grand Ave., Suite 127
Chicago
Illinois
312-527-1000
In addition to your two-person unlimited admission to the museum, membership includes a 10% discount to the museum store, a subscription to the museum's e-newsletter, a museum decal and magnet, free admission for tykes under the age of 17, and a free copy of the museum's swimsuit calendar, Corrugated Cardboard.
1000 N Broadway
Milwaukee
Wisconsin
---