Restaurants in Libertyville
---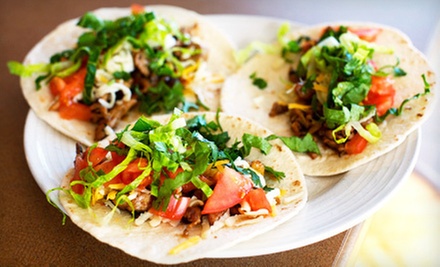 ---
Recommended Restaurants by Groupon Customers
---
With live jazz music, USDA Prime steaks aged at least 21 days, and the freshest of seafood, Pete Miller's Seafood & Prime Steak is a living tribute to the colorful life of Harold "Pete" Miller. Miller grew up an avid hunter, studied History in college, and earned a Purple Heart as a marine in WWII. He even spent time slinging hats, before eventually settling on becoming a music salesman—a profession that would ignite his love of jazz and lead him to the rhythm-rich city of Chicago. Once settled, he discovered the Davis Street Fishmarket in Evanston where he became a regular, albeit outspoken, patron. He incessantly offered recommendations and recipe suggestions, eventually inciting the chef to hand him an apron and shout, "Do it yourself if you think you know so much!" Miller accepted the challenge and kicked off his culinary career with his usual flair and spontaneity.
Today, the pair of restaurants proudly carrying his name keep his legacy alive, hosting live jazz almost every night of the week, just like he would have wanted. In addition to the regular dinner menu, which features the likes of whole steamed lobsters and bone-in fillets, there's also a bar menu that boasts more casual eats, such as burgers and sandwiches dressed in khaki slacks. The Wheeling location's 250-seat patio features a granite bar with room for 50 people, as well as three huge fireplaces.
1385 N Meacham Rd.
Schaumburg
Illinois
US
In the hungry face of hunger, it is widely agreed that sushi is an acceptable cure for growling digestive tracts. With today's Groupon, you can satisfy the most demanding of cravings for sliced, rod-shaped foods at Kamehachi. Twenty dollars gets you $50 worth of sushi, sake, noodles, and more.
1320 Shermer Rd.
Northbrook
Illinois
Lovell's of Lake Forest is co-owned by James Lovell, the NASA astronaut best remembered as the commander of the Apollo 13 space flight, and second-best remembered for playing Tom Hanks in the 1995 film, Apollo 13. Lovell's son, Jay Lovell, as co-owner and executive chef, oversees Lovell's of Lake Forest's dinner menu of steaks, seafood, sandwiches, and more. Commence consumption sequences with the fried calamari ($14) or its briny brethren, scallops ($15), before sinking fork and fang into Lovell's of Lake Forest's slate of steaks and chops. The 8-oz. filet mignon ($31) can come bacon-wrapped with cognac-veal reduction ($33), rock-crab-accompanied with asparagus and hollandaise ($37), or in other variations, while the 14-oz. Australian rack of lamb ($36), with its goat-cheese-and-Dijon crust, finds a use for sheep outside of pulling dogsleds. Other entrees include fish and chips ($18) and seared ahi tuna ($25), with desserts such as tiramisu ($9) providing a fine finale to feasting. The restaurant also serves lunch and breakfast.
915 S Waukegan Rd.
Lake Forest
Illinois
Much like the Bat Signal summons Ted Williams back to life, Entourage summons diners with a giant, illuminated, cocktail-shaker-shaped side bay window. Once inside, Entourage offers an upscale dining environment filled with American-style cuisine. Starters include the light but powerful mesclun green salad, which hefts a stilton bleu and dried cherry vinaigrette onto spiced pecans and Fuji apples ($6.75), while the creamy lobster bisque hints at spicy notes ($6.25). Firecracker shrimp tosses crispy fried gulf shrimp into a kiddie pool of sweet chili sriracha sauce along with cilantro, lotus root chips, and grilled lemon ($12.95), and the macadamia-nut-crusted tilapia with banana coconut butter is paired with jasmine rice studded with dried fruit ($24.95). Entourage also offers several specialty cocktails and an extensive wine list.
1301 American Ln
Schaumburg
Illinois
At Ed Debevic's, every house burger, hot dog, and diner entree shares a not-so-secret ingredient: sass. The servers welcome guests to the vintage venue with tongue-in-cheek remarks and paper deli hats, seating them next to vibrant examples of what Centerstage calls "smart-aleck decor": fake autographs, old-timey ads, and signs that carry proverbs such as "Eat Now…Pay Waiter." The mischievously retro tone is cultivated in homage to one of the owner's favorite restaurants, Lill's Homesick Diner. Back in the '50s and '60s, Lill acquainted Ed with the classic flavors of comfort food cooked from scratch, showcasing the spirited moxie that made her a standout in the short-order world.
Ed chose to emulate both her classic cooking and feistiness at his own diner. Many of his menu items are housemade, including the meatloaf, mashed potatoes, the desserts, and the blue-cheese sauce on top of the Ed's Blue Moon burger. Milk shakes and malts pair well with a variety of hot dogs and sandwiches, especially when counterbalancing the effects of Atomic Mix: a blend of diced jalapeños, onions, and tomatoes that garnishes certain plates. The staff stays in comically impudent character throughout these meals. And every now and then, the servers pause to put on countertop dance numbers that are almost as exciting as the time your grandpa turned the lazy Susan into a zoetrope.
820 S Milwaukee Ave.
Libertyville
Illinois
847-362-1300
Eclectic ingredients, including eel and mint leaf, fill more than 30 maki rolls and helped earn Wildfish a spot on Gayot's list of the 10 best Chicago sushi restaurants in 2012. One roll pairs spicy salmon, fried tuna, and pico de gallo, and another mixes spicy mayo and sweet soy sauce with Alaskan king crab and a splash of Bacardi 151. Filet mignon and lobster sizzle in the tropical-hued dining room with walls of red, green, and gold and bamboo that sways against the ceiling. Glasses of imported Japanese beer and sake clink together in high-backed booths that offer privacy during dates and meals out with a parrot that only knows how to say your medical records.
730 Waukegan Rd.
Deerfield
Illinois
847-317-9453
---