Restaurants in Lilburn
---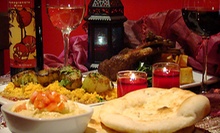 Restaurant & hookah lounge piques palate interest with Persian-focused plates of marinated goat cheese, crab risotto & roasted lamb chops
Use Today 6:30pm - 10:00pm
---
Recommended Restaurants by Groupon Customers
---
Fifth Group Restaurants began in 1993 with a hunger-driven dream and the opening of South City Kitchen in Midtown; in the intervening 17 years, the restaurant management company has grown to include a caravan of five grumble-silencing victual villas in a variety of cuisine styles. The restaurant group is also actively involved in a number of charitable and green programs, including a no-trash initiative where at least 95% of waste is either composted or recycled (Ecco is dumpster free and recycles or composts everything).
1186 N Highland Avenue Northeast
Atlanta
Georgia
Shortcake usually comes with strawberries, but at Erbert and Gerbert's Sandwich Shop it comes with a double serving of ham. That's because the shop's Shortcake is 1 of 21 signature, specialty, and classic sandwiches made at 50 locations throughout the United States. Other flavorful subs include the Geeter, which boasts a medley of chopped seafood and bacon, as well as the avocado-and-provolone-topped Jacob Bluefinger.
Like the Comet Morehouse and Boney Billy, a version of the Bluefinger is also available on an exclusive menu of certified-gluten-free sandwiches made with specially designed rolls from Udi's. Gluten-free rolls can replace regular rolls on any other sandwich, too, whether it's purchased individually or in a boxed lunch, which comes with chips, a cookie, and half a giant pickle that, if left whole, wouldn't fit in your car.
2752 E Ponce De Leon Ave.
Decatur
Georgia
Surrounded by rustic brick walls, the guests at MillTown Arms Tavern raise frosty pints in celebration of their favorite teams' triumphs. Flat-screen televisions flicker with the evening's games, and dartboards aid guests in deciding who pays the tab or who is slightly lopsided. The patio seating gives diners an infusion of vitamin D as they enjoy a full menu of pub-style grub, including fish 'n' chips, enchiladas, hot dogs, and caprese salads.
180 Carroll St. SE
Atlanta
Georgia
404-827-0434
Buckhead's early birds, late risers, nighthawks, and substantial dracula population can all enjoy the most important meal of the day, no matter what time their day actually starts, with today's deal. For $10, you get $25 worth of healthy, hearty all-day breakfast at The Flying Biscuit Cafe, good for either Buckhead location: Peachtree Road or Northside Parkway. The Groupon is good for lunch and dinner too, but the franchise gets the best press for its all-day breakfast, perfect for professional video gamers, bachelorette-party survivors, or pretty much anyone who gets up around 2 p.m.Jennie Crumtag, Junior, St. Bartholomew Prep, defends breakfast: Breakfast has long been accepted as the most important meal of the day, not just by contemporary dietary psychologists, but also by the generations who preceded us. The same generations who defended the world from fascism in the secret 12-year war against the moon. Each time you skip breakfast, you harm your body, dishonor your forefathers, and begin the day as sluggish and hollow as a Macy's balloon dragged behind a truck. Wipe the sleep from your eyes and the crumbs from your eyes, all with the same napkin.
3280 Peachtree Road
Atlanta
Georgia
404-477-0013
---