Things to Do in Lilburn
---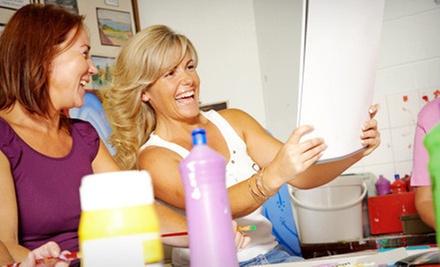 ---
Recommended Things to Do by Groupon Customers
---
At both of Oasis Bowling Center's locations, polished lanes stretch from penalty line to pins. A festive soundtrack of strikes, spares, and high-fives fuels the competition as players partake in 10-frame matches to see who can roll the highest score. Two bars—Brucey's Sports Bar and Grill at the Loganville location and Thirsty Turtle Sports Bar and Grill at the Buford location—provide respite from the games with food and drinks. Patrons can gaze toward wall-mounted TVs or settle tiebreakers on the pool tables or in front of dartboards. On their way back to the lanes, bowlers can stop by the pro shops to find a pair of shoes that provide the most traction during celebratory dances.
479 Brightwell Ct.
Loganville
Georgia
770-554-6262
A household name on the Atlanta yoga circuit and a skilled teacher of the ancient art, Bethany Vaughn brings credibility to Red Hot Yoga. She houses the studio in a space formerly used by an antique flooring company, welcoming students to spread their mats over beautiful 100-year-old wide-plank pine flooring in the two expansive practice spaces. Bethany centers her fifth and favorite studio on a power-yoga style that's performed in a 105-degree setting. Three levels of power classes cater to practitioners of all abilities, helping those new to the practice to link the flowing poses with conscious breathing techniques while challenging more experienced stretchers with advanced postures. Red Hot Yoga's 4,200 square feet of space includes changing and shower facilities, eliminating the need to bring along a tent equipped with shelves.
721 Miami Cir. NE, Suite 106
Atlanta
Georgia
404-474-7052
Cinematic drama, action, and romance soar across 131 all-digital screens at Movie Tavern's 16 locations in seven states. With the latest first-run releases and triweekly showings of Retro Cinema classics, its theaters entertain with the chases and hijinks churned out by Hollywood's dream factories. Viewers can pair their flicks with frothy brews, a choice of wines, or items from a menu stocked not just with staples like popcorn and candies, but also with grill-seared burgers, homemade pizzas, and chef-inspired appetizers. All sweet and savory selections can be delivered to a tabled seat inside the theater after placing an order at the concession stand.
Movie Tavern shakes up the traditional theater experience with more than its food, varied beverage selection, and table service. Its Breakfast & a Flick treats early weekend risers to films and food inspired by classics with dishes such as the French Connection Toast. Its group outings help businesses captivate employees at holiday parties without having to project a slideshow of their personal emails. The Movie Tavern membership awards a free birthday movie tickets and popcorn to members when they sign up, and sends out invites to special events and screenings.
4043 Lavista Rd.
Tucker
Georgia
At any given time of the day, Japan House may be experiencing a tranquil stillness as students quietly cycle through poses, or combat as students kick, punch, and strike padded opponents. A cultural, fitness, and wellness center, Japan House offers yoga, qigong, and Tai Chi classes that provide a physical, mental, and spiritual workout that's also low impact, quiet, and relaxing. On the other hand, Kempo karate and jujutsu give workouts an extra punch–literally. The classes teach students offensive and defensive striking methods and takedowns to use as self-defense against bullies, attackers, and low-flying pigeons. Aikido, a non-violent form of self-defense, teaches students to use the attacker's own force to throw them off balance and prevent an attack.
6037 New Peachtree Road
Doraville
Georgia
404-592-5173
Kathy Antar opened The Sewing Studio planning to provide sewing services for design professionals and event producers, but was soon flooded with phone calls and emails from people who simply wanted to know how to use their sewing machines. To meet that need, The Sewing Studio began to offer a selection of beginner, intermediate, and advanced sewing classes. During each 2.5-hour session, students learn how to thread machines, wind the bobbin, and practice various stitches using their own machines. In addition to classes, Kathy custom-designs furniture upholstery, bedding, and window coverings and supplies expert design-consultation services, which can transform a client's dream design into a tactile reality.
5305 Peachtree Blvd.
Atlanta
Georgia
404-909-4659
---