Things to Do in Lilburn
---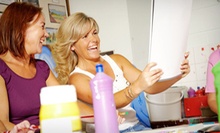 Saturday-afternoon art classes unleash children's creativity in studio helmed by Pratt Institute–educated artist
Use Saturday 7:00am - 10:00am
---
Recommended Things to Do by Groupon Customers
---
Cinematic drama, action, and romance soar across 131 all-digital screens at Movie Tavern's 16 locations in seven states. With the latest first-run releases and triweekly showings of Retro Cinema classics, its theaters entertain with the chases and hijinks churned out by Hollywood's dream factories. Viewers can pair their flicks with frothy brews, a choice of wines, or items from a menu stocked not just with staples like popcorn and candies, but also with grill-seared burgers, homemade pizzas, and chef-inspired appetizers. All sweet and savory selections can be delivered to a tabled seat inside the theater after placing an order at the concession stand.
Movie Tavern shakes up the traditional theater experience with more than its food, varied beverage selection, and table service. Its Breakfast & a Flick treats early weekend risers to films and food inspired by classics with dishes such as the French Connection Toast. Its group outings help businesses captivate employees at holiday parties without having to project a slideshow of their personal emails. The Movie Tavern membership awards a free birthday movie tickets and popcorn to members when they sign up, and sends out invites to special events and screenings.
4043 Lavista Rd.
Tucker
Georgia
At any given time of the day, Japan House may be experiencing a tranquil stillness as students quietly cycle through poses, or combat as students kick, punch, and strike padded opponents. A cultural, fitness, and wellness center, Japan House offers yoga, qigong, and Tai Chi classes that provide a physical, mental, and spiritual workout that's also low impact, quiet, and relaxing. On the other hand, Kempo karate and jujutsu give workouts an extra punch–literally. The classes teach students offensive and defensive striking methods and takedowns to use as self-defense against bullies, attackers, and low-flying pigeons. Aikido, a non-violent form of self-defense, teaches students to use the attacker's own force to throw them off balance and prevent an attack.
6037 New Peachtree Road
Doraville
Georgia
404-592-5173
Kathy Antar opened The Sewing Studio planning to provide sewing services for design professionals and event producers, but was soon flooded with phone calls and emails from people who simply wanted to know how to use their sewing machines. To meet that need, The Sewing Studio began to offer a selection of beginner, intermediate, and advanced sewing classes. During each 2.5-hour session, students learn how to thread machines, wind the bobbin, and practice various stitches using their own machines. In addition to classes, Kathy custom-designs furniture upholstery, bedding, and window coverings and supplies expert design-consultation services, which can transform a client's dream design into a tactile reality.
5305 Peachtree Blvd.
Atlanta
Georgia
404-909-4659
Hundreds of exotic and native plants spread across more than 30 acres of growing space at the Atlanta Botanical Garden. Under the careful watch of the garden's horticulture team, these species provide a serene backdrop for garden visitors even as they educate them on the wonders of the natural world. The botanical discovery doesn't stop after the sun goes down. At night, visitors can explore the verdant pathways lit by millions of twinkling bulbs for the second annual Garden Lights, Holiday Nights, or decamp to the conservatory for a look at a mammoth collection of species orchids and the chirping poison dart frogs that keep them company. Amid its ever-changing visual display, the Atlanta Botanical Garden hosts frequent events such as concerts, holiday light shows, seasonal festivals, and an annual member-plant dance.
1345 Piedmont Ave. NE
Atlanta
Georgia
---