Golf in Lima
---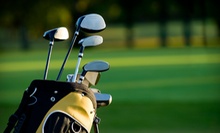 Lake Erie Shores and Islands
6,493 yd. golf course juts out on a slender parcel of land framed by the Portage River, pairing scenic vistas with numerous water hazards
---
Recommended Golf by Groupon Customers
---
Golf, known as "the people's sport," is something you should be able to enjoy in rain, shine, humidity, atomic dust, meteors, or on any beautiful day of the week. Lift your winter ban on golf with today's deal: for $15, you get one hour of golf simulator time at Teed Up Indoor Golf in Worthington, up to a $30 value. See how your real-life stroke fares on precise virtual duplicates of 22 different PGA courses. You can use your Groupon toward an hour of time on the simulator. Choose to spend your hour practicing at the driving range ($30 value), golfing a leisurely nine holes ($16 value), or mastering a complete 18-hole round ($29 value). Bring your own clubs and swing away without worry of missing tee time, shagging forested balls, or accidentally showing up your boss.
7543 Pingue Dr.
Columbus
Ohio
US
Designed by renowned golf-course architect Arthur Hills, the 18-hole Kinsale Golf Course features smooth fairways, lush rough, and greens fortified with surface-to-ball defense lasers. Central Ohio's largest irrigation system ensures that the course is maintained and moisturized like Mother Nature fresh from a day-spa visit. A balanced layout proves challenges to experienced club-swingers while remaining accessible for beginning ball-propellers. Between holes nine and 10, use a food voucher at the concession stand for a quick lunch of a hot dog, chips, and a soda or water.
3737 Village Club Dr.
Powell
Ohio
Originally sculpted into the landscape in 1958, Green Hills Golf Course winds through 5,933 yards of smoothly rolling terrain bordered by clusters of mature arbors. To compensate for its relatively short length, the 18-hole course catches clubbers off-guard with strategically placed ponds, subtle slopes, and self-destructing yardage markers. Each round takes spiky-shoed golfers gliding around tranquil ponds and past rippling creeks, which add to the course's shot-impeding obstacles. A nine-hole par 3 executive course stretches out alongside the full-length monolith, beckoning to greenhorns, youngsters, and experienced pin-hunters still seeking their first hole-in-one. A driving range, practice green, and full regimen of golf clinics nurse withering swings back to life, while the onsite restaurant fuels muscles and carnivorous golf carts with all-beef hot dogs and other savory grill fare.
1959 S Main St.
Clyde
Ohio
419-547-7947
PGA instructor Paul Newman's resumé includes positions as president of the Southeast Chapter of the Southern Ohio PGA of America and President's Council member of the PGA. Elton Sargent, the outfit's club-fitting and sword-whittling specialist, has worked directly with club manufacturers and brands such as Mizuno. Together they bolster ball-thwacking skills with techniques based on advanced TPI 3D motion-capture technology. The wireless system simultaneously analyzes posture, swing plane, clubface position, and favorite flavor of golf ball, communicating the results through data that are interpreted by an experienced golf instructor. Performance Golf Academies of America also utilizes The Optimal Motion Instructor (TOMI) putting-training system, which assesses putts from backstroke to follow-through and postputt piroutte.
6677 Dublin Village Center Dr.
Dublin
Ohio
614-764-7422
Little Bear Golf Club challenges golfers to part with the traditional 9- or 18-hole course paradigm and try their hand at conquering a 10-hole, par 30 layout. With a front and back five that can each be completed in about 40 minutes, the course caters to those who would like to squeeze in a round during their lunch break or set the record for most rounds played during a solar eclipse. Though short in time commitment, the course doesn't scrimp on hazards, as it is strewn with 22 sand traps, more than 1,000 trees, three lakes, and a stone waterfall. Instead of natural turf, players take shots off hybrid grass, which looks and plays just like the real thing but needn't be watered, fertilized, or fine-tooth-combed like traditional grasses. As a bonus to the 10-hole loop, players may also take a shot at the island green of an 11th hole, an homage to the famous 17th hole at the TPC Sawgrass course in Florida. Course at a Glance:
10-hole, par 30 course
Total length of 1,350 yards from the back tees
Two sets of tees per hole
1940 Little Bear Loop
Lewis Center
Ohio
740-548-8532
Shooting a 55 over nine holes isn't much to brag about. But doing it your first time on a golf course makes it noteworthy, and being 12 years old at the time makes it remarkable. Since then, PGA member Chip Inks has shown his natural golfing ability in more than 50 PGA section events and led more than 10,000 lessons. Whether at the driving range or on the course, Chip coaches golfers until they play consistently using any club in the bag. A V1 pro video-analysis system meticulously compares students' swings to those of professional players and Western saloon doors. Chip is also certified to fit players with Callaway, Titleist, and Mizuno clubs.
6100 Dublin Park Dr.
Dublin
Ohio
614-832-6170
---