Shopping in Lima
---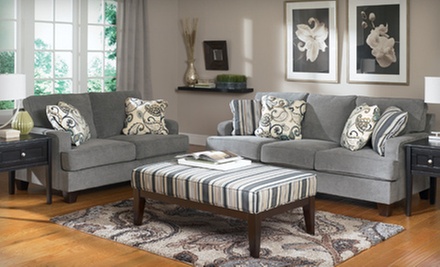 ---
Recommended Shopping by Groupon Customers
---
Owner Jared Cavileer and his crew roll a cherry-red Leader 722TS outside the shop, lean it against a brick pillar, and snap a picture. The keepsake signals the end of another bike restoration, but serves as a tangible memento for another job well done. Technicians repeat this process every day at Revolution Cycles, where their bike tune-ups help to keep two-wheelers from being ridden by the Grim Reaper. Their shop's exposed-brick walls backdrop a selection of stylish parts and accessories, including Gorilla frames, Soma Major Taylor track bars, and Brooks saddles and cycling bags.
1201 N High St.
Columbus
Ohio
US
614-299-1100
In 1939, James Clark bought Belmont Pharmacy, where he had worked as store pharmacist. His son, James Clark Jr., followed him into the business, and eventually the enthusiastic, dedicated family began opening additional branches. Today, a third-generation Clark, Tim, oversees the operation of the eight locations.
Each location mingles old-fashioned corner-store friendliness with modern health-care tools. Medical equipment, such as lift chairs and canes, ease home life, as do prescription medications that can be delivered by a friendly staff member. The Huber Heights location also has a compounding pharmacy, in which highly trained workers customize prescriptions to individual needs, combining multiple medications into a single dosage, adding kid-friendly flavors, or carving each pill into the shape of a white blood cell.
500 W Main St.
Tipp City
Ohio
937-669-5791
Mad River Outfitters, in business for almost 20 years, outfits anglers with gear, classic clothing, and products by Orvis, Filson, Barbour, and other leading brands. The shop features flies that replicate natural food sources, as well as personalized advice that each customer needs to become successful anglers in Ohio waters and beyond. In addition to helping customers select proper equipment, Mad River Outfitters hosts classes for beginners and expert anglers alike with topics including Knots & Leaders, Fly Casting, and Specialty Fly Tying—always with instructors who can provide specialized advice, such as how to outsmart the wily trophy fish.
813 Bethel Rd.
Columbus
Ohio
614-451-0363
While the world's bees are busy staving off invasions of varroa mites and colony collapse, today's deal will make sure you don't have to suffer a shortage of sweet-smelling candle wax. For $6, you'll get one regularly priced 100% vegetable-based soy-wax candle from Paul Robinett (a $13 value). Your Groupon is good for both in-store and online. Follow @Groupon_Says on Twitter.
7 Buttles Ave
Columbus
Ohio
US
When you think of places known for fashion, a tight clique of hot spots comes to mind—Paris, Milan, whatever city Labyrinth took place in, and Columbus, Ohio. Today's deal gets men and women the best of the latter: for $29, you get $60 of "clothing for fashionable savages" at Milk Bar in Short North. Milk Bar is single-handedly putting America's heartland on the style map, using those big colorful push pins to reveal an ominous houndstooth pattern. The store's impressive collection of independent and contemporary brands, along with its laid-back, holistic approach to fashion, gave Columbus Alive no choice but to name the establishment Best New Store in 2009. Prices and selection in-store may vary from online (this Groupon is valid for in-store only). Parking is free.
1203 N High St
Columbus
Ohio
US
Cereal box sides recommend that you absorb no more than 20 ounces of falutin per day to properly maintain internal homeostasis. Today's deal helps you stick to said dietary guidelines: for $25, you get $60 worth of down-to-earth apparel and design workshops at Substance for Fashion Conscious People, LLC. in Short North. You can buy up to three Groupons and combine them in one purchase, meaning $75 would get you $180 to spend on anything at the store, including sale items.
783 North High Street
Columbus
Ohio
---