Things to Do in Lima
---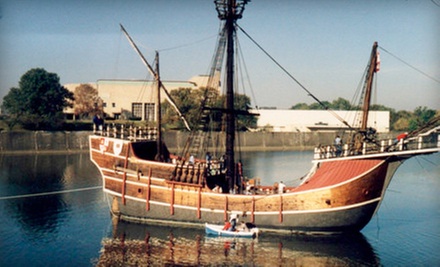 ---
Recommended Things to Do by Groupon Customers
---
Originally invented by bored henchmen looking to pass the time at Doctor Berserko's secret Antarctic lair, hockey has since overtaken polo and unicycle jousting as America's pastime. Hop on the bandwagon with today's Groupon. For $20 to $35, you get one upper 200-level or one lower 100-level ticket to see the NHL's Columbus Blue Jackets take part in one of two slap-shooting matchups: Saturday, March 27, at 7 p.m. vs. the New York Islanders or Tuesday, March 30, at 7 p.m. vs. the Tampa Bay Lightning. Depending on seating, these tickets are usually $44 or $75. The Saturday, March 27, game is also designated as Huntington Hat Night, and fans will receive a free Blue Jackets hat.
200 W Nationwide Blvd.
Columbus
Ohio
The Westcott House Foundation celebrates its charge's history through continuing preservation efforts, safeguarding the house as both a museum and shrine to Frank Lloyd Wright's vision for Prairie-style homes. One of 260 of Wright's remaining houses in the world, the pristinely restored structure entices visitors from far and wide with its architectural allure and unparalleled hide-and-seek spots. The grounds embody Wright's love of melding a building with its site, boasting a terrace, a pool, and period-inspired gardens. An intricately latticed pergola connects the carriage house to the main building, a rare and interesting gem among Wright's normally trellis-free Prairie homes.
1340 E High St.
Springfield
Ohio
937-327-9291
The telltale sounds of fun fill the air at either Magic Mountain Fun Center location, as friends and families careen around tracks in go-karts, compete on mind-bending mini-golf courses, or do battle in bumper cars. Piping-hot pizzas fuel days of rides and arcade games, and the park's varied birthday packages catapult parties into a fun-filled gamut of feasting, bumper boats, and laser tag. Open late, the parks afford guests the opportunity to while the night away or lure their night terrors in front of a speeding bumper car.
8350 Lyra Dr.
Columbus
Ohio
The 4,000 square feet of climbing space at Vertical Adventures encompasses terrain for top roping, bouldering, and lead climbing under the watchful supervision of a trained staff. The gym challenges wall scramblers to test both their physical endurance and problem-solving skills as they take on the top-rope courses, which represent the majority of the routes and tower as high as 25 feet. Rather than let new patrons become overwhelmed by the variety of courses or get stranded at the top without reading material, the gym's instructors also conduct lessons for all climbing levels to help climbers improve technique and conquer fears.
6295 Busch Blvd.
Columbus
Ohio
Dispatch Events knows how Columbus residents cook, exercise, and flounce their kitchen curtains. Its quartet of annual expos and other special events draws from the worldly media prowess of The Dispatch Printing Company, which tailors each sprawling festival to the tastes and trends of the city and beyond. The Columbus Dispatch Home & Garden Show lures celebrities from HGTV and other outlets as guests take in home-improvement and gardening ideas, such as which shrubs best lend themselves to topiaries of neighbors' faces.
717 E 17th Ave.
Columbus
Ohio
The Columbus Museum of Art dazzles eyes and tickles imaginations with a broad collection of 19th- and early-20th-century American and European artwork, as well as a cavalcade of traveling exhibits. Wear a realistic beast-man costume to the current exhibition Fur, Fins, and Feathers, which spotlights animal motifs within the museum's collections, from Inuit carvings to live armadillos posing as statues (runs through June 5). The permanent exhibit Old Masters captures subtleties of shadow, 19th-century American works encompass vast landscapes, and the extensive Late Modernism and Contemporary assemblage implodes luminous colors in twisting, spiraling transformations. Meanwhile, the museum's 18,000-square-foot Center for Creativity includes a technology lab and hands-on, kid-centered artistic projects to get children interested in fine art at an impressionable age, keeping them from becoming work-a-day doctors and lawyers.
480 E Broad St.
Columbus
Ohio
---