Limerick Gyms and Fitness
---
Gym, Exercise, Weightloss Deals
---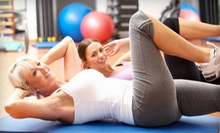 Guests enjoy full access to the gym and sauna, as well as Zumba, spinning, Pilates, and other calorie-blasting group fitness classes
---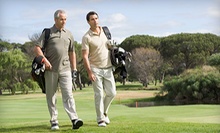 Pass bestows discounted access to hundreds of courses throughout mid-Atlantic region, along with pro shop and clubhouse coupons
---
Recommended Gym, Exercise, Weightloss by Groupon Customers
---
Ocean Sands Scuba's knowledgeable instructors guide divers into the deep with scuba training for beginner and advanced aquanauts alike. Interested patrons test their sea lungs in introductory scuba classes, splashing about in the facility's custom-built pool before moving on to a complete certification course. During certification, students pick up essential information on equipment, techniques, and the trendiest Atlantean nightclubs through in-class study and pool dives. After four weekly classes, burgeoning submergers hit the open water on one of Ocean Sands Scuba's dive trips to Gull Lake or Lake Michigan. Ocean Sands Scuba also stocks scuba equipment from Scubapro, Diverite, and Stahlsac for divers who have already reached certification or for hydrophobic sea turtles.
235 Ferry St.
Easton
Pennsylvania
US
610-559-7211
[[m:####Thorndale Fitness & Tanning
A giant yellow barbell spans the wall above the Bar Bell Café, where protein muffins and smoothies await those seeking a boost post-workout. During the facility's more than 20 years in business, the staff at Thorndale has learned that these little extras keep customers enthused about fitness. Certified trainers helm one-on-one sessions on the same sprawling gym floor that houses ellipticals, treadmills, and weightlifting equipment. They also lead group-fitness classes in such disciplines as strength training and aerobics. The facilities round out with standup and horizontal tanning booths tucked into private treatment rooms.:m]]
50 James Buchanan Rd.
Thorndale
Pennsylvania
US
610-380-4653
Club Fit 247's two floors of fitness machines, free weights, and private training studios reverberate with the clangs of dumbbells and the clops of running feet on treadmills equipped with individual TV screens. Amid this bustling round-the-clock activity, a staff of professional bodybuilders, fitness models, and trainers—which collectively boasts a prestigious clientele that includes NFL defensive lineman Bob Kuberski and figure skater Claire Tannet—work one-on-one with clients to help them achieve their exercise goals. During personal-training sessions, they craft sport-specific conditioning plans that combine plyometrics and strength training with hopes of improving balance, speed, and agility. Additionally, this talented team offers nutritional counseling as well as coaching for aspiring or current competitive body builders.
The gym presents clients with a key card that grants them 24-hour access to the facilities and the international cabal of bodybuilders' top-secret lair. The facility also peddles workout supplements, including protein shakes and Ionics powders.
348 Hannum Ave.
West Chester
Pennsylvania
US
610-430-2048
---