Restaurants in Limerick
---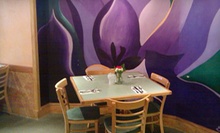 Inside charming brick façade lies Chef Runyen's lunch menu with classic French onion soup, gourmet salads, hot sandwiches & custom burgers
Use Today 11:30am - 2:00pm
---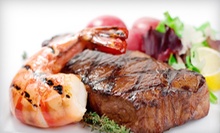 Chef Mark Spaulding concocts crabmeat-stuffed mushrooms, filet mignon, and other steak-house fare served on tables draped in white cloth
Use Monday 5:00pm - 10:30pm
---
Recommended Restaurants by Groupon Customers
---
Following Baja Fresh's ethos set in 1990 as a healthy take on fast food, never-frozen meats sizzle atop the grill before they're tucked into made-to-order tacos and burritos. Grilled corn and flour tortillas embrace fish, carnitas, chicken, and steak, and smoky queso fundido sidles onto nachos and into burritos. Between bites, chips scoop up salsa made from farm-fresh produce rather than poured out of a can or fabricated in a space-age replicator. A complimentary salsa bar ensures no mouthful goes unspiced, and guests can scoop up their favorites as they await their dine-in, takeout, or catering orders.
340 W. Dekalb Pike
King Of Prussia
Pennsylvania
If people are what they eat and generally eat three meals a day, then indulging at Brasserie 73 for lunch and dinner can help you achieve up to 66.66% of the je ne sais quoi you need to land the starring role in Amelie: Part Deux. Start the meal of your choice with some succulent slurps of lobster-tomato bisque topped with a flaky puff pastry ($10), or apply the vibrant crimson hues of a roasted beet salad ($7 dinner, $10 lunch) to your lips, its earthy flavors balanced with creamy, crumbled chevre. For dinner's first course, indulge in a serving of pan-seared foie gras atop sweet dried-apricot risotto and drizzled with white truffled honey ($18) or cinnamon-dusted scallops with pickled jalapeños ($16). Beef buffs, on the other hand, can delight in the grilled NY strip steak served with caramelized cauliflower, onion rings, and smoked tomato coulis ($33) while herbivores happily help themselves to plates of garden vegetable pasta ($15).
4024 Skippack Pk.
Skippack
Pennsylvania
Owner and culinary mastermind of French Quarter Bistro, Mark Van Horn's prerequisites for a good meal are simple: authenticity, home cooking, and a liberal dash of soul. This dedication to comfort cooking has earned the French Quarter Bistro a host of dedicated regulars as well as the Philly Hot List's award for Best Soul Food in 2009, 2010, and 2011. In the bustling kitchen, chefs whip up creole and Cajun eats using unique ingredients such as house roasted peppers, alligator sausage, and fried pickles. Along with their flavorful dishes, French Quarter Bistro also serves up a variety of entertainment throughout the week, including open mic nights with local singers and poets tired of the wrestling portion of poetry slams.
215 Main St.
Royersford
Pennsylvania
610-792-7292
Chef Stephen Guiseppe relishes a good countdown. In the kitchen of Cedar Hollow Inn, he often improvises his daily specials an hour before the menu goes live, crafting modern American meals to complement his pre-existing plates. These entrees add a gourmet twist to traditional comfort food and pub fare—the buttermilk fried chicken still boasts a topping of country gravy, but it also arrives with blue-cheese-braised kale, and the pan-roasted rainbow trout is dressed in the surprising tang of a vanilla-citrus glaze. Though Chef Stephen doesn't shy from robust helpings of meat—the menu offers lobster, filet mignon, duck, and pork belly—he also pioneers small plates. The bar features duck quesadillas and lamb sliders as alternatives to traditional countertop eats, such as chewable drink coasters.
Cedar Hollow Inn balances its contemporary menu with a historical locale. The building, which was constructed in the mid 1800s, resembles a rustic mansion, lined with wide, gridded windows that fill the archways of the sun porch. Guests can dine there, in the dining room, or at the bar, where trivia and Name That Tune competitions encourage competitive chatter on Tuesday and Sunday. Live music plays in the evenings on Thursday–Saturday, enticing guests to remain after their meals and sample one of many rotating craft beers.
2455 Yellow Springs Road
Malvern
Pennsylvania
610-296-9006
Growing up, Marcie Spampinato watched her father, Mike, masterfully manage a local country club. By seventh grade, she was working alongside him, and today—with a restaurant management degree from Penn State under her belt—she joins with Mike to co-manage their steak-and-sushi joint, Spamps.
Chefs trained in Japan artfully stuff the eatery's sushi rolls with fresh ingredients such as black-pepper-crusted tuna and flying fish roe. Fusion flourishes such as kimchi tartar sauce, miso beurre blanc, and sake reductions give entrees such as rib-eye steak an Asian flair.
And much like a chocoholic's dream journal, the eatery's new cocktails revolve around sweet flavors, especially Marcie's favorite, the pumpkin-pie martini. Libations, which also include wine and beer, flow freely behind a copper bar with TVs or fill glasses in a dining room with exposed brick walls and private booths. At an outdoor patio dubbed The Grotto, lofted TVs illuminate trellises and tabletops as well as bar-goers shimmying to a live DJ's beats on Friday and Saturday nights.
16 E 1st Ave.
Conshohocken
Pennsylvania
Marhaba Blue Bell occupies an unassuming location just past the entrance of a Super Fresh market, but those who enter find Middle-Eastern dishes featuring flavors bigger than the restaurant's physical footprint. Using local ingredients, chefs whip up lemon-infused hummus and baba ghanouj and bake pitas fresh for each order. Lamb, beef, and chicken kebabs make savory meals or edible drumsticks for touring musicians, and the Marhaba meat extravaganza, with chicken, Middle-Eastern meatloaf, lamb, and gyro meat provides a multitude of proteins to pair with a BYOB beer or wine. A hookah's snake-like coils loop beside a cash register and multicolored lamps cast light across the ceiling's wooden rafters.
1301 Skippack Pike
Blue Bell
Pennsylvania
610-313-2325
---