Auto Repair in Lincolnwood
---
Auto Repair Rewards Deals - Use Anytime
---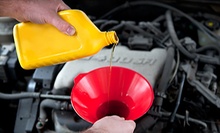 ASE-certified technicians refresh oil, service brake systems, replace batteries, rotate tires, and perform body-repair work
---
Recommended Auto Repair by Groupon Customers
---
Family owned and operated for 45 years, Triangle Auto Service has upheld its commitment to high-quality auto repairs and dedicated customer service for nearly half a century. Beginning as a one-man operation in 1966, Triangle Auto Service has expanded to a multilocation business that employs teams of highly trained technicians. They fix up run-down jalopies during services that range from basic oil changes to AC repairs—performed by certified specialists—to lessons for cars yearning to honk with natural vibrato. Estimates are available prior to service, and depending on the repairs, same-day work may be available.
4060 N. Elston ,
Chicago
Illinois
773-539-5858
Drawing on half a century of automotive service, the family owned and operated Midas helps drivers to prolong vehicle vigor with factory-recommended maintenance services. Mechanics pop car hoods to perform oil changes with standard and temperature-durable synthetic solutions, taking time to inspect belts, hoses, fluids, and the air conditioner's resident penguin. Armed with efficient catalytic converters built to US EPA standards, the staff helps to shrink harmful emissions during muffler and exhaust-system checks. Trained technicians augment brake services with lifetime guarantees and curate healthy, evenly worn tires with rotations or replacements from Goodyear, Michelin, Firestone, and Bridgestone.
158 W Grand Ave.
Chicago
Illinois
US
312-670-2505
For 26 years, True Fix Auto Repair has been sprucing up both domestic and imported vehicles such as Chevrolets and BMWs with a bevy of services from same-day diagnosis and repair to meticulous hand washes and detailings. The Westmont-based mechanics pour over jalopies with precision and a deep knowledge of every make and model. Repair services at True Fix Auto Repair come with a free wash.
20 E Chicago Avenue
Westmont
Illinois
630-663-0033
Since 1988, Auto Care Super Saver has been helping car owners save cash with maintenance punch cards redeemable at local auto shops throughout the course of a full year. These cards come loaded with all kinds of prepaid services, including at least three full-service oil changes with up to 5 quarts of oil, lube, and a new filter. Depending on the location, punch cards may also feature tire rotations, brake inspections, engine-light readings, air-conditioning performance tests, and other repairs and inspections essential to a car's well-being. Customers can transfer the punch card's benefits to any ride, ranging from station wagons to sports cars to feral merry-go-round mounts.
3402 N Milwaukee Ave.
Northbrook
Illinois
US
For more than 20 years, the ASE–certified technicians at Zepeda Auto Service have meticulously perused the latest factory bulletins to ensure that their customers receive the most advanced care. Technicians strive to maximize fuel efficiency through routine maintenance services, such as oil changes and tune-ups, and perform both basic and complex repairs—all of which come with a lifetime warranty. Zepeda's technicians work on a wide range of makes, such as Cadillacs, Audis, Toyotas, and Micro Machines.
3061 W Armitage Ave.
Chicago
Illinois
773-486-1772
The highly trained technicians at Jiffy Lube tend to about 24 million customers each year with services such as the Jiffy Lube Signature Service Oil-Change, which helps promote the longevity of each vehicle. Staffers acknowledge that oil plays a crucial role in maximizing the lifespan of each car: it cools the motor and helps prevent moving parts from deteriorating. More than 20,000 technicians who have completed an extensive training program certified by the National Institute Automotive Service Excellence (ASE) service vehicles at Jiffy Lube.
In addition to performing oil changes, technicians perform preventative services such as air-filtration and electrical system maintenance, among others. Jiffy Lube's quality pledge includes a commitment to transparency, which stipulates that they will inform car owners of any necessary services, complete a service only after it has been approved, and refuse to replace windshields with saran wrap.
3325 Franklin St.
Michigan City
Indiana
219-879-3288
---